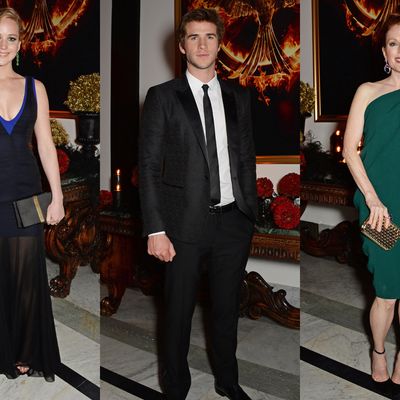 Photo: David M. Benett/Getty Images
How could Lionsgate possibly top last year's crazy, opulent Hunger Games Cannes party, which was filled with white-chocolate fondue fountains, neon-colored drinks, and Parisienne models dressed to look like residents of the Capitol? Rent out a Russian oligarch's €230 million villa! And dress that up to look even more grand than a Russian oligarch's €230 million villa normally is.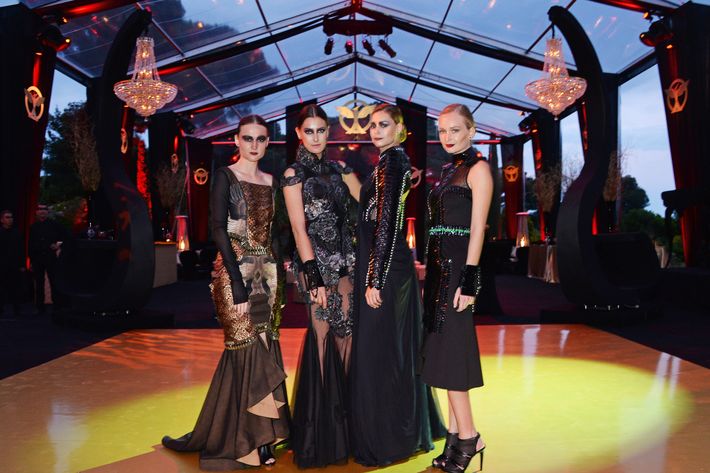 The cast had arrived long before the guests and spent their time sequestered in an area where their chairs seemed like actual thrones. Jennifer Lawrence had a memorable dancing moment almost-twerking over Josh Hutcherson, whom she'd backed into a corner and was looking up at her from a chair. They locked eyes and mouthed the words to "Work It." Liam Hemsworth showed off some pretty good moves, too, before they all absconded to the Vanity Fair party to meet Justin Bieber and show us all how A-list stars get rid of their hiccups.
For the rest of us, getting to said villa (see the video below for a look inside the over-the-top festivities) required a 20-minute shuttle bus ride to Antibes from Cannes, and then venturing so far up an obscure hill road that several of the buses got lost trying to get there. Every guest got a Mockingjay pin — presumably to demonstrate we were on the right side of the revolution. Getting to the actual party from where the buses dropped us off required walking through a giant stone archway with a Mockingjay seal, then stumbling in heels down a very long, dimly lit path, before finally arriving at the enormous mansion. Inside, we were greeted with waiters and models wearing intricate black, armorlike, skintight costumes, and black eye makeup. In the backyard was an enormous, red-lit, glass-roofed tent, as big and opulent as any nightclub. Chandeliers hung 30 feet off the ground, and the only hors d'oeuvres being passed seemed to involve foie gras. The mood was more subdued than last year's, since Mockingjay is about a revolution, but still lavish enough to make it clear that Lionsgate is really, really glad it bought that YA series and wrangled these stars. And if, like Katniss, you needed to get away from it all, there was another long, dimly lit set of stairs leading all the way to the Mediterranean Sea.