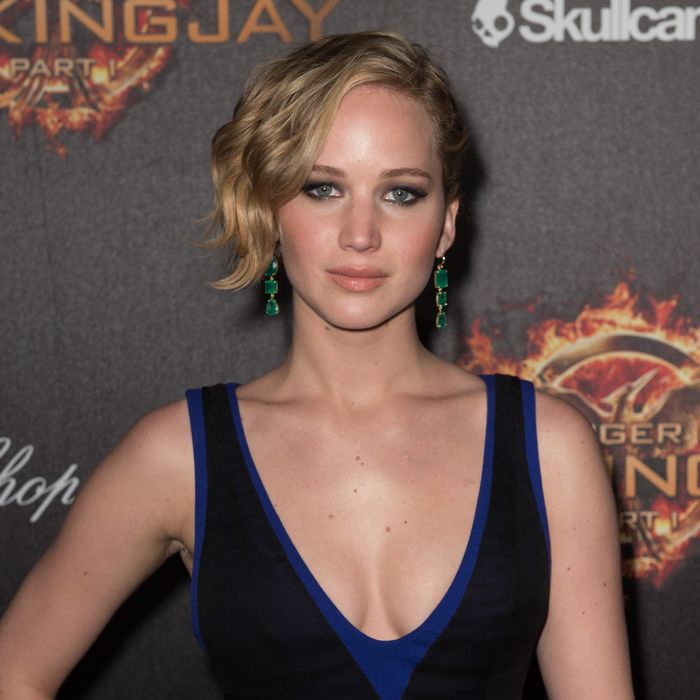 Photo: Ian Gavan/2014 Getty Images
Ever wonder what Jennifer Lawrence does when she gets the hiccups? This reporter just happened to be passing by the Hunger Games star at last night's celebrity-packed Vanity Fair Cannes Film Festival party when Lawrence cried out, "Seriously, I need some water now." Attentive Lionsgate handlers rushed to find her some, while Lawrence explained to her posse, "The only thing that ever works for getting rid of hiccups for me is when I drink water and raise my arms over my head and lower them very slowly." She said this with her arms raised skyward, as if to brace everyone around her with a preview. Then she hiccuped.
"I have the water but I need a glass!" said one harried male Lionsgate handler, rushing toward Lawrence with an Evian glass bottle about a third of the way full.

"No glass, she'll just chug it from the bottle," said a woman from Lionsgate who seemed to be a JLaw authority.

The bottle passed from hand to hand through the crowd that had gathered out of concern, or perhaps out of curiosity to see if Lawrence is as good at getting rid of hiccups as she seems to be at everything else. The bottle finally landed in the hands of Hunger Games co-star Josh Hutcherson, who'd been standing in front of Lawrence and knew what to do. He raised the bottle to her lips. Lawrence put her arms up straight, and the ritual began.

When Lawrence said she had to lower her arms very slowly, she meant it. I got nervous staring at her, so I looked away, and looked back three times, and she'd barely lowered them past her shoulders. Hutcherson was there for her, pouring water down her gullet, through the whole possibly two-minute affair. She drained the bottle and her arms finally reached her sides. Hutcherson put the bottle down and looked up at Lawrence, who, too, seemed to anticipate that each new breath would bring a hiccup anew. A minute more passed. She and Hutcherson locked eyes and hugged. They'd beaten it.
Lawrence had been making a lot of use of her lungs that evening, which had begun at a lavish Hunger Games: Mockingjay party at a Russian oligarch's vast villa in Antibes, down the coast from Cannes. (A financier with good information said the owner bought the property for 230 million euros.) There, she'd been sequestered with the rest of the cast in a VIP area, where she passed the time by almost-twerking to Missy Elliot's "Work It" and backing Hutcherson into a corner with her dance moves, where he dropped into a chair and looked at her in awe as she ground her hips in the air around and over him. They'd all left that early to head to Vanity Fair's soiree, nearby at the tony Hotel du Cap on a cliff overlooking the sea in Antibes, right around the time that word started circulating that Justin Bieber had mysteriously shown up at the VF party, and no one could be sure how long he'd stay.

Had Lawrence's Bieber fever engineered the change of venue? Maybe so. The first thing she said upon entering the building, according to Vanity Fair's Richard Lawson, was "I want to meet Bieber!!!" The magazine happily arranged an introduction, though Lawrence declined to take a photo, wisely realizing that it would have broken the internet. I missed that historic teen idol summit. I first spotted Lawrence, deep in protection of her posse, because she started screaming: "Ahhhhh! Ahhhhh!"

Those were cries of joy; she'd just spotted Alfonso Cuarón in the crowd. "I broke out my rape scream for you!" she cried and grabbed his shoulders and screamed "Ahhhhh!!!" shaking her head like a crazed fan, or a woman in distress, into his face. Cuarón seemed quite pleased with his greeting.

As the party wound down, Lawrence grabbed Hutcherson by the hand (it was a friendly sort of hand-holding) and headed for the exit. Liam Hemsworth, who'd been hanging out with Robert Pattinson for most of the night, came over with a scowl and crossed arms to block their way. "Where do you think you're going?" he asked, then broke into a grin and gave them big hugs. He stayed longer. Lawrence and Hutcherson headed into the night. Perhaps they had more hiccups to conquer.