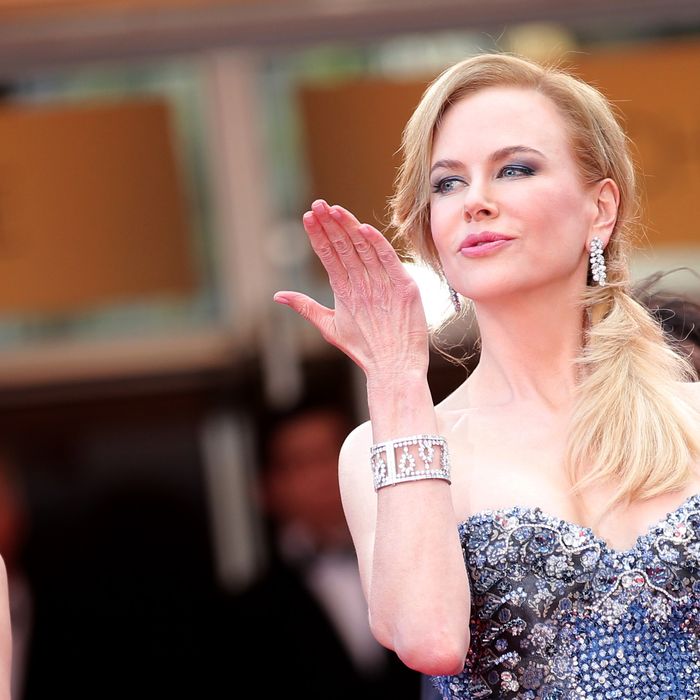 Photo: Gisela Schober/Getty Images
You couldn't walk to your table at the opening-night dinner for the 2014 Cannes Film Festival without stepping on some poor woman's train. (Sorry, Ziyi Zhang! But that incredible organza-and-patent-leather Stéphane Rolland couture gown was asking for it!) Immediately following the black tie opening ceremony and gala premiere of Grace of Monaco, the official dinner to welcome the competition jury is perhaps the toughest invitation to get. I know because I've tried and failed to get one for five years.
A phalanx of potted plants guarded the general public from even looking up the inside stairs leading to the fourth floor of the Palais. Inside, despite all the evening gowns and tuxes, it was a casual affair. Champagne was hard to come by, but my tablemates somehow wrangled regular vodka refills by slipping cash to our waiter. And while the asparagus-and-caviar appetizer was delicious, the entrée proved to be a miniscule portion of fish cooked in a plastic bag and led to my tablemates slipping the waiter more Euros in hopes of procuring burgers for us (we settled for risotto). We were such a rude table of terrible Americans.
Nicole Kidman has a better appreciation of French food, or at least better manners. The Grace of Monaco star praised the meal so much that Cannes Film Festival President Thierry Fremaux brought the chef out from the kitchen for her to meet. "Madames et Monsieurs, le chef!" Fremaux announced as Kidman, seated with Tim Roth, who plays Prince Rainier III in the film, and last year's Palme d'Or co-winner Adèlele Exarchopoulos, got up to shake his hand and promised to go to his restaurant. Kidman's Grace Kelly movie debuted to scathing reviews, a snub from the Monaco royal family, and what someone described to me as "the quietest opening-night standing ovation" in recent Cannes memory — as well as laughs and boos in other screenings. Kidman delivers a lovely performance, though, including the one she was giving yesterday about not being fazed by the film's reception, and she at least deserves a good meal.
Nearby, Zoe Saldana sat with new, blonde-ponytail-having, Italian artist husband Marco Perego, whom she led around the room by the hand, presumably to keep him at the exact right distance so he wouldn't step on the train of her gown. As soon as dinner was over, Audrey Tautou retired to the smoking deck. Jury members Nicolas Winding Refn and Sofia Coppola kept to themselves for the most part, apparently trying to adhere to jury president Jane Campion's edict that they not talk to the press. Though, of course, my old pal Refn said a few words when I cornered him. He'd found the opening press conference, in which the jury got asked over and over again if they had an agenda, bizarre. "Sometimes you can feel like you're caught on a merry-saw," said Refn, who's Danish. "Hot and cold! One day they hate you and the next day they love you and they'll ask weird questions." I'd been dying to know if he'd planned on being as provocative in the jury deliberations as he is in his movies. "I thought about it, but then I thought that it would be too easy," he said. So he had other, more subtle forms of manipulation planned? Perhaps, he said with a mischievous grin: "The great thing about surprise is you never know when it's gonna come."
Refn and Coppola's fellow jury member Gael García Bernal was in a terrific mood, handing out hugs like they were fish in a plastic bag. "I have to be serious," he said when I asked him what it was like being a jury member so far, then broke into a grin. "No, seriously, I have to be careful about what I say." I wondered if stamina over ten days would be hard for him; he said he planned on eating well and getting plenty of sleep. But his old buddy Alfonso Cuarón, standing nearby, had different ideas. He was only in town until Sunday and planning to go hard with what little time he had. For a while, Cuarón and Sony Pictures Classic co-founder Tom Bernard got caught in a deep discussion about Bennett Miller's long-delayed, wrestling-murder, Steve Carrell–starring drama Foxcatcher, which Bernard has worked on since the beginning, and which is debuting next week. The delays were to give Miller time to re-edit (and re-edit) until he felt like he'd finished the film. "It's so funny, you'll watch the old cut and the new cut of a movie, and most of the time the difference is, like, two takes," said Cuarón. "No, I swear, I've seen all 11 cuts, and they're 11 different movies. And they're all good," said Bernard. "But that one did get better over time. If I could package all 11 movies together and sell that, I would."
The room was emptying out and heading to the more populist opening-night party at one of Cannes's famous mega-clubs, Studio 5, on the far east end of the Croisette. "Venido en mi coche!" (Come in my car!) Cuarón told Bernal. "Venido en mi coche!" Bernal told Cuarón. "Mi coche," said Cuarón. "Mi coche," said Bernal. This went on for a while.
A coche was by far the better way to go, since the non-car-having plebes had to traipse several blocks in their heels and formalwear to a shuttle bus that took about 40 minutes despite the relatively short distance. It was all worth it, though, to arrive at what was easily the most Cannes-y opening night party in the years I've been coming to the festival. Nicole Kidman's face as Grace Kelly was projected on the outside of the club, which inside had been decorated to look like a Monaco royal villa with a giant two-story structure complete with white-column bannisters and two red-carpeted staircases in the center of the massive room. Under a portion of the second-story area was an indoor garden with columns covered in vines and hanging lights. Near the entrance to the party were actual fruit stands where workers furiously made fresh watermelon juice and cut up fresh pineapple. And forget velvet ropes. At Cannes, they're so serious about separating the non-VIPs from the VIPs that at this party, they used an actual red-and-white picket fence.
Inside that fence, Bernal could be found laughing away and dancing a little salsa with Cuarón until at least 1:30 a.m., making a case for himself as the most fun member of this year's Jury. (And the one most likely to sleep through his 8:30 a.m. screenings). Among the famous people, only Grace of Monaco director Olivier Dahan outlasted Bernal and Cuarón.
Meanwhile, Fremaux spent all night hanging out on the non-VIP portion of the beach, because he's the people's president. Purple, blue, and red lights flashed as a celebrants danced to "La Bamba" and Roy Orbison under a huge chandelier as smoke machines worked overtime. Or maybe it was just smoke from the crowd; if you didn't have a cigarette dangling from your mouth, you weren't being appropriately French. With a little eye-batting, I finally made it into VIP, which had a projection of Alfred Hitchcock's silhouette on the wall and a macaroon tower — the only food besides fruit in the building.
As I left, the DJ was cycling through songs like "Hey Ya!" you'd almost forgotten used to be huge. The fruit stand had been abandoned. I grabbed a couple of lemons and limes to take home; the one thing on my Cannes grocery list I'd forgotten to pick up at the Monoprix (French Walmart) that morning. It's a pretty good party when you can eavesdrop on Alfonso Cuarón and Gael García Bernal, drink Champagne on the beach, and do your food shopping all in the same night.