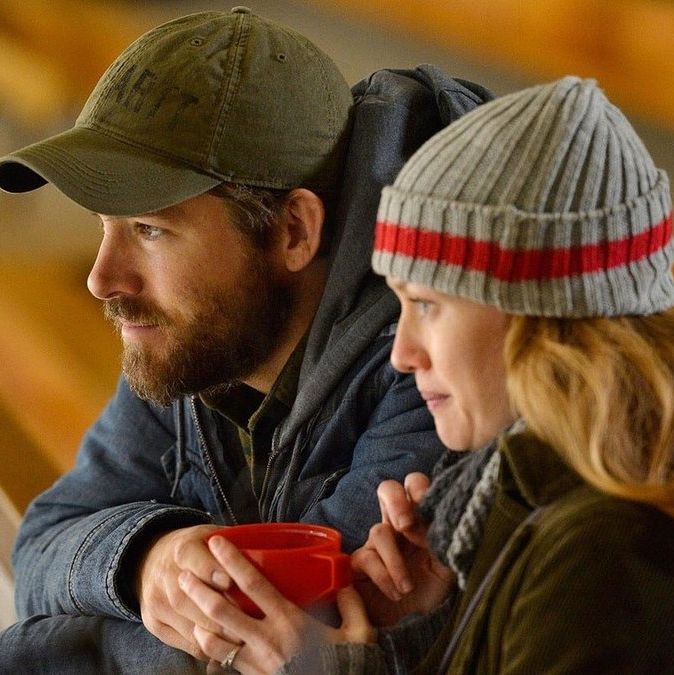 For a heartbreaking study in expectations versus reality, look no further than the interview that director Atom Egoyan gave to The Hollywood Reporter in advance of today's Cannes Film Festival premiere of The Captive, starring Ryan Reynolds.
Expectations: "One of the things I'm most proud of with this film is it will completely redefine Ryan's career," said Egoyan. "It's a stunning performance. It's a nuanced, dramatic portrayal of a man who has been tortured for eight years and remains hopeful … a very compelling psychological portrait."
Reality: Needless to say, Reynolds' McConaughey-esque comeback isn't quite going as planned.
Reynolds stars in The Captive as Matthew, an Ontario man still haunted by the mysterious abduction of his daughter eight years earlier, a crime that his wife (Mireille Enos) blames him for and the detectives assigned to the case (Scott Speedman and Rosario Dawson) suspect Matthew has something to do with. The audience knows better, though: Thanks to Egoyan's often-baffling cutaways, we learn that Matthew's daughter is still alive and being held prisoner by the ostentatiously sinister Mika (Kevin Durand), who uses the girl as bait to entice other children into sex slavery.
It's distasteful stuff, and Egoyan never seems to get a handle on the highly sensitive material, veering wildly between naturalism and high camp from scene to scene. The audience reaction wasn't nearly as conflicted: The film's ending drew the sort of boos and hisses that had somehow eluded even the critically reviled Grace of Monaco.
Still, you can understand what might have drawn Reynolds to The Captive: After a string of big-budget flops, he's banking on independent cinema to revive his career. "I've worked in large films," Reynolds told reporters at today's press conference, "and when you work on a large film that's not going the way you hope it would, or the way that anyone hopes it would, it's a pretty difficult scenario."
But smaller films can still succumb to the same plot contrivances that bedevil many blockbusters, and while Reynolds might have found The Captive easier to make than, say, the ruinous, studio-rejiggered R.I.P.D., it surely landed just as far from its intended mark. At one point in the press conference, Dawson mocked the notion of how a conventional studio film might portray a pedophile, saying, "Evil doesn't look like someone standing in the corner with a mustache." It fell to Reynolds to remind her that The Captive opens with exactly that image.
It also doesn't give its star much to play. Reynolds is sidelined for large swaths of The Captive — though he's first-billed, Dawson, Enos, and Speedman seem to have more screen time — and while Hugh Jackman delivered a tense, terrific performance as a grieving father in last fall's somewhat similar kidnap thriller Prisoners, Reynolds doesn't mine the same material even half as deeply. Aside from two sequences in extremis, he plays Matthew at an even keel, a directorial choice that keeps his performance lukewarm rather than a near-boil.
But I do believe Reynolds can eventually deliver on his comeback, if he gets his hands on the right material. Last January, he impressed in the dark Sundance comedy The Voices; the movie was tonally awkward, but Reynolds was fully dedicated to the lead role of a lovable nerd who's slowly revealed to be a serial killer. And while The Captive is a misstep, he's still committed to stretching; this evening, he showed up at a Weinstein Company event to tout The Woman in Gold, a fact-based drama he'll star in about the battle for an invaluable painting by Gustav Klimt. It features the role "I believe I was born to play," Reynolds joked. "A Jewish restitution lawyer."