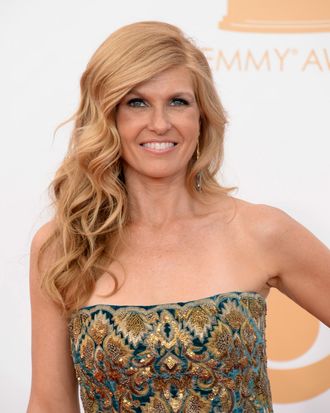 Actress Connie Britton arrives at the 65th Annual Primetime Emmy Awards held at Nokia Theatre L.A. Live on September 22, 2013 in Los Angeles, California.
Photo: Jason Merritt/Getty Images
Deadline reports that Connie Britton is taking over Sharon Stone's role in the action-comedy American Ultra, directed by Project X's Nima Nourizadeh. The film stars Jesse Eisenberg as a hapless stoner with a small-town girlfriend (Kristen Stewart) and a big secret: He is actually a deadly sleeper agent in a government program. Britton will play Victoria Lassetter, the founder of that program who tracks him down and pulls him back into the fray. Great choice. We would definitely trust Connie Britton to mentor us in a a covert government operation. And, you know, in life.