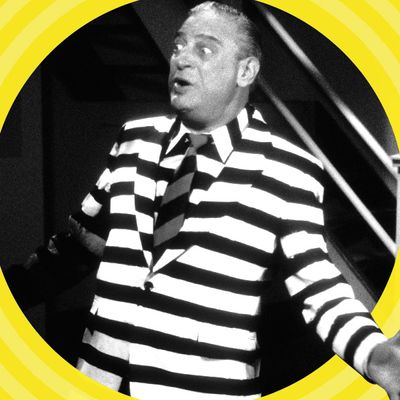 It's No Respect Week here at Vulture, which means we're celebrating things that never seem to get any love: schlock rock, Adam Sandler cry-fests, over-the-top action sequences, romance novels, and, yes, a novelty song by a comedian whose catchphrase was "No respect."
For this installment of Somewhere in Time, I'm taking my DeLorean GIF back to the week of January 28, 1984, the week Rodney Dangerfield hit his chart peak with the timeless single "Rappin' Rodney" and its Vulture-theme-week-appropriate "no respect" chant. So hang on tight as I breeze through that heady week's top 100 singles and tell you whether they get the respect they deserve or whether we need to do penance for 30 years of underrespecting. And in keeping with this week's theme, we'll be using the top 100 chart from Cashbox, Billboard magazine's ugly, defunct, but still lovable cousin.
100. Air Supply, "Making Love Out of Nothing at All"
The song at No. 100 by definition gets the least respect on this whole list, and 30 years after this song's run, Air Supply gets even less; they're routinely left out of the discussions of best Australian acts, most successful duos, and juiciest, most supple white-man Afros. Air Supply: need more respect.
99. Eddie Money, "The Big Crash"
Eddie Money circa 1984, after his "Two Tickets to Paradise" heyday, before his "Take Me Home Tonight" comeback, long before his Geico commercial: adequately respected.
98. Rick Springfield, "Souls"
Though he's remembered best for 1981's "Jessie's Girl," Rick Springfield racked up hit after hit until 1987 or so. Despite a video that has him stalking a plain-Jane ingenue straight off the stationary bus from Iowa through the world's shittiest art gallery as Lucille Bluth glowers on the periphery, this was one of them. Rick Springfield: needs more respect.
97. Talking Heads, "This Must Be the Place"
This song, as summertime poolside jam: needs much, much more respect.
96. Barbra Streisand, "The Way He Makes Me Feel"
This song comes from the soundtrack of Yentl. The fact that Barbra Streisand directed a musical film about gender identity, misogyny, and scholarship within the 19th century orthodox Jewish tradition and it was one of the top-grossing films of the year: frankly mind-blowing from today's perspective.
95. Mötley Crüe, "Looks That Kill"
Okay, listen: I was never a big Mötley Crüe fan. And then I read the first few chapters of The Dirt, up to the part where they target overweight women to fuck-swaggle into paying their bills. I closed the book, lent it to a friend of mine, and said: "Do me a favor and do not return this." And then, just now, I rewatched this video, wherein the Crüe rolls up on a post-apocalyptic community of jittery, bedraggled rodent-women and herds them into a cage with torches. The women's warrior-princess savior eventually comes and frees them with devil power, but they eventually vanquish her with different devil power, and then after the video is over I imagine the best-case scenario for the rodent-women is that they become blow-job slaves. Mötley Crüe: Seriously, fuck these guys. #YesAllWomen
94. Peabo Bryson and Roberta Flack, "Tonight, I Celebrate My Love"
Like all Americans, I'd been pronouncing Peabo's surname with a long I sound. But then, sometime in the early '90s, he made a much-hyped cameo appearance on All My Children to sing a duet with Tonya Pinkins, who referred to him repeatedly, to his face, as "Peabo BREESON." For not insisting upon a uniform pronunciation of his own name at the height of his popularity, Peabo Bryson: needs more self-respect. #YesAllPeabos
93. Bonnie Tyler, "Take Me Back"
Do you want the official music video, or do you want the version she lip-synched on Solid Gold, with an introduction by Marilyn McCoo? I THOUGHT SO. McCoo as the Seacrest of her time: needs more respect.
92. Michael Jackson, "P.Y.T."
The sixth of a stunning seven top-ten singles from Thriller. The real shock, though, is that the first single from Thriller was "The Girl Is Mine," his weak-sauce duet with Paul McCartney. That's how little clout black artists had in the time before Thriller: Epic Records had their pick of eight of the best songs ever produced, and they chose the wet-noodle ninth one with the white guy on it to introduce the world to Thriller. For what it's worth, I'm not mad at a lot of Xscape. It is a disgusting cash-grab, to be sure, but there are some bangers on there. Plus some of these vocal demos are from the time before Thriller, when Michael could still sing like a hopeful young romantic, as opposed to the time after, when our adoration turned him into a paranoid megalo-Christ who sounded like he was struggling to open a difficult pickle jar barefoot on hot sand. Xscape, particularly "Loving You": needs more respect.
91. Huey Lewis & the News, "Heart & Soul"
Huey Lewis was my first major crush. That chin cleft! That casual sport-coat and New Wave–suggestive skinny tie! Those proto-Clinton hand gestures! I'd still hit it. Huey Lewis as '80s heartthrob: needs more respect.
90. B.E. Taylor Group, "Vitamin L"
I got about 11 seconds into this garbage video until I could take no more. This song, by virtue of having charted at all, even in Cashbox: needs less respect.
89. Stray Cats, "I Won't Stand in Your Way"
Brian Setzer as balladeer: needs more respect. Brian Setzer as progenitor of the '90s swing revival: is almost forgiven.
88. Deele, "Body Talk"
Do you want the official music video, or do you want the version wherein 1984's best dancers walk the Soul Train line? I THOUGHT SO. The Soul Train Line: sorely missed.
87. Donna Summer With Matthew Ward, "Love Has a Mind of Its Own"
Though she is widely remembered as the Queen of Disco, I will posit that Donna Summer gets less respect than she deserves, if only because so many people still call her "Donna Summers." Get with the program, people. Donna Summer: needs more respect. (See also: Field, Sally and Reeve, Christopher.)
86. Bonnie Tyler, "Total Eclipse of the Heart"
This song, five-and-a-half minutes of Andrew Lloyd Webber-y bombast, straight from the coke drawer of Jim Steinman: Needs less respect. This video, in which Bonnie Tyler plays the new headmistress at some kind of Tony Scott sex Hogwarts: needs so much more.
85. Billy Idol, "Rebel Yell"
Billy Idol's hair in this video is simply breathtaking. Look at the way each individual strand stands at perfect attention! Look at the way it stands up to sweat, dry-ice smoke, and aggressive dancing! If Billy Idol's 1984 hairdresser is not running the 2014 hairdressing game, Billy Idol's 1984 hairdresser: needs more respect.
84. Naked Eyes, "When the Lights Go Out"
Naked Eyes' one-two punch of "Always Something There to Remind Me" and "Promises, Promises" ranks them up there with Cutting Crew, the Power Station, and Terence Trent D'Arby as that rarest of things: the two-hit wonder. But this track, which brought one of the '80s' chilliest synth lines to the lower reaches of the pop charts, should have been a third. Naked Eyes: need more respect.
83. Pointer Sisters, "Automatic"
The Pointer Sisters: Need more respect. Whoever styled the Pointer Sisters for this Soul Train performance, dressing June and Anita like they're going to the robot prom and putting Ruth in an outfit I can only call "hooker jodphurs": should be serving time in a maximum-security penitentiary.
82. Irene Cara, "Why Me?"
We remember Irene best for her "Fame"/"Flashdance" reign as the black female Kenny Loggins, but we ignore her more modest hits, like "Breakdance," "The Dream," and this one. Irene Cara: needs more respect.
81. U2, "I Will Follow"
U2: get all the respect in the world, but it will never be enough, will it, Bono?
80. Linda Ronstadt/Nelson Riddle, "What's New"
Linda Ronstadt went rock, pop, New Wave, Broadway, big band, country, and Mexican folk in the span of a decade and made it all work. Linda Ronstadt is the baddest of bad-asses. Linda Ronstadt: criminally underrespected.
79. John Cougar Mellencamp, "Crumblin' Down"
Here is where I will tell you that in early 1984, I was still getting my video fix entirely from NBC's Friday Night Videos, a weekly 90-minute un-VJ'd music-video show. In the time before my parents relented and got us cable, I would replicate the MTV experience by taping the show and playing it over and over throughout the week. The show's opening sequence, which you can see here, depicted some kind of rock 'n' roll political prisoner, blindfolded and lashed to the spindle of a turntable. He frees himself, only to be blasted right in the face by … video? Music? The spirit of youth? Was that person supposed to represent us? Was he the enemy? There was a lot of poorly thought-out imagery in the early days of music video, is what I'm saying. Friday Night Videos: needs more respect.
78. Toni Basil, "Over My Head"
It's sad that Toni Basil is known as a one-hit wonder and not what I call her, which is "Paula Abdul, but with mushrooms instead of Klonopin." Toni Basil: needs more respect.
77. Rockwell, "Somebody's Watching Me"
I have never understood why Rockwell is sometimes British in this song. Like, why not be always British in this song? Or even better, why not be never British? While we're on the subject of Rockwell, and since we're unlikely to be on that subject ever again, let's quickly discuss his follow-up single "Obscene Phone Caller." Watch it all the way through. Check out how he ends the song. Think about everyone in that recording studio, listening back for the first time. You know they all thought: Yes. Nailed It. To me, that's more disturbing than any obscene phone call or demon mailman could ever be. Rockwell: needs less respect.
76. Manfred Mann's Earth Band, "Runner"
Manfred Mann: from "Do Wah Diddy Diddy" to hit Springsteen covers to the theme song for ABC's broadcast of the 1984 Summer Olympics. That's a biopic I'd watch the shit out of. Manfred Mann: needs more respect.
75. Howard Jones, "New Song"
Jed, the body-painted guy in this video who also did live onstage mime work at early Howard Jones concerts: proof that there is a place for everyone in this world.
74. Jackson Brown, "For a Rocker"
These next four songs: need more respect, but not now, because I'm going to skip right over them.
73. Headpins, "Just One More Time"
72. Patti LaBelle, "If Only You Knew"
71. Peabo Bryson/Roberta Flack, "You're Looking Like Love to Me"
70. The Police, "Synchronicity II"
Hey, I'm back! This album represents the moment Sting became insufferable, right? The Police: need more respect. Sting: needs much less.
69. Tina Turner, "Let's Stay Together"
Just as the marketing wizards at Epic chose "The Girl Is Mine" as the first leadoff track from "Thriller," Capitol Records had all of Tina Turner's blockbuster comeback album "Private Dancer" at their disposal and decided their best course of action was to make this forgettable Al Green cover their first single. Baffling. Tina Turner: needs more respect.
68. Big Country, "In a Big Country"
This is one of the greatest songs of all time and it should have been the first of many U.S. hits for Big Country, but if you put your name in the title of your first single, America is just never going to be able to take you seriously. It's right there in de Tocqueville. Big Country: need more respect.
67. SOS Band, "Tell Me If You Still Care"
SOS Band, we do not still care. SOS Band: need more respect. (Or less. I don't care.)
66. Eurythmics, "Here Comes the Rain Again"
The Eurythmics: adequately respected. The Eurythmics' soundtrack to the film adaptation of George Orwell's 1984, particularly "Sexcrime (1984)": needs so much more respect.
65. Musical Youth, "She's Trouble"
They never reattained the dizzying heights of "Pass the Dutchie," but who could? Also, "rubbing and scrubbing," the dance move to which they refer in that single, never caught on the way it should have, and we owe it to the surviving members of Musical Youth to give it another try. Rubbing and scrubbing: needs more respect.
64. Rufus & Chaka Khan, "Ain't Nobody"
Chaka Khan: adequately respected. Rufus: would probably love to stop having to answer questions about Chaka Khan.
63. Kenny Loggins, "Footloose"
This is not so much a video as it is the movie's whole dance-breakdown scene, wherein Kevin Bacon's Ren confronts his town's reactionary conservatism and his own personal demons via interpretive dance and roundhouse kicks. I had always assumed that Friday Night Videos cut the video off early, but nope: The video just stops the song cold, right at the end of the bridge. The full version of "Footloose": needs more respect.
62. Culture Club, "Church of the Poison Mind"
Culture Club: need more respect. Helen Terry: needs so much more respect.
I'm going to skip these next couple too, because are you honestly curious as to whether Bob Dylan and the Rolling Stones get enough respect? No, you are not. (They do.)
61. Bob Dylan, "Sweetheart Like You"
60. Rolling Stones, "Undercover of the Night"
59. Rodney Dangerfield, "Rappin' Rodney"
Which brings us to the song and video that inspired this column. Please remember that we are still in the early days of hip-hop in 1984; it's still a fringe genre to old white people, a curiosity. So we can forgive Rodney Dangerfield for thinking "rap" is just "talking as you normally would, but there is a dance beat." We may also excuse the cover for the Rappin' Rodney album, whereupon Mr. Dangerfield conflates urban fashion with welding gear. It was a different time. "Rappin' Rodney": adequately respected.
58. Billy Joel, "Uptown Girl"
Christie Brinkley's dancing in this video: adequately disrespected.
57. Kenny Rogers With Dolly Parton, "Islands in the Stream"
Whatever respect this song has earned, it has earned since the advent of karaoke. "Islands in the Stream": adequately respected.
56. Quiet Riot, "Cum on Feel the Noize"
Having to type "quiet cum" into the YouTube search bar to find this video: awful. Wondering what kind of spam I'm going to start getting now: more than I can bear. Having this video be the first search result: kind of a relief.
55. Peter Schilling, "Major Tom (Coming Home)"
Recording a sequel to a David Bowie song when you are not yourself David Bowie: disrespectful. The resulting song, in this case: needs more respect.
54. Midnight Star, "Wet My Whistle"
I'm sure this song is fine and gets less respect than it deserves, but there's a performance up ahead I want to get to, so let's breeze past and the next few.
53. Dolly Parton (With the Jordanaires), "Save the Last Dance for Me" 
52. Kenny Rogers, "This Woman"
51. Night Ranger, "(You Can Still) Rock in America" 
50. Prince, "Let's Pretend We're Married"
Okay, here we go. Prince never made a video for this, the final single from 1999, probably because he was too busy preparing to rip our heads off our necks with Purple Rain, so let's watch Tina Turner open a concert in Helsinki with it. Prince: transcends our human concept of respect.
49. Christine McVie, "Got a Hold on Me"
Even at the height of Fleetwood Mac's mega-fame, Christine McVie kept it modest. Conservative in dress, unflashy in hairstyle, quietly, consistently top-notch at her job. Christine McVie is the office manager of rock. Christine McVie: needs more respect. And would like to see the Chapman file on her desk by end of day.
48. Pat Benatar, "Love Is a Battlefield"
This is one of the greatest videos of all time for a variety of reasons, but I would like to draw your attention to the denouement, when Pat Benatar, as the world's oldest teenage runaway, having freed her co-workers from implied sex slavery using the weapon of aggressive dance, says a tender good-bye. Each one gets her own individual send-off. I remember seeing this one late on an NBC Friday night and thinking: "Every one of those girls has made a unique impact on her. Every single one." This video: will never fail to entertain the shit out of me.
47. Sheena Easton, "Almost Over You"
This was Adult Contemporary Sheena Easton's last stand, the final moment before she got all Sandy-at-the-end-of-Grease on us and started releasing songs that I guess were supposed to be filthy. Tipper Gore and the Parents' Music Resource Center, for tipping me off to the fact that "Sugar Walls" was dirty, which would have sailed right over my head if they'd just kept quiet: need less respect.
46. Rick James Featuring Smokey Robinson, "Ebony Eyes"
Rick James and Smokey Robinson saw the way Michael Jackson pushed the medium of music video with "Thriller," and said, "We want a piece of that. We are going to tell a grand story of loss and redemption, set against the high-stakes world of military aviation." Rick James and Smokey Robinson had a budget of $11. "Ebony Eyes": needs more respect.
45. Re-Flex, "The Politics of Dancing"
A perfectly fine song, but here is the chorus in full:
"The politics of dancing
The politics of ooh feeling good
The politics of moving, uh huh
Is this message understood?"
Is what message understood? What about the politics of dancing, the politics of ooh feeling good? What are you even talking about, Re-Flex? Re-Flex: need less respect.
44. Huey Lewis & the News, "I Want a New Drug"
The opening seconds of this video, featuring a boxer-shorted Huey Lewis, are as central to my sexual development as the volleyball scene in Top Gun, if not more. Huey's is a very '80s body, and I'm not mad at it. Also, please watch the video's climactic moment, wherein Huey finally sing-confronts the magnolia-garnished object of his admiration — paying close attention the young man directly to her right, who absolutely murdered someone later that night. Chest hair: needs more respect.
43. Irene Cara, "The Dream"
This song comes from the soundtrack of 1983's D.C. Cab, an ensemble comedy about a down-on-its-luck taxi company starring Barney Miller's Max Gail, Adam Baldwin, Gary Busey, Mr. T, Marsha Warfield, and Bill Maher, featuring Otis Day of Otis Day and the Knights as "Bongo." It's a dream cast, in that it makes no sense and it was forgotten about four minutes after it happened. D.C. Cab: adequately respected.
42. KC, "Give It Up"
This is the KC, as in "and the Sunshine Band." KC gave us about a third of the songs we remember from the disco era, yet he could — then as now — walk the streets of any American city unrecognized. This is probably the safest possible outcome for him. KC: needs more respect.
41. Quiet Riot, "Bang Your Head"
Not to speak ill of the hairline of the dead, but Quiet Riot's Kevin DuBrow is dealing with some serious headbanger-pattern baldness here. Quiet Riot's label, for not placing an emergency call to Billy Idol's hairdresser: derelict in its duty.
40. Barry Manilow, "Read 'Em and Weep"
Barry Manilow: gets zero respect and laughs all the way to the bank in his own personal Black Hawk helicopter or whatever.
39. Stevie Nicks, "Nightbird"
I'd completely forgotten this song, but I think we can all agree that "Nightbird" is the Stevie Nicks-iest song title of all time. Stevie Nicks, for all her lace-shawl, scarves-thrown-over-antique-lamps consistency: needs more respect.
38. Duran Duran, "New Moon on Monday"
In 1984, my two major hobbies were: (1) appreciating the meanings behind Duran Duran's lyrics and videos; and (2) hoping nobody would ask me what Duran Duran's lyrics and videos meant, because I didn't and still don't have one goddamn clue. I mean: "shake up the picture, the lizard mixture"? Come on, now. Simon LeBon, lyricist: needs less respect.
37. The Motels, "Remember the Nights"
Martha Davis: gets nowhere near enough respect. The woman is a national treasure.
36. Robert Plant, "In the Mood"
This song, serving as the bridge between Led Zeppelin and the Honeydrippers: needs less respect.
35. Cyndi Lauper, "Girls Just Want to Have Fun"
You know who I wonder about, probably more than is healthy? The blue-streaked Filipina in the middle left of Cyndi's Square O' Fun-Wanting Girls. She is maybe not the most coordinated of the bunch, in the  head-dance department, but she sure has spirit. '80s video bit-players: need more respect.
34. Real Life, "Send Me an Angel"
The lead singer's face: just stopped haunting my dreams about four days ago and now here we go again.
33. James Ingram With Michael McDonald, "Yah Mo B There"
Your Michael McDonald impression: no, it's great.
32. The Fixx, "The Sign of Fire"
It's somehow a well-kept secret that the Fixx had hits other than "One Thing Leads to Another," and even though I have no idea what they're talking about in this one and neither do you, the Fixx: need more respect.
31. Nena, "99 Luftballons"
St. Louis's Top 40 station KHTR would only play "99 Red Balloons," the English-language version of this song, assuming (probably correctly) that its young audience was a little too provincial to rock out in German. But American Top 40 would regularly play the original, which meant that for about 20 weeks in 1983 and 1984, the youth of America were treated to Casey Kasem's prim, Alex Trebekian pronunciation of neunundneunzig. Casey Kasem: needs more respect.
30. Lionel Richie, "All Night Long"
I also wonder about the policeman in this video, the lone voice for law and order in a candy-colored city full of breakdancers. He starts dancing immediately on command, so it's like: Is Lionel that forceful a presence, or had he just been waiting his whole career for someone to invite him to feel good feel good? Our men and women in blue: need more respect.
29. Spandau Ballet, "Gold"
This video, in which Tony Hadley chases a woman with a fatal skin condition through a rejected Duran Duran location and assembles the pieces of the world's least challenging jigsaw puzzle as the theme from a made-for-Cinemax James Bond movie plays: adequately respected.
28. Paul McCartney, "So Bad"
Give My Regards to Broad Street: gets no respect, deserves less.
27. Jeffrey Osborne, "Stay With Me Tonight"
Jeffrey Osborne could sell the emotional content of a song without having to do a million runs, and for that reason he would make a perfect American Idol judge, even if he hasn't had a hit since most American Idol contestants' parents were born. Jeffrey Osborne: needs more respect.
26. The Police, "Wrapped Around Your Finger"
As much as Casey Kasem relished neunundneunzig, he really made a meal out of this song's "Scylla and Charybdis," a reference to The Odyssey that is a fancy, very Sting-y way of saying "rock and a hard place." The Synchronicity era reveals Sting at maximum wank, and for this reason it needs less respect.
25. DeBarge, "Time Will Reveal"
I love DeBarge, but this song confuses "reveal" with "be revealed," so from a grammatical perspective, this song: needs less respect.
24. Deborah Allen, "Baby I Lied"
A country female would cross over to the pop charts once or twice a year in the early '80s — a Deborah Allen, a Sylvia, a KT Oslin — gunning for that Juice Newton spot. (In the early '80s, there was such a thing as a "Juice Newton spot," for which one would gun.) Juice Newton: needs more respect.
23. 38 Special, "If I'd Been the One"
This video is like if Dynasty had a baby with the cover of a Louis L'Amour book, and that baby lacked a narrative throughline. 38 Special: need less respect.
22. John Lennon, "Nobody Told Me"
Milk and Honey was the Xscape of its time. Selling product posthumously: needs less respect.
21. Shannon, "Let the Music Play"
Taste is subjective, but if you do not agree that this is one of the greatest songs of all time, yours is wrong. Shannon: needs all the respect.
20. Billy Joel, "An Innocent Man"
Billy Joel: has, please, God, discovered Uber.
19. The Pretenders, "Middle of the Road"
Chrissie Hynde can do whatever the hell she pleases; she's got a kid, she's 33, baby. But whoever put her in a glittery Party City New Year's Eve top hat for this video deserves punishment. Still, this song: needs more respect.
18. Ray Parker Jr., "I Still Can't Get Over Loving You"
Ray Parker Jr., for the success of Ghostbusters having wiped away all traces of his career beforehand: needs more respect.
17. Van Halen, "Jump"
Having been a 12-year-old when it happened, I am qualified to tell you that the release of Van Halen's 1984 was a seismic event. Eddie Van Halen's embrace of the synthesizer was controversial among my seventh-grade classmates, but David Lee Roth's fondness for leggings and off-the-shoulder mesh tops was never up for discussion. 1984: needs more respect.
16. Daryl Hall & John Oates, "Say It Isn't So"
Daryl Hall, for rocking a keffiyeh before Ezra Koenig was even born: needs more respect.
15. Duran Duran, "Union of the Snake"
Above all, Duran Duran understood the value of a strong story. Like in this video: Boy explores desert of modern-dance iguana-men, bellhop puts boy on elevator to Earth's core, Nick Rhodes makes cameo in angora sweater, cherub helps boy escape Earth's core via Habitrail, dance battle breaks out among hawk-people, there are fireworks, boy wakes up in possession of enchanted scroll, woman from famous National Geographic cover picks boy up on horseback. Simple. Relatable. Duran Duran as storytellers: need more respect.
14. John Cougar Mellencamp, "Pink Houses"
The 1983 re-Mellencampification of John Cougar's name was an obvious bid for respect, and I'll be damned if it didn't work. John Cougar Mellencamp: adequately respected.
13. Madonna, "Holiday"
Wait a minute: Madonna made a video for "Holiday"? How am I only seeing it for the first time in 2014? She must hate this video. And I mean, sure — it's cheap-looking and the dancing's a little basic, but it's vintage Madonna in her purest state. Fascinating. This video: needs more respect.
12. Christopher Cross, "Think of Laura"
After "Sailing" and "Arthur's Theme" and all those Grammys for that album with the flamingo on the cover, Christopher Cross had earned himself a reputation as a little bit of a squish. So he did what anyone would do, which is write a maudlin song about a dead girl, sell the rights to the General Hospital song so they could play it whenever Luke thought of his beloved missing Laura, and then appear on the single's cover dressed head-to-toe in pink, surrounded by wicker furniture. Christopher Cross's management: need less respect.
11. Genesis, "That's All!"
This week is also significant for giving us the legendary Wendy's "Where's the Beef?" commercial. This commercial's impact on our culture cannot be overstated. Kids, think of your least favorite, most pervasive internet meme, multiply it by a hundred, and stretch it out over a year and a half. I'm still a little traumatized by it. Clara Peller: adequately respected.
10. Lionel Richie, "Running With the Night"
To be honest, the thing I remember most about this song is the "awwwwww" sound at 4:38. Is that an instrument? Is that a person? Is that a fallen mobster within the story of this song, and is this song about mobsters? We kept it vague in the '80s. Keeping it vague: needs more respect.
9. Jump 'n the Saddle, "The Curly Shuffle"
A novelty song about the Three Stooges. It made the top ten. Never going broke underestimating the taste of the American public: adequately respected.
8. Kool & the Gang, "Joanna"
America's diner waitresses as movie and music-video shorthand for hardworking, tough-as-nails women with hearts of gold: Enough already. America's diner waitresses in reality: need more respect.
7. Paul McCartney and Michael Jackson, "Say Say Say"
6. Elton John, "I Guess That's Why They Call It the Blues"
5. Olivia Newton-John, "Twist of Fate"
Paul McCartney, Michael Jackson, and the Johns, both Elton and Olivia Newton: adequately respected. Music-video budgets in the last 30 years: woefully slashed.
4. The Romantics, "Talking in Your Sleep"
When Friday Night Videos would play this, I would notice only one thing, and now so will you: The lead singer on this track has the world's most obvious lisp. "Talking in Your Sleep": needth more rethpect.
3. Culture Club, "Karma Chameleon"
In the wake of this song's success, and with America at the height of Where's the Beef mania, country-comedy duo Moe Bandy and Joe Stampley released "Where's the Dress," a perfect storm of xenophobia, homophobia, working-class ressentiment, and Hee-Haw humor that must be seen to be believed. Somewhere, a young Jeff Dunham was taking notes. Moe Bandy and Joe Stampley: need less respect.
2. Matthew Wilder, "Break My Stride"
The Solid Gold Dancers. Matthew Wilder's sub–Air Supply white-man Afro. Matthew Wilder's periwinkle shirt-vest-jacket thing, which appears to have been made by Will Accept Non-Members. Literally every single thing about the next 2:57 of your life: demands all of your respect.
1. Yes, "Owner of a Lonely Heart"
The song at No. 1 by definition gets the most respect on this whole list, and this one deserves it. British progressive-rock bands sampling a Kool & the Gang drum breakdown: needs far more respect. The pop charts of 2014: need to step up their game.