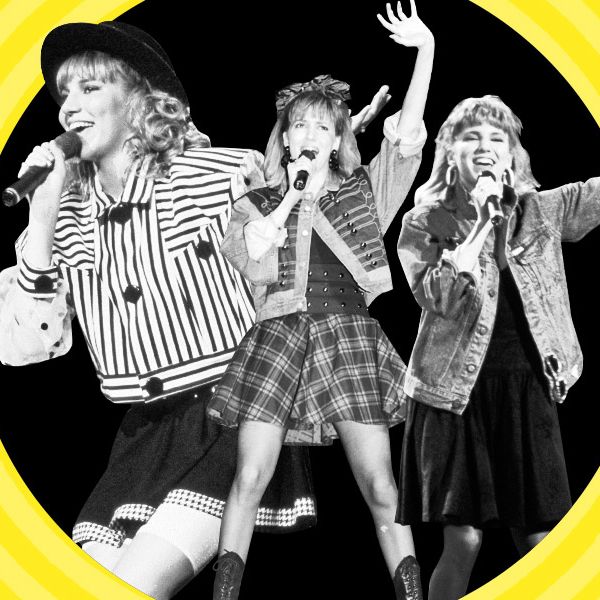 Pop music in the 1980s was chock-full of bubblegum music, but few artists of the era mastered the art of perky pop quite as successfully as Debbie Gibson. The Long Island native could easily have been a one-hit wonder: Like the title of her debut album, her presence on the pop charts in 1987 seemed to arrive, quite literally, out of the blue. Her first single, "Only in My Dreams," was one of that summer's biggest hits, a fact all the more impressive when you realize Gibson wrote it herself when she was just 13. (Suck it, Lorde.) And with the ascent of single "Foolish Beat," Gibson became the youngest artist ever to write, sing, and produce a No. 1 song on the Billboard Hot 100 — a record which still stands. After a healthy five-year run on the charts, Gibson transitioned to a successful Broadway career (Les Miz, Grease, Cabaret) in the 1990s, and today continues to perform around the world and do some acting (including a 2011 SyFy movie opposite '80s rival Tiffany).
On Saturday, Gibson debuts as a judge on the new ABC celebrity variety show Sing Your Face Off. (The premise of the series, which airs at 9 p.m.: Performers such as Sebastian Bach and Jon Lovitz transform themselves into other musical artists.) To mark Gibson's return to the small screen, Vulture hopped on the phone with her and asked her to tell us everything she could remember about six of her biggest music videos, from the crazy symbolism of "Only in My Dreams" to the mega-budget spectacular that was "Electric Youth." She only had 15 minutes to chat, but she came up with quite a few details — and even found time to talk about her blink-and-you'll-miss it cameo in another iconic artifact of the 1980s: Ghostbusters.
"Only in My Dreams" (1987)
We shot in Asbury Park, New Jersey, on the boardwalk. I had some friends from school in the video. I remember this girl Michelle was put in that blue sailor dress that I ended up wearing. And she was originally wearing it, and she was crying because she didn't like it. And I was like, "I love it! I'll take that dress." I remember going 'round and 'round on the carousel. To this day, I still wonder, What was the mother doing at the clothesline waiting? It was this abstract thing, and at the time I was so literal, I didn't get the abstract aspects of it. The least in control of any video I ever did was the first one. I was 13, actually, when I wrote the song. I just set out to write something that sounded like it belonged on the radio. I was just saying this to my boyfriend the other day, that the first line — "Every time I'm telling secrets" — if I was co-writing that song with somebody, [we] would've analyzed it to death and it would have never been the opening line. Because it doesn't really make any sense. But it just sings well. It sounded like the opening line of a hit song. That's all I knew.
"Shake Your Love" (1987)
Paula Abdul did this fabulous choreography, and sadly, it all ended up on editing-room floor, pretty much. Another little-known fact is that the 1987 L.A. earthquake was the morning of the rehearsal. So [we were working on] "Shake Your Love," and the earth was literally shaking. I also remember Sean and Mackenzie Astin stopping by the set to visit and meet me, which I thought was so cool. That was Bop! magazine time for me, and they were little heartthrobs.
"Out of the Blue" (1988)
It was shot in the snow in a big house on Long Island. The thing I remember most is doing a pillow fight with my sister and my cousin. And my sister designed and hand-sewed the little plaid skirt and jacket I wore in that. It was very much a family affair.
"Foolish Beat" (1988)
I'm wearing an outfit from my closet in that video, which I probably got at Roosevelt Field Mall. Some of my best friends from school are in the little café scene, sitting at the tables. And John Gallagher, who we cast to be in that video as my love interest — he and I are still friends. I'm still in touch with him; he's a super cool guy. We shot it on St. Patricks Day. I remember trying to get into serious actor mode, but everybody was drunk on the pier on St. Patrick's Day, throwing bottles and acting crazy. Now every St. Patrick's Day I have a flashback to that video.
"Lost in Your Eyes" (1989)
We brought John Gallagher back. Instead of doing the love video and then the breakup video, we did it in reverse. We broke up and then got back together. It was a pretty simple, '80s-style video. It showed me in natural settings in Central Park, and me at the piano. The funniest thing was, I was so into showing different looks at the time: I needed my hair curly! And then I needed my hair straight! So I laugh looking back, seeing myself lying in bed, hugging his picture, wearing these big moose slippers. I was so theatrical: I needed to show five different sides to myself — instead of showing one strong image, which might have been a better idea.
"Electric Youth" (1989)
"Electric Youth" was the half-million-dollar, "I wanna be like Michael Jackson" video — to the point that we got Barry Lather, who'd worked with both Michael and Janet, to choreograph it. He worked with me in my little basement dance studio in my house on Long Island. It took me five days to learn. Now that would probably take me five hours. Back then, doing all that choreography was all new. Because of the intro horn part of the song, I always pictured the video with these trumpeters at a castle. And I remember sketching a castle to show that. I showed up to set, and there was that castle. It was just insane.
Ghostbusters (1984)
I did a ton of commercials and voice work growing up. And that was just one where my agent called and said, "We want you to do this movie called Ghostbusters." And I remember thinking, Ghost … busters? If you hand't heard that title yet, it was just kinda odd. So they made me the birthday girl. I had a bow in my hair, and it was supposed to look like the entire restaurant was there for me. But then the extra who played the waiter was blocking me the whole time! I was very upset. Literally, he moved once and you see the side of my head, and that's about it. But my whole family went to the 69-cent movie theater in Merrick, Long Island, and we all screamed when we saw me, and it was terribly exciting for those two seconds. I was an extra in a ton of movies and the TV show Fame. There was a lot of work there.