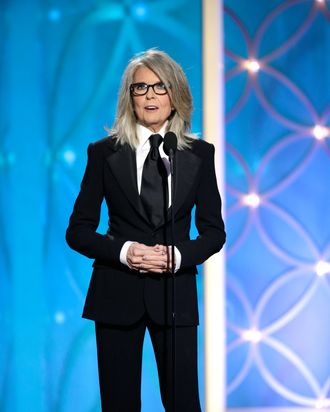 Diane Keaton is out promoting her new memoir, Let's Just Say It Wasn't Pretty, which means that members of the media finally have the chance to talk to her about Dylan Farrow's claim that Woody Allen molested her when she was a child. Keaton unintentionally ended up with a role in the sad, highly publicized February back-and-forth between Dylan, various members of the Farrow family, and Allen: A few weeks after the actress accepted a Golden Globes lifetime achievement award on Allen's behalf (an honor that Mia and Ronan Farrow criticized on Twitter), Dylan called her out for ignoring the longstanding abuse allegations against the director. "You knew me when I was a little girl, Diane Keaton," Dylan wrote in the New York Times. "Have you forgotten me?" In a newly published interview with The Guardian, Keaton said she wasn't hurt by Dylan's words because the two didn't actually know each other all that well.
After saying that she didn't "resent" being "dragged in" to the controversy, Keaton explained:
I saw [Dylan] maybe three times. I didn't know her. It's not a bad accusation. I was never friends with Mia – I was friendly. Sort of like I'm friendly with you. I like you, I like the way you are. I like the way she is, too. She's very charming. But I never knew her as a friend. A friend – that's a commitment. It's as close as you can get to family, and sometimes it's even closer. Friendship requires a lot of time.
When the interviewer more directly asked Keaton if she believed that Allen had sexually abused his daughter, she responded, "I have nothing to say about that. Except: I believe my friend." So, there you have it.