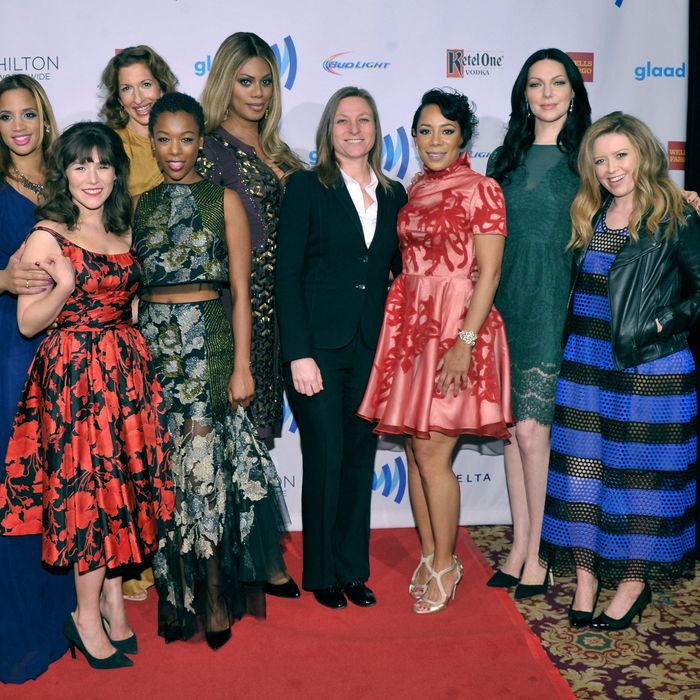 491318417KS00022_Orange_Is_
Photo: Stephen Lovekin/Getty Images
On Orange Is the New Black, maxi pads are slippers, Kool Aid is lipstick, and a screwdriver can achieve any number of personal tasks. Resourcefulness in prison is key. So last night at the premiere party for season two, which will be on Netflix June 6, we asked various cast members what tricks they would use should they ever find themselves in a similar situation. Here are their suggestions.
Dascha Polanco (Daya): "‪I would use Vaseline for anything. I would try to invent perfume — I can't live without perfume. I would get flowers, infuse it with alcohol or baby oil. That would be like rose water. Right?‬ Or you could make it a citrus, with lemons from the cafeteria!"
Natasha Lyonne (Nicky): "I would find a way to get cigarettes into prison. I in my day to day life in free land would love to quit smoking. But were I incarcerated, I would fully commit to continuing smoking and would have to find a way to make that happen." Okay, but what would she trade for the cigarettes? "Fingering. Thank you."
Danielle Brooks (Taystee): "‪Did you see the photo of Taystee with tampons as curlers?! I would do what Taystee does: Be smart, get cool with the guards.‬"
Yael Stone (Lorna Morello) and Lea DeLaria (Big Boo):
Stone: Well, I would ask Lea to do everything for me. And hope she would oblige.
DeLaria: And I would ask her to touch me every once in a while.
Stone: And I would probably say yes!
DeLaria: Our characters are cellmates, so that would probably work!
Jackie Cruz (Flaca): ‪I have been putting eyeliner in my lips because I have no lipstick — it's the goth look. That's what I would do!‬
Barbara Rosenblat (Miss Rosa): "I would figure out a way to entertain. Barter talent for stuff. A little smoked salmon would be lovely."