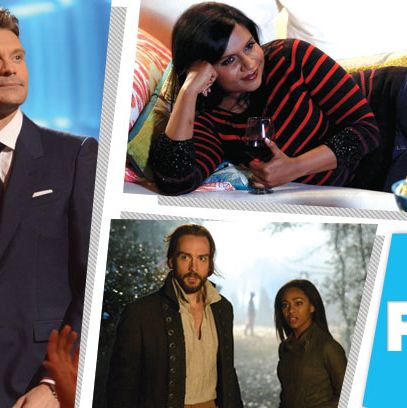 All this week, Vulture is getting you up to speed on where the four major broadcast networks stand in advance of next week's big upfront announcements. Our series began Monday with comeback kid NBC, and yesterday we chronicled the ups and downs of ABC. Next up: Fox, which for most of this century has been TV's No. 1 network in the advertiser-friendly demo of adults under 50. That streak has now ended, and Fox finds itself struggling to find a way to get the network back on track.
Where It Stands
It had to happen eventually, and now it has: American Idol has become mortal. Fox honcho Kevin Reilly — a recent Vulture lunch companion — has called the long-running reality competition the network's "killer app," but it has been fading slowly over the past couple of years. This season, it fell completely back to earth — and then kept falling. Last season, Idol ceded the singing competition to The Voice; last week, the Thursday edition of Idol couldn't even match the ratings of its lead-in, Hell's Kitchen. To be sure, even at diminished levels, Idol is still a solid asset for Fox: The Wednesday edition is the network's No. 1 show. But Fox can no longer count on Idol's big ratings to make up for other misdeeds. And this season, Fox had plenty of programming sins for which it needed to be absolved.
Glee saw its ratings among viewers under 50 collapse, dropping nearly 40 percent versus last year (from a 3.5 rating to a 2.2). A third attempt to get America to love The X Factor bombed, leading to the show's mercy killing last winter. Fox's already modestly rated Tuesday comedy lineup continues to struggle: New Girl dropped another 20 percent (on top of serious declines last season); The Mindy Project was off about 10 percent over its soft season one; and Dads drew scathing reviews (and ratings lower than Raising Hope earned in the 8 p.m. Tuesday slot last season). On Mondays, The Following lost any remaining momentum from its first season (though its DVR ratings were strong enough to merit a third season). And after finally luring Greg Kinnear back to TV via the new drama Rake, Fox was rewarded by viewers instantly rejecting his series. Factor out the one-night boost Fox got from the Super Bowl, and the network's demo viewership is currently down around 10 percent versus last season.
While there's no way of sugarcoating Fox's many issues, the network didn't completely tank it this season. Last fall's Sleepy Hollow instantly resonated with viewers and became an out-of-the-box top 20 success, with ratings on par with ABC's more heavily hyped (and better-connected) Agents of S.H.I.E.L.D. On Tuesdays, Brooklyn Nine-Nine didn't set the world on fire, Nielsen-wise, but it improved Fox's time slot ratings by over 20 percent versus last year's Ben & Kate, while also snagging a Golden Globe for best comedy. Fox launched a modest hit on Mondays with Almost Human (though monetary battles with the show's producers somehow resulted in its cancellation), while Friday's MasterChef Jr. turned out to be a sleeper success. Another Friday night show, Enlisted, ended up being one of the best-reviewed new comedies of the season. (Unfortunately, Reilly didn't share the enthusiasm; the show's odds of renewal are slim.) Finally, 24 returned this week to solid ratings; if its numbers hold up — a big "if" — the network will have made significant progress toward its oft-stated goal of programming scripted series year-round.
Buzziest Prospects 
We actually already know most of what's headed to Fox next season, thanks to the network's decision to skip pilot season and focus on a handful of projects designed to go straight to series. Dramas already green-lit include the Octavia Spencer hospital soap Red Band Society, the hip-hop-themed Empire, the D.C. Comics–produced Gotham, the historical thriller Hieroglyph, and a Rainn Wilson–starring detective series called Backstrom. On the comedy front, Fox is making a multi-cam sitcom with John Mulaney, a high-concept comedy (Last Man on Earth) starring Will Forte, and a comedy with Becki Newton called Weird Loners. A half-hour starring Justin Long has also been getting positive buzz, though it's not yet green-lit.
Biggest Headache
For the last three years, the combination of Idol in spring and X Factor in the fall has allowed Fox to limit how much new programming it rolls out each season: Combined, the two shows could fill up to four hours of the network's weekly lineup  (at least during the audition rounds of the competitions). Unlike ABC or NBC, which tossed out a dozen shows every season, Fox could be a bit more judicious. That equation changes next season, since X is gone and there's even a chance Idol could shrink to one night a week. Plus, Fox is limiting the episode counts of a number of shows (The Following, The Mindy Project, Sleepy Hollow), necessitating even more new series rollouts. Fox execs have anticipated this issue, ordering up a ton of new shows as well as "event series" designed to serve as tentpoles each quarter (that's what 24 is this summer). And it's possible taking more chances will increase the likelihood of finding some much-needed hits. But marketing all these new shows and convincing viewers to try something different nearly every month will be a massive challenge.
Bottom Line
Trying to grade Fox these days is tricky. Last fall, the network seemed to be doing well, with Sleepy Hollow a relative smash, Almost Human a serviceable procedural success, and Brooklyn a critical daring. But by spring, the network seemed in dire straits: With Sleepy limited to 13 episodes, Fox had no new young hits on its air after January, making Idol's decline seem all the more pronounced. The sophomore decline of The Following also stung. On top of that, understanding the decision-making logic at Fox can be a challenge: The network renews the fading Following but cancels the promising Almost Human; it ignores the buzz for Enlisted but may (possibly) bring back Dads.
And yet Fox is also the network that has given lower-rated but smart, well-reviewed shows such as Mindy and Brooklyn and Bob's Burgers plenty of time to build their audiences, and that kept Raising Hope on the air for four seasons despite diminishing returns. It's also trying to produce and program shows differently from the Way It's Always Been Done, by tossing pilot season and experimenting with shorter, cable-like seasons. Cynics think these actions are just a ploy to detract from weak series development. Perhaps: Network TV execs have always excelled in smoke and mirrors. But Fox chief Reilly's passion for his plan seems genuine. And when you look at the Nielsen declines at all the networks — even CBS! — it's hard to fault someone for at least trying to execute a new game plan. Of course, Reilly might turn out to be spectacularly misguided: A year from now, we could be talking about how his decision to go straight to series with so many projects sent the network straight to (Nielsen) hell. But with TV changing so quickly these days, Fox deserves some credit for moving forward with a thought-out strategy, rather than reacting to every new ratings low with panic and desperation. It'll be fascinating to watch how it all plays out.