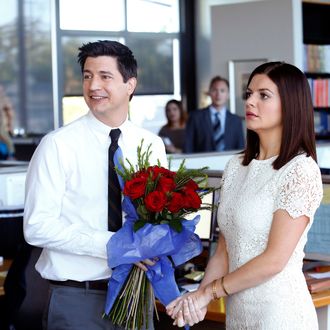 Photo: NBC/2014 NBCUniversal Media, LLC
Happy upfronts season, everybody! NBC announced today that it has green-lit four new series, including three political intrigue-themed dramas and a comedy from Happy Endings creator David Caspe. The single-camera comedy, entitled Marry Me, is about a longtime couple, played by Happy Endings' Casey Wilson and Eastbound & Down's Ken Marino, who decide to hold off on getting engaged until they can do it right.
In terms of dramas, NBC seems to have taken a page out of Showtime's playbook: State of Affairs stars Katherine Heigl as a boundary-pushing female CIA analyst — sound familiar? — who counsels the president (Desperate Housewives' Alfre Woodard) on global security issues while seeking to avenge her lover's death in a terrorist attack. There's also Allegiance, an Americans-y sounding spy drama about a present-day CIA agent (Gavin Stenhouse) who realizes his parents (Scott Cohen and The Newsroom's Hope Davis) are deactivated Russian spies that the Kremlin is seeking to re-enlist. Finally, we have Odyssey, a Traffic-like action drama about the colliding lives of a female soldier (Anna Friel), a corporate lawyer (Peter Facinelli) and a political activist (Jake Robinson) set against the backdrop of a military-industrial conspiracy involving an American corporation backing Al Qaeda. So there are probably going to be some spies in that one too.
Meanwhile, Fox picked up two new dramas. First up is Empire, from The Butler duo Lee Daniels and Danny Strong, which is described as a family drama set in the world of a hip-hop empire. Gabourey Sidibe will star while Timbaland will serve as songwriter and music producer. Also on the docket is Red Band Society, starring Octavia Spencer, about a group of teenagers who become friends in the pediatric wing of a hospital in a show that combines "young soap, a comedic one-hour, a hospital show, and a (surrogate) family drama."
Finally, the network ordered an additional ten episodes of Mulaney, the already picked-up multi-camera sitcom from former SNL writer John Mulaney about his life as an up-and-coming stand-up comic. So, if you're counting: that's two comedies, three political dramas, one hip-hop family drama, and a tragicomic, hospital-set, (surrogate) family teen soap. Set your DVRs!