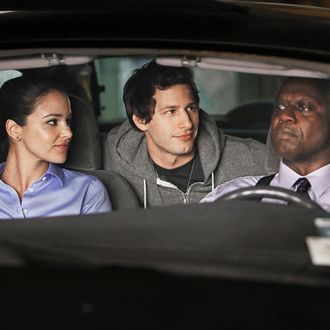 Fox is making big changes every night of the week next fall as it looks to halt its recent ratings slide. Among the headline moves on its just-announced lineup: Brooklyn Nine-Nine and freshman comedy Mulaney will air alongside The Simpsons and Family Guy on Sundays, Bones is moving (again) and the final season of Glee is being held (presumably until 2015). In addition, the Batman origins drama Gotham will be paired with Sleepy Hollow on Mondays, the Octavia Spencer dramedy Red Band Society will air on Wednesdays and new Big Brother meets Survivor reality show Utopia will run two nights per week. And as expected, Fox will begin rolling out several so-called "event" series, starting with murder mystery Gracepoint (a remake of Broadchurch). It's a whole lot of change, but with Fox's core schedule down about 10 percent vs. last season (and The X-Factor no longer taking up three hours per week), the extreme shuffling had been expected.
One of the most interesting changes Fox is making is its decision to break up Sunday's Animation Domination block with live-action half-hours: The Simpsons will now lead into Brooklyn, while Family Guy will try to boost Mulaney. Save for this spring's Cosmos, Fox has been all-animated on Sundays since 2007. But live action has lived among the citizens of Toon Town before, including the hit Malcolm in the Middle and the legendary (if low-rated) Arrested Development. There's logic behind this year's changes: Family Guy is pretty much a multi-camera sitcom that happens to be animated, and Mulaney is multi-cam; Brooklyn is sophisticated single-cam that could mesh with the sensibility of The Simpsons. And once Fox picked up both Brooklyn and The Mindy Project, it was obvious one would either move or wait until midseason: Fox simply doesn't have the comedy strength to support a two-hour sitcom block on Tuesdays.
Elsewhere, the combo of Gotham and Sleepy became obvious once Fox made the surprising decision to dump Almost Human, which had done well paired with Sleepy this season. On Tuesdays, Fox seems to be hoping Utopia will be noisy enough to steal away some female viewers from The Voice results show, thus boosting the female-skewing New Girl, which struggled this season. If the show clicks, the strategy makes sense; if it doesn't, Glee is always on the bench (though that would be a tough call to make given how poorly Glee has performed on Tuesdays this spring.) With X Factor now the ex- Factor, Fox is calling on its biggest reality superstar, Gordon Ramsay, and his Hell's Kitchen to give some support to Red Band Society; Bones will serve a similar function with Gracepoint on Thursdays. Fridays will pair this fall surprise success Masterchef Junior with a second night of Utopia.
The other big part of Fox's announcement is how much high-profile scripted content will wait until later in the season. Hip-hop soap Empire, which is getting very strong buzz in Hollywood, won't air until 2015; ditto the M. Night Shyamalan–produced Wayward Pines, which Fox said during last year's upfront would air in 2014. We'll also have to wait to see Seth MacFarlane's new animated show Bordertown, the Rainn Wilson procedural Backstrom and Will Forte's Last Man on Earth. Bottom line: Fox seems to have decided it can only launch so much scripted fare in the fall, and thus replaced the three hours of X with other reality programming, rather than all its more high-profile goodies. We'll have more analysis later today, but here's Fox's new fall lineup:
MONDAY
8-9 p.m. — Gotham         
9-10 p.m. — Sleepy Hollow
TUESDAY
8-9 p.m.— Utopia
9-9:30 p.m. — New Girl
9:30-10 p.m. — The Mindy Project
WEDNESDAY
8-9 p.m. — Hell's Kitchen
9-10 p.m. — Red Band Society
THURSDAY
8-9 p.m.— Bones
9-10 p.m. — Gracepoint
FRIDAY
8-9 p.m.— MasterChef Junior
9-10 p.m. — Utopia
SATURDAY
8-10:30 p.m. — Sports
SUNDAY
7:30-8 p.m. — Bob's Burgers
8-8:30 p.m. — The Simpsons
8:30-9 p.m. — Brooklyn Nine-Nine
9-9:30 p.m. — Family Guy
9:30-10 p.m. — Mulaney