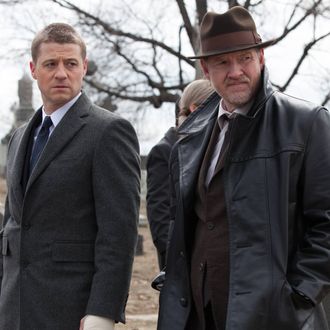 Fox unveiled its 2014–15 television schedule to advertisers and the media this afternoon, and now we have the image of a shirtless Rainn Wilson that we will never un-see. And we have some thoughts and questions and comments about that and nine other things from the struggling network's blissfully short upfront.
1. Gracepoint sure looks like Broadchurch. And not just because David Tennant is reprising his role in the American adaptation of the British crime drama. (Think The Killing: One case, one pair of cops, one town, etc.) The first moments in the teaser are straight out of the British original, with a panicky mom at a school field day who discovers her son isn't where she expected him to be — and that terror rises and rises until someone finds a body on the beach of the sleepy town. Anna Gunn looks appropriately she-copped (blazer, empathetic smile), but this definitely looks like it's for newcomers, not for fans of the original.
2. Fox will be airing a crazy-go-nuts motorcycle jump. Dubbed Jump of the Century, it's meant to evoke the Evel Knievel stunts of yore.
3. In the mood for something dark and moody? So is Fox! Fox touted its returning series Bones, Sleepy Hollow, and The Following, all of which are pretty murder-y. Gotham, the Batman prequel, is very bleak looking; Gracepoint is a murder mystery; Hieroglyph is about the sultry side of ancient Egypt (complete with, of course, murders); Backstrom, yet another cop show, has several dead bodies just in its promo; Wayward Pines also has deadly bent; and Empire's record-mogul family appears to have a dark history. From the network that brought you Glee, here are a dozen shadow-heavy dramas.
4. Get ready for shirtless Rainn Wilson. He plays the gruff, asshole-ish, boozy titular detective on Backstrom, who goes and gets a physical in the pilot so there's a convenient way for the audience to learn about what a bum he is.
5. Fox is very into Mulaney. Reilly called it a "Seinfeld for a new generation," which is a bold statement for a show whose sizzle reel includes a dog on a skateboard. But it does look pretty promising.
6. Remember how wonderful and unique the community-building Kid Nation was? Swap out the kids with grown-ups and you've got the network's new reality show Utopia. At best, this winds up like The Real World and at worst Big Brother. But hey, surprise us, Fox.
7. Like Twin Peaks? So do the producers of Wayward Pines. Fox is billing the ten-episode event series from M. Night Shyamalan and Chad Hodge (The Playboy Club) as incredibly similar, right down to a creepy shot of a ceiling fan. It already looks better and weirder than the last show we all compared to Twin Peaks. Hopefully it is also better than The Killing.
8. The Simpsons on demand whenever, wherever. Fox announced it was readying an app that would make all 552 episodes in its library available for viewing. Yay!
9. Please oh please don't let Empire wind up like Nashville. Because the hip-hop drama looks good! Or as good as a dark two-minute trailer can. The show, from The Butler teammates Lee Daniels and Danny Strong, stars Terence Howard as the head of a hip-hop empire whose wife and three sons vie for its control. And on that note, Gotham, about the origins of Batman's Commissioner Gordon, also seems more promising than the also superhero-less Agents of S.H.I.E.L.D. ever did. Do what these ABC shows could not, Fox shows.
10. Red Band Society will make you cryyyyyyy. The show is set in a pediatric ward where Octavia Spencer works and the kids have cancer, eating disorders, missing limbs … one of them narrates from his hospital bed because he is in a coma. But it's spunky, not Hallmark-y, and so we look forward to it greatly!