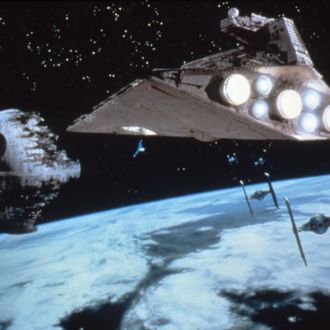 1983 — On the set of Star Wars: Episode VI - Return of the Jedi directed by Welsh Richard Marquand.
Photo: Sunset Boulevard/Corbis
As reported by The Hollywood Reporter, Gareth Edwards, who scored a major box-office victory this past weekend with Godzilla, has been tapped to direct one of the planned Star Wars spin-offs, which will be released on December 16, 2016. The Book of Eli screenwriter Gary Whitta will pen the movie's screenplay. Disney's plan is to sprinkle various spin-offs in the years between the movies that are part of the next trilogy, the first of which is set for December 2015. There has been no official word on which characters the spin-off films would focus on. We're hoping for Nien Nunb.