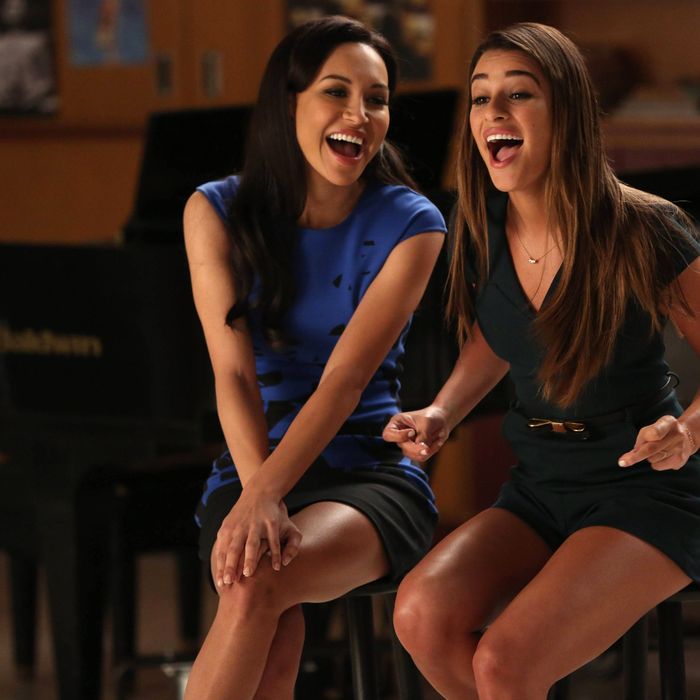 GLEE: Santana (Naya Rivera, L) and Rachel (Lea Michele, R) perform in the "New Directions" episode of GLEE airing Tuesday, March 25 (9:00-10:00 PM ET/PT) on FOX. ©2014 Broadcasting Co. CR: Tyler Golden/FOX
Photo: FOX
Last night's Glee season finale might have set the cast up for a final season that will take place on the West Coast, but it did nothing to quell the persistent rumors of some serious infighting between cast members Lea Michele (Rachel) and Naya Rivera (Santana). "She's shooting a Yeast-I-Stat commercial in Iowa for a week … She didn't call and tell you?" Mercedes told Brittany, who asked about her ex-girlfriend after showing up for an unexpected visit last night. Mercedes even made an effort to note that Santana would "meet them in Reno" after she got both Brittany and Santana background dancer gigs on her tour. Why would Glee repeatedly drive home the point (to the point of near-mockery!) that one of the show's main stars was missing?
Perhaps it's because they wanted to remind you that just a few weeks ago Us Weekly was reporting that Rivera was "jealous that Lea [was] the show's main star" and that there was a lot of "sighing and eye-rolling between them." "We're told tensions finally got so bad Naya 'had the stones' to go to producers and let them know — on behalf of everyone — that Lea was pissing off people," said TMZ. E! Online even went so far as to aggregate an unverified report from a relatively unknown pop-culture site called PopWrapped, claiming that Rivera had been fired and written out of the show's season finale. As it turns out, only half of that was true: But rumors spread so far and wide and fast across the internet that even a confirmation that Rivera wasn't leaving Glee for good didn't stop people from assuming Rivera and Michele had really been at war. For those who watch the show, it was all too familiar: The two play characters who also compete against each other. Super freaky coincidence? Perhaps not. 
This season, Rachel and Santana left William McKinley High to live in New York and try to make it in show business. Because we're on TV time, Rachel is quickly cast as Fanny Brice in a Broadway revival of Funny Girl. In an episode called "Frenemies," Santana auditions to be Rachel's understudy and, because there are only ten people in the Glee universe, she gets it. The director who casts her even mentions that Santana is out of her league for the role, but wants to "capitalize" on the girls' relationship. It's extremely dramatic (There's a slap!), and their friendship takes a toll. Several episodes later, in "New Directions," Rachel attempts to offer ten performances of Funny Girl to Santana as a "peace offering." Santana instead gives up the understudy thing completely. Despite the fact that this is all unrealistic on every professional level, the girls' feud is a focal point of the show's drama. But after Rachel succumbs to reading bad reviews of her opening-night performance, Santana's honesty borders on cruelty ("I can't stand you 90 percent of the time"), yet it's the only thing that pushes Rachel out of her deep depression.
The Michele/Rivera offscreen fight so closely mirrors that of Rachel and Santana on-screen that I find it hard to believe these "source-driven" reports are anything other than marketing. Especially given that the rumors set Glee fans into a frenzy, looking for clues during the show's lackluster fifth season. Ratings have noticeably dropped, so perhaps a little drama will push viewers to tune in for the show's sixth and final season? 
This isn't the first time in recent memory that a scandal has so closely mirrored what it might be promoting. In early April, James Franco tried to meet up with a teenager named Lucy Clode who was visiting New York on a school trip. "You're single? What's the hotel? Can I rent a room?" he asked her via text, after pursuing her on Instagram. She leaked the entire thing, the internet was up in arms while Franco was suspiciously casual about the whole potentially illegal situation ("I HOPE PARENTS KEEP THEIR TEENS AWAY FROM ME. Thank you."). It was all so casual that Lacey Donohue at Defamer was compelled to write a (convincing) essay called "The Case That James Franco and His Teen Sexter Are Hoaxing Us All," alleging that the entire thing was Franco-crafted — to help promote his new film, Palo Alto,which is about an older soccer coach who gets in a relationship with his teenage student. Franco wrote the stories on which the film was based and stars as the soccer coach, so why wouldn't he also try to manipulate the film's marketing campaign?
It's fun to speculate about famous people doing dumb, human things — especially if those things turn out to be true. But don't let these likely marketing-adjacent campaigns fool you! We live in a new world of Jimmy Kimmel pranksters, who will do whatever they can to get you to click and share. Gotcha! He'll exclaim after the planted video's gone far and wide. But unlike Kimmel's pranks, there's no reveal on these maybe-marketing stunts, just the fact that you gave them, and their products, your time and attention.