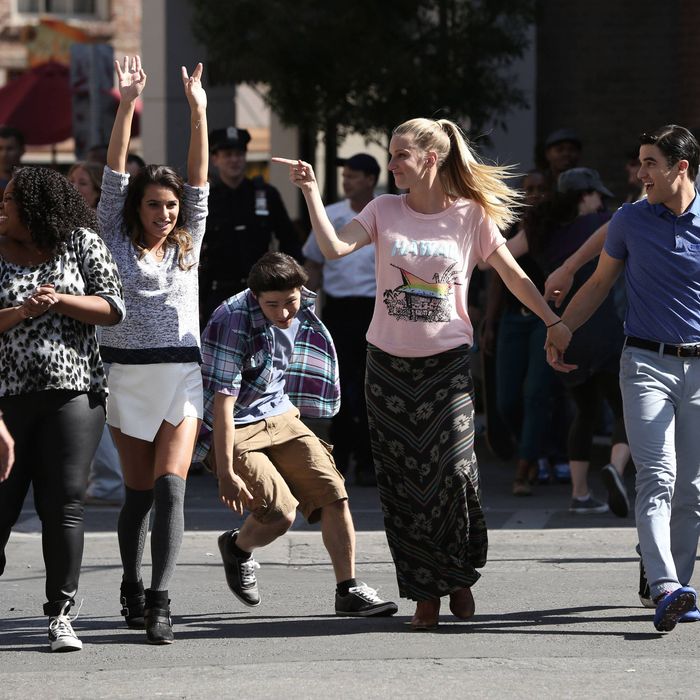 Thanks to a two-year deal locked in during season four, Glee was able to finish out its fifth season during upfronts week without any worries about its future. And while Fox executives may not know how many episodes of the show will air in season six, the certainty of last night's finale mixed with a few plot points and hints from co-creator Ryan Murphy on where things might be heading leaves plenty of room for fans to speculate on where and when Glee characters will find themselves next year.
Recently Ryan Murphy told E! that the two biggest changes for Glee in season six will be locational and temporal. Even though the action took place in New York City over the last seven episodes of this season, as Rachel launched her Broadway career, Sam and Mercedes rekindled their flame, and Kurt and Blaine figured out how to be fiancés in the same city, Murphy told Vulture recently that the Big Apple will cease to be the focal point, and that "the final season is really its own story and its own location, and while the New York stuff will be alive, the final season is really not New York–centric at all." We also know that, when the series returns for season six, it won't reenter Glee at the same point we left it last night. Season five was a first step toward a reimagined timeline: When the story picked up last fall, the glee clubbers were still stuck in spring 2013, but down the stretch, the show calendar caught up to the real-world calendar by using small time jumps throughout the year. But now, Murphy is promising something that has the potential to shake up the structure of the show.
If all that uncertainty isn't enough frustration for the diehards, fans will have to wait until the show returns to the Fox schedule in January 2015 to find out what the plan is for our beloved glee-clubbers. With so much time for speculation and debate, Vulture starts the discussion by laying down the odds on where and when Glee will take us when the sixth and final season premieres next year.
POSSIBLE LOCATIONS
The false hope: New York City
We may be leaving half our principal cast behind in the big city at the end of season five, but it's highly unlikely that New York will play a central role in season six. The finale tied a pretty neat bow on the collective dreams of New York as a place for the characters, and even went as far as closing out with Bastille's "Pompeii," explicitly positioning New York as the volcano-frozen ruins of a moment in time. Still, Murphy's been known to change his tune, and after all the positive press the New York stories have been getting, maybe even the Fox brass will put some pressure to keep at least some focus on the Big Apple in season six.
The safe bet: Los Angeles
All signs point west. Rachel is already there, and the rest of the gang has had brushes with Hollywood before — with Puck going there post-grad and coming back disillusioned to Mercedes leaving there for a sojourn in Brooklyn to be near her friends. We most recently saw L.A. through the lens of the club competing for Nationals there this very season. It fits all the clues Murphy has given both in canon and in interviews, and also leaves Glee to revolve around its favorite topic, ambition and performance. If we must leave New York behind, there's no better place to explore the ambition of young wannabe-stars than Los Angeles, where the challenges and culture are vastly different from the East Coast. The group may have their bearings in New York now, but L.A. is a different beast and ripe for play. It also allows an increased level of meta-references to Glee and Fox, which the show has taken a shine to in recent months. All in all, Los Angeles is the total package.
The contender: Lima, Ohio
Murphy claims the season will center on a new city that we've seen briefly before, but he's also been known to stretch the truth in interviews to hide his true intentions. Murph admitted that the original finale plan for Glee was to reunite Rachel and Finn at McKinley as the final scene of the series, but since Cory Monteith's unexpected death last summer, that moment — and the entire series — has been reworked. While we said good-bye to Ohio in the 100th and 101st episodes during season five, it seems unlikely Lima won't bubble up as at least an occasional location next year. Sam has returned there now, and it's very much Glee's style to repeat moments of the past to illuminate each character's future. The only problem is the show has used up most of the logical reasons to congregate the various cast back in Ohio for a reunion save the straightforward one — a class reunion. It could be cheesy, or it could work perfectly.
The dark horse: Chicago
It's a city we've seen briefly before, as they travel there for the season three Nationals competition, so it fits the aforementioned hint. But there's not much else leading us to the Windy City other than that it's a midwestern city that could somehow center the gang with Middle America sensibilities while still having a big-city feel. Rachel could shoot on location, Mercedes could conceivably tour there, and Blaine and Kurt could be part of a touring production that touches down in downtown. It's plausible, but unlikely, primarily because it would seem random.
POSSIBLE TIMELINE JUMPS
The false hope: a six-month jump
This barely warrants the grand announcement of a time jump, as almost every prior season of Glee has had a three-month jump by default, but Rachel did explicitly call out six months in the finale, telling her friends to meet back in the exact spot from which they embark on their episode-ending "Pompeii" number in that amount of time. While six months at the age of 20 is an eternity, most likely Rachel's decree is the red herring meant to fake-out the un-dedicated and shock the casual fans when Glee returns about just how much time has passed.
The safe bet: a three-year jump
This is probably the ideal length of time for a jump. Three years puts our heroes out of college and entering the real world. Glee has excelled at pinpointing the life transition and illuminating the stress and excitement that surrounds them. We'd also be able to juxtapose the different paths various characters have taken since high school. Some have skewed more traditional in their schooling, while others went straight to the real world of performing and the arts. How do they stack up when they return to each other's orbit? That world is loaded with conflict competition, a Glee staple. This passage of time is the most stable and has the most room for options, even allowing moments that count as major life events to sneak into the timeline, making it a "best of both worlds" option.
The contender: a jump ahead to a major life event
This season finale put everyone into positive places, moving forward with their dreams. There's not much open-ended, in terms of unresolved moments we've been waiting for on our screens. But those that we are waiting for could provide a basis for focusing an entire season around, no matter how far off in the future they might be. Klaine is our big hope for big life moments, although Rachel could deliver some as well. Here are three options: 
1. Kurt and Blaine's wedding. If How I Met Your Mother hadn't just built its entire finale season around a wedding weekend, this time jump would have been the safest bet. Kurt and Blaine's wedding is the big, lingering moment of the current Glee canon, promised to the flock but not yet delivered. Murphy has implied that Klaine will be a huge aspect of season six, and what would be more important than the couple's eventual nuptials to bring back all walks of Glee life for an entire season? Flashbacks and flash-forwards galore, and no one would be sitting around wondering how the whole Mother thing would play out, so there would have been way less room for fan disappointment. If only Ted Mosby hadn't ruined Glee's chances at using this gambit for its final season!
2. Kurt and Blaine start a family. Although less telegraphed, Kurt and Blaine have talked about their future children multiple times in the series, and so the final season could jump us to a time when Kurt and Blaine's challenges are more domestic than theatrical. The existence of Klaine offspring could serve as the framework to weave a grown-up story for the other characters and put them all back in touch. Rachel versus Quinn as potential surrogate or godmother, another rehash of Beth story line, Sam and Mercedes realizing they've put their romance on hold too long, Artie finally settling down, etc. It might be a little too The New Normal redux for Fox or Murphy's taste, though. Been there, done that.
3. Rachel's pilot premiere. There is one huge non-Klaine moment in the works, and that's Rachel's TV show. All signs point to season six relating to Rachel's life in Hollywood for the location, and so bringing us back into the story as Rachel is poised to become a TV star would be ideal. Has she learned anything from her diva behavior during Broadway? Is she staying away from the blogs? Did she bring along any of her friends to share in her success, and if not, how are they feeling about the slight? The experience of having a TV-famous friend is much greater than a Broadway-famous one, and watching the gang deal with that shift in their everyday life could make for great, if incredibly meta, television. 
The dark horse: a jump ahead to the old-folks home
Picture it — close in on Rachel Berry and Kurt Hummel at the Lexington Home for Retired Performers, arguing over who gets the big "Defying Gravity" solo in the end-of-year talent show. We already know singing old people are adorable, thanks to last week's Chris Colfer–penned episode; think about how much more adorable they'd be if they were old people named Blaine Anderson and Sam Evans? There's probably no world in which this would work for the audience, but Murphy has nothing to lose on this guaranteed final season, so he could be daring enough to try. It would have to feature copious flashbacks and really stretch the abilities of the Glee makeup and prosthetics department, but we say they're up for the challenge if this long shot came to fruition.
Long story short: See you in L.A. in about three years or so, Glee characters.