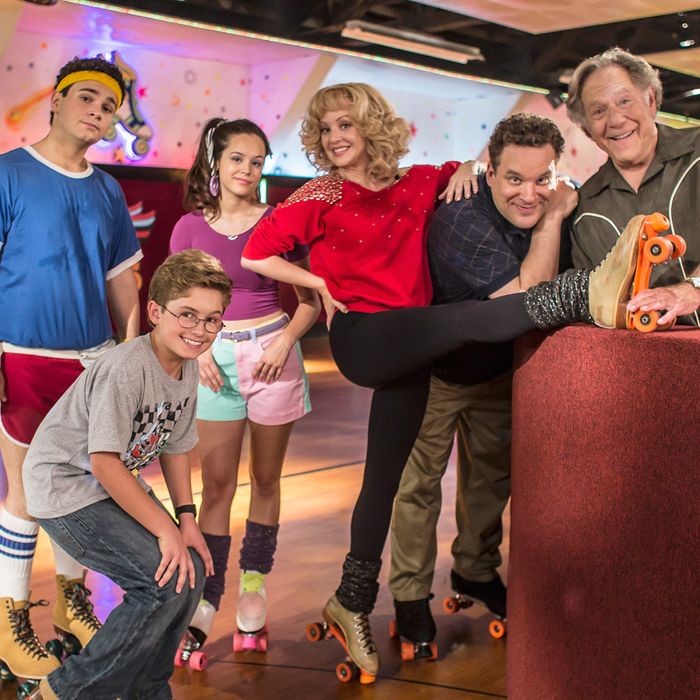 When ABC picked up The Goldbergs a year ago this month, most folks in the TV business assumed the 1980-something family comedy was headed to Wednesdays, the night where the Alphabet airs familial fare such as The Middle and Modern Family. Instead, fourth-place ABC opted to pair creator Adam F. Goldberg's affectionately autobiographical sitcom with another newcomer, Marvel's Agents of  S.H.I.E.L.D, on Tuesdays. The two shows were thematically incompatible, but The Goldbergs nonetheless managed to find a decent-sized audience. The comedy, which stars Wendi McLendon-Covey and Jeff Garlin, was a "self-starter," ABC chief Paul Lee told reporters a few weeks ago. And so, not surprisingly, Lee earlier this month ordered a second season of the show, making it one of just five freshman comedies to survive for a sophomore year. The network also finally came to its senses and said it was shifting The Goldbergs to Wednesdays, starting tonight with a summer run of repeats at 8:30 and 9:30 p.m. (New episodes will air 8:30 p.m. Wednesdays in the fall.) Vulture caught up with Goldberg via email to discuss tonight's move, along with what lessons he learned from the first year of the show, why there's been precious mention of MTV on a show about the 1980s, how he imagines the series ending, and the role Steven Spielberg played in shaping his future.
So even though you actually did okay on Tuesday, you have to see this move to Wednesday as good news, yes?
I couldn't be happier. We've always felt that in order for us to really break out, we have to be with The Middle and Modern Family. A lot of people don't know this, but The Goldbergs is one of the strongest family viewing shows on ABC, [which means] we have the highest co-viewing of adults 18-49 watching with teens of any ABC comedy. I constantly heard that families had to DVR the show at 9 p.m. because it was too late for their kid. Or, they didn't discover it until last month because it wasn't on [ABC's] family night.
Let's talk about season one. The Goldbergs is based on your own childhood, but strictly speaking, it's not completely autobiographical. Things happen to the TV character that didn't happen to you. Did the pretend Goldbergs evolve over the first season of the show? Did they end up different people than the semi-real, semi-imagined characters you created a couple years ago when you first came up with the idea for the show?
As I was preparing for season two, I looked back at the character bible I wrote when the show first began. Amazingly, everything in that bible still holds true today. However, I think each character has been softened as I discovered this is an ABC show for parents and their children to watch together. Murray yells less and has more heartfelt moments than I ever imagined. Beverly was first conceived to be more like my real mom —  a no-nonsense ball-buster. Wendi is a comedic genius who made Beverly more of a doting mother filled with love, so we began to write to that. I initially imagined Barry melting down every episode, but discovered he's more fun to be a big dreamer full of passion. Adam was going to be just like me — a little instigator always stirring up trouble. Sean is such a sweet kid that I decided to focus more on his growing pains, and him struggling to fit in. And Erica … doesn't exist in real life. Eric is my oldest brother. She was the only real character we had to figure out.
Actors like to give input on who they believe their characters to be, especially after they've inhabited the roles for a bit. Has that happened on The Goldbergs? And if so, do you get to win every argument, given the source material for the show?
Because these characters are my family, the actors have never once said, "My character wouldn't do that." They often ask me, "Am I playing it like they would in real life?" It's amazing really: The cast just wants to do my family justice. However, the actors have influenced many important aspects of each character. For instance, Troy [Gentile]'s obsession with rap made me come up with Barry's alter ego, Big Tasty. In reality, Barry wanted to tour with The Grateful Dead.
Right now, young Adam is in his own wonder years, so most of what happens in his life isn't too heavy. The first kiss was about as serious as things got this season. But if you run five, six, seven years, you're going to go deep into puberty. You think those stories will be tougher to tell? And do you make your TV adolescence easier or messier than the real one?
Sean [Giambrone] is at the age right now where I can tell very innocent stories. They're all about the struggle growing up. I feel like this never really stops when you're a teenager. [But there will still be] painful stories about getting older and becoming an adult. Also, the good thing about setting the show not in a specific year, but the '80s in general, is that I don't have to age the characters year by year. Adam will still be in seventh grade season two. Erica will still be a junior; Barry a sophomore. Once Adam's voice begins to change, he'll progress to eighth grade. This means that at year five the characters may only be two grades older.
You've dropped a few subtle reference to your Jewish roots in the show, but for the most part, you've kept The Goldbergs pretty universal. Will that change in season two? Do we tackle the Bar Mitzvah at some point?
I would love to do a Bar Mitzvah episode. The question is: What is the right story that feels universal? This show is all about tapping into my painful childhood memories that we all had — so it's just about finding a great way in. The song choice would have to be "One Moment in Time," by Whitney Houston. They played that like five times that night.
MTV was huge for those of us who grew up in the '80s. I think you've mentioned it in passing, but so far, no major storylines. Is that on the horizon?
That is up to MTV! We wanted to use their old logos and videos in the pilot, but they rejected us. MTV said they wanted to look to the future, and not dwell on the past. I hope they change their minds and realize they defined my generation— and need to be celebrated.
You've gotten a lot of good reviews, but also some negative ones. And in some cases, you've been pretty public in disagreeing with those critics, even engaging them on Twitter. Do your reps try to get you to stop? Or, because this show is about your life, do you take critiques a bit more personally than you did with Breaking In?
Prior to The Goldbergs, I rarely got good reviews on anything I've done. Some of my movies hold the bottom rankings on Rotten Tomatoes. [But] I had never once engaged with a critic. I quickly discovered that was different with The Goldbergs. I put my life out there for people to judge, and it initially drove me crazy that critics were saying it was fake, unrealistic, and this family hated each other. It was a very complicated, emotional situation to be in. I admit I sometimes became overly sensitive. I got angry with one critic who didn't watch the show and wrote off Murray as a lazy idiot who didn't love his kids from the trailers. My dad has passed away, and isn't here to defend himself. So I did it for him. I know their job is to critique what we do, good or bad. I respect that. What I find unacceptable is when a critic only watches one episode, and then very publicly writes the series off entirely. The cast and the producers all contacted Rob Sheffield at Rolling Stone, who only watched the rough pilot and dubbed us "The Worst Show of 2013." If he called it the worst pilot of 2013, then we'd all live with it, because that's his opinion. But it's wrong to watch one episode and have Rolling Stone call the entire series garbage. We're fighting for survival, and it frankly is an awful thing to do to the hundreds of people working so hard every week.
You had to track down Steven Spielberg in order to get permission to use The Power of Love by Huey Lewis in an episode. This isn't the first time you've engaged Mr. Spielberg though, is it?
True! Just like Adam on the show, I was obsessed with Spielberg ever since I saw E.T. when I was a boy. He was my idol, and I got the crazy idea of inviting him to my Bar Mitzvah when I was 13. I wrote him a passionate letter about how much he inspired me and how I re-enacted Back to the Future with my video camera. And Spielberg actually replied! He called back and said, "Make [your] parents proud." He sent me autographs from E.T. and articles about film schools. To this day, it is still one of the greatest moments of my life. I have the letter I wrote him inviting him to my Bar Mitzvah framed on my wall! 
As we talked about last fall, the ending song in the show has become something of a signature for The Goldbergs. How much time do you spend picking it? Do you have a music supervisor tasked with just this?
In every script, we pick a song that we think will be perfect — and then the song always changes once we see the show cut together. We drive our music department nuts getting songs cleared, and then always changing it. I always screen the show for the writers and then we come up with a list of five songs for the editors to put in. When the song is right, the show comes to life, and it's always an easy decision. The only song that stayed in start to finish was Toto's "Africa"— because it's just awesome and perfect in every way.
Did you ever think about making your show multi-cam? Or would it not work in that format?
I always imagined this as The Wonder Years with my family in the '80s — which made it a single camera from moment one. 
Maybe there could be a dream sequence where Adam or Barry imagines his life as an '80s sitcom.
My favorite thing to do as a kid was pretend I was in the opening credits of a sitcom. As the theme song would play, I'd look up at the imaginary camera and smile as my name would flash on the screen. I want to do this bit [next season] for sure. I wish there was a way to put Adam and Barry in Alf — but I think that would be jumping the shark. Maybe I could put them in Happy Days when they actually jumped the shark?
Do you have an ending scene in mind for the show?
For sure. The last scene will be New Year's Eve, bringing us into 1990-something.
Last question: What's your go-to '80s karaoke song?
Singing karaoke is my worst nightmare. But in the car I rock out to anything Bon Jovi or Beastie Boys. I memorized all of License to Ill, and still go nuts every time I hear "Brass Monkey."