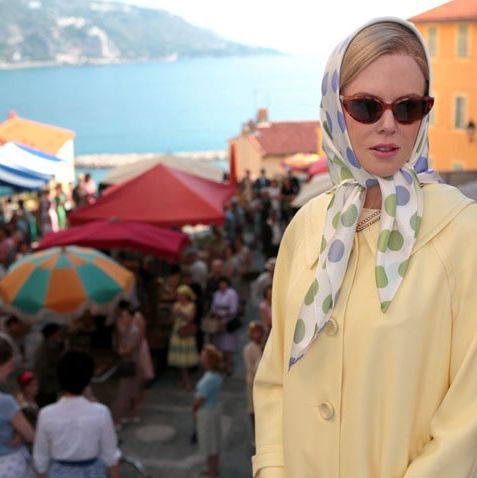 Photo: The Weinstein Company
And we're off! This morning the Cannes Film Festival opened with perhaps the most appropriate movie ever to screen on the French Riviera: Grace of Monaco. After spending two hours in the dark watching Nicole Kidman as Princess Grace Kelly, who met her future husband, Monaco's Prince Rainier III, in Cannes in 1955, we stepped out to a gloriously bright day in the south of France, just 34 miles down the coast from the tiny city-state where Princess Grace made her home.
The movie itself, though, has seen a less-than-sunny reception. The reviews today have been scathing. The Guardian wrote that it "is a film so awe-inspiringly wooden that it is basically a fire-risk." Variety called the movie a "cardboard and frequently cornball melodrama." The Hollywood Reporter referred to it as a "stale wedding cake of pomp and privilege" and The Playlist slammed it with a review that said the movie was "rarely competent, unintentionally hilarious and borderline reprehensible in both its politics and its take on gender roles." At the second press screening of the day, there was copious laughter. Grace of Monaco is not a comedy.
Going into the festival, the film looked like it might not even get released in the U.S., due to a very public fight between director Olivier Dahan (La Vie en Rose) and Harvey Weinstein over the final cut, which Weinstein had reportedly thought was too dark (read: essentially, too French). And earlier this month, the royal family of Monaco released a second statement, following one they'd made in January, denouncing the film as a "farce," based on a trailer that, they say, "confirms the totally fictional nature of the film."
Today that denunciation will feel particularly pronounced, as the family has refused to attend tonight's gala premiere (an event they are almost always at). In an interview with a French newspaper, Princess Stéphanie — who was born after the fractious time depicted in the movie and who survived the car accident that killed her mother in 1982 — told a local French newspaper that the film "should never have existed."
At this afternoon's press conference, Kidman discussed the "awkward" situation. "Obviously I feel sad because I think that the film has no malice toward the family or towards Grace or Ranier. It's fictionalized. Obviously. We've said that. It's not a biopic. There's there essence of truth, but it's with all of these things — you take dramatic license at times. But I understand also it's their mother and father, and I understand the protection of their mother and father."
This is a pretty big about-face for the family, who had previously expressed their support. Prince Albert II attended last year's Academy Awards in what was seen as a move to boost interest in the movie. What could be at issue is the less-than-rosy depiction of Kelly's marriage to Rainier. The film concentrates on a very narrow time of Kelly's life, in 1962 and '63, just after the Algerian War, when French President Charles de Gaulle blockaded Monaco and threatened a hostile takeover because he viewed it as a tax haven for wealthy Frenchmen. The movie depicts Kelly as deeply unhappy in her relationship. She contemplates divorce, though in the end chooses her family, realizing how damaging her return to Hollywood and the appearance of an unstable union would be to Monaco in its fragile state. In the end, the film suggests, she decides to embrace "the greatest role of her life," as a princess. In any case, unauthorized Kelly biographer Wendy Leigh, has said that the film could have been much worse. Prince Rainier had been on a desperate search to conceive a legitimate heir or risk losing his throne when he met Kelly during a photo shoot she did at his palace in 1955. According to Leigh's 2007 book, True Grace, the prince had taken three mistresses within months of their honeymoon, on which Kelly had gotten pregnant.
At least the Weinstein controversy seems to have been resolved. The movie was supposed to come out last November, but Dahan balked very publicly at a separate cut of the movie that Weinstein had done for an American release. In October, he told a French newspaper that he was feeling "blackmailed" by his American distributor. "Either you say, 'Go figure it out with your pile of shit' or you brace yourself …" Dahan said. "There are two versions of the film for now: mine and his … which I find catastrophic." The movie was supposed to come out in March, but that also got pushed. Weinstein's objections apparently were that there wasn't enough on Kelly's rise through Hollywood, and that the political stuff was confusing. (Having seen the movie, I can say that it is.) But the Weinstein Company reportedly struck a deal with Dahan today, and will distribute his cut.
Asked at the press conference if there will be two different films, one for Europe and the world, and one for the U.S., Dahan said, "No, there's only one version of the film. Harvey will use that version. If some changes need to be made, we'll do that together. There's no longer any dispute, everything has been totally resolved, we work well together, and I'm very pleased with the current situation."
Kidman, for the most part, has managed to stay above the fray — very Grace Kelly of her — and spoke only of the experience of playing Kelly. She'd seen all of Kelly's Hitchcock films before she'd even signed on, so only had her Oscar-winning turn in Country Girl to catch up on. Kidman spent most of her five months of prep time watching footage of Kelly and became fascinated by a press conference Kelly did when she knew she was going to marry Rainier and got peppered with "questions about the nationality of her children and citizenship." Kidman did try to approximate Kelly's voice, but she said she mostly "went for her essence."
Kidman said that she understood Kelly's decision to ultimately not go back to acting and to work on her family. One reporter asked if she would give it all up for love. "I've never had to," said Kidman. "I would absolutely. I wouldn't even think twice about it. I would hope there were other things I could do, and I would find something else to do. I think love is the core emotion. I've lived without that and existed without that in my life, and it's a very empty life. I've always said that when I won the Oscar, I went home and I didn't have that in my life. And that was the most intensely lonely period of my life. And I've also said that, strangely for me, the greatest highs have coincided with the greatest lows … It's always aggravated me that it's gone that way. I'm hoping that one day I can have a professional high and a personal high. I don't know if that's ever possible."
It was a refreshing moment of honesty from such a huge movie star in such a public forum. Kidman looked around the room and seemed to realize she'd brought the mood down, and trailed off. "Sorry to go to that place."
* This post initially stated that Prince Rainier was 55 when he married Kelly. He was actually 33.