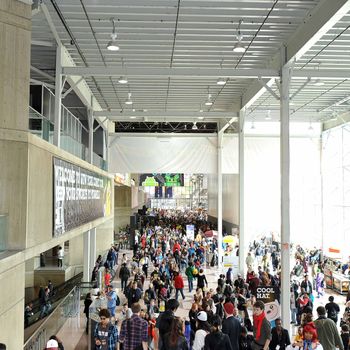 Crowds at the 2011 New York Comic Con at the Jacob Javits Center on October 15, 2011 in New York City.
Photo: Marc Stamas/Getty Images
Recently, I asked the publisher of a major imprint what he thought of BookCon. "What's BookCon?" he asked. BookCon, I reminded him, is the latest effort by Book Expo America, the country's largest publishing trade fair (which starts Wednesday), to open up on its last day to the public, or whatever portion of it wants to pay $30 to spend a Saturday collecting autographs at the Javits Center. Its organizers, New York Comic Con managers ReedPop, aim to do for books what the ever-expanding universe of Comic Cons do for Marvel, et al. It's billed as a space "where storytelling and pop culture collide" — a conceit that works fantastically in the hypersynergized nerdspace of comics, where virtually every sidekick has her own film franchise and action figure. But could it actually work for something as discrete and notoriously synergy-averse as the plain old book?
For nearly 60 years, some incarnation of Book Expo, or BEA, has connected booksellers with publishers looking to unload their fall lists to stores across the country. But over the last decade, bookstore consolidation and the internet — fewer booksellers, fewer meetings — have made the show feel less essential. What seems increasingly essential, though, is a way to find readers across the void left by dwindling Barnes & Nobles and book-review pages. In recent years, it occurred to BEA's organizer, Reed Exhibitions, that admitting the public for a day might put a spring in everyone's step. For the past two years, Reed concluded the show by inviting up to 2,000 "Power Readers" onto the Javits show floor.
"Power Readers" turned out mostly to be industry-adjacent types already interested in publishing — interns, librarians, self-published writers. In other words, it still felt very B-to-B. So this year Reed called in the cavalry — their subsidiary ReedPop, which had both a track record of consumer shows and a manager, Lance Fensterman, who used to organize BEA. "I see myself in the E-to-E game," says Fensterman (That's end-to-end). "So we stepped in and said, 'Let us do this.'"
ReedPop's first big question was — and remains — who is BookCon for? Talking to Fensterman and perusing the show's lineup yields two different answers. "We're looking for urban, educated, sophisticated," says Fensterman. "I always joke that every BookCon fan should have at least six figures of student loan debt." Fensterman thinks the $30 ticket will filter out casual gawkers looking for swag or signatures to sell on eBay. "We're trying to find the passionate fan base," he says. "Our events are not the auto show."
And yet, the main events include a sneak peek at Warner Bros.' This Is Where I Leave You, followed by a panel featuring Jason Bateman, Tina Fey, director Shawn Levy, and Jonathan Tropper, who, by the way, wrote the novel it's based on. YA giant John Green will discuss The Fault in Our Stars — not his book but the new movie — with its producers and creators. Amy Poehler and Martin Short will talk up their forthcoming books, as will Cary Elwes — Westley from The Princess Bride. A panel on "blockbuster reads" for kids will include that notable children's author, James Patterson. Jodi Picoult, John Grisham, Stan Lee, Grumpy Cat, and several prolific genre stars will fill out the schedule. Everything about the lineup screams suburban parents and their slightly offbeat tweens.
You can see the Comic Con logic: Draw in rabid fans across genres and media any way you can. What publishers would like to know is whether they will come for the books — and eventually buy them. "Are they really interested in reading or is there some anchor movie that's not at all connected?" asks Simon and Schuster marketing VP Liz Perl, who is optimistic but expects a lot of "trial and error" in BookCon's first run. "It's really going to rely on not the number of attendees but who they're drawing." Where, asks another marketing head, are the Michael Chabons, the Salman Rushdies? Among the few literary guests so far is novelist David Mitchell, a relatively late addition corralled by Random House. He's appearing in a conference room downstairs.
Also added late in the game: roughly ten nonwhite panelists. Their complete absence from the initial lineup, announced last month, led to a weeklong onslaught on the website Book Riot, whose senior editor Rebecca Joines Schinsky wrote a piece headlined "Readers Deserve Better than BookCon." There followed a volley of outraged tweets and semi-apologies from ReedPop, which promised more soon but also stated, awkwardly, "We don't want to make promises or statements that will at this point seem self-serving or sound like tokenism." Fensterman says that several writers of color were in the early mix, but "logistics" got in the way of their inclusion. In the end, Rachel Renée Russell, the black author of Dork Diaries, was invited onto the blockbuster kids panel (after rejecting an offer to moderate), and another panel was added, jujitsu-style, under the title "#WeNeedMoreDiverseBooks" — a hashtag created partly to protest BookCon.
No festival wants to spend its first week in public being attacked by exactly the kind of social media junkies it's courting. "It just seems hugely insensitive and idiotic," Grove Atlantic publisher Morgan Entrekin says of BookCon's unforced error. Rick Riordan, another member of the kids panel, says that "the only real solution here would be that it hadn't happened." Organizers say they were simply overeager to announce a starry early lineup. "I think it might have been better if we had waited a little longer," says BEA head Greg Topalian, "and given a greater snapshot of what's in the works." Schinsky still plans on sitting it out: "I hope next year they'll do it right from the start." She also points to the larger demographic conundrum. "This lineup that's star-studded and has a lot of celebrities on it is impressive, but not really consistent with what a book nerd is looking for."
Author-panelist John Green is an expert on book nerds; his rabid fans call themselves "nerdfighters." Green runs a popular YouTube channel with his brother and organizes an event called VidCon. "The challenge," he says, "is finding people whose communities are strong enough that they'll want to participate in a day-long conference in order to hang out with people. Put it this way: I'm a huge fan of the author Maureen Johnson. I'm also a fan of Michael Connelly, but because my relationship with Maureen Johnson extends to Twitter and Tumblr, there's a very different relationship. There are a lot of people I watch on television who I don't necessarily want to meet in real life." Comic Con thrives on this kind of close engagement; nourishing it in the world of books is one of BookCon's greatest challenges.
It's also publishing's great challenge. The first demographic BookCon had to court were the publishers who shell out annually for booths at BEA— and whom BookCon is relying on to provide its meat-and-potatoes, non–Tina Fey content. Enough of them had to commit to locating booths in BookCon's dedicated space, hosting giveaways and hawking books directly to consumers. ReedPop met with the bigger ones for months. Some of them wonder if they can successfully pitch fall books to readers so far in advance. "For the big authors — Grisham, Poehler — they'll see them on TV in three or four months anyway," says HarperCollins head publicist Tina Andreadis. "But everything else, are they really gonna remember?" HarperCollins will lend out several authors to BookCon, including Short and Poehler, and organize three giveaway tables — but no events of its own.
Company attitudes vary widely. Macmillan, whose imprints include St. Martin's Press and FSG, is all in, planning panels on the hour in a variety of genres. "I think that most of the people we're expecting will still be avid readers" who "want that insider perspective," says Macmillan events VP Erin Coffey. But Grove Atlantic's Morgan Entrekin wasn't even sure what his team was up to: "I've got my plate full doing what I'm doing" during BEA's trade days. It turns out Grove isn't doing anything at all. "Here's the deal," says marketing head Judy Hottenson. "It came about a little late in the game, and we are just at the moment focused much more on booksellers." BookCon seems overall "more entertainment-focused," while Hottenson's selling "the content of our books … I'd like to see how it goes, and see what happens next year."
What organizers, publishers, and authors all agree on is that BookCon is more of an experiment than a show. Details as simple as whether books will be sold have yet to be ironed out. (Very few publishers will be selling any, but the website still warns attendees to bring cash.) So far 8,000 tickets have been sold, but Fensterman sees no reason why BookCon might not eventually approach the six-figure attendance of either Comic Con or Germany's enormous Frankfurt Book Fair. "Yeah," says Fensterman. "Let's have a massive celebration of books and popular culture that can rival a show like Comic Con. Wouldn't it be awesome for everyone involved? That would kill." In the meantime, there's still a lot to figure out, and a fire or two to extinguish. "I think there are some embers that need to be tended to."