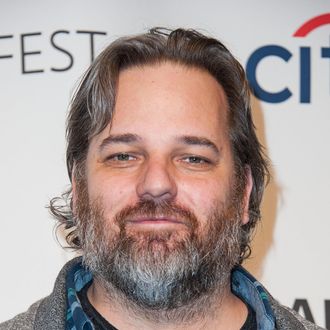 Dan Harmon.
Photo: Valerie Macon/Getty Images
When the news came out on Friday that NBC cancelled Community, many were upset. The assumption was that no one was more upset than the show's creator, Dan Harmon; however, that appears not to be exactly true. Harmon found out the news on the way to the airport, where he was set to fly to Portland for a live taping of his podcast, "Harmontown," at the Bridgetown Comedy Festival. Though he admitted it will "take weeks to sink in," Harmon seemed mostly at peace (and drunk). "The fans of that show have more reason to be upset than I do," he explained. "I can try to make another show, and also I got paid for every minute I cared about that show … the people that are most devastated are people who put unpaid labor into the show [meaning fans]."
It was a point he echoed in a blog post he posted last night. Harmon said he was "definitely in the 'eh' column" when Sony first mentioned the idea of shopping Community around. He says there are a "million reasons, some selfish, some creative, one logistic, five sexual, three racist (in a good way) and, oddly, nine isometric" why, but a lot of it comes down to the fact that his enthusiasm won't make a difference. And, according to him, neither will the fans: 
"Part of my 'eh' was coming from the unsettling thought of your passion for campaigns being once again exploited by this rather unfair, somewhat backward system, one that now treats you like it's your responsibility to keep a show alive, like a corporation is doing you a favor by feeding you low grade opiate through a regulated tube. Like you owe them an apology when they can't measure or monetize you to their satisfaction. You deserve better. I love you guys, and at its best, Community is me saying that over and over again, saying let's get less mad at ourselves and each other and more mad at the inhuman systems that keep us down and divided." 
Though he expects that by today he'll switch from "eh" to "sure, let's talk," he also expects "resurrection could be difficult." He added, "So be prepared for that." Considering what Community fans have been through already with the show, we're pretty sure they are prepared.