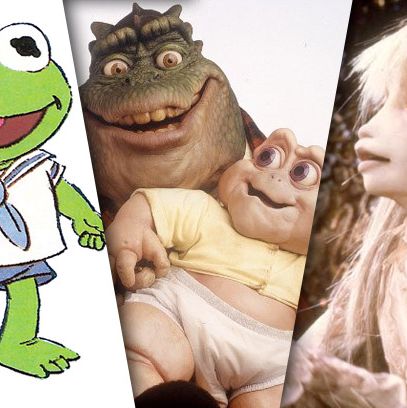 Photo: Jim Henson Production Company
Jim Henson's Creature Shop Challenge wrapped up its first season on Syfy earlier this week, and it has proven to be one of 2014's most delightful surprises. The eight-episode reality competition premiered in late March to over 1.1 million viewers, making it the network's highest-rated unscripted premiere since 2013. Each week, contestants are challenged to design and build mechanized, camera-ready creatures, which are then put through screen tests to determine a winner. Their creations are imaginative and original, but they also trigger nostalgia for Jim Henson productions of yore: films like The Dark Crystal and Labyrinth are brought up frequently, as are TV series like Farscape and Dinosaurs. Which got us thinking: Is the Jim Henson Company dropping hints about rebooting these franchises?
The recent Hulu debut of Doozers, an animated Fraggle Rock spinoff for preschoolers, did nothing to curb our curiosity. To get the scoop, Vulture called up Lisa Henson, CEO of the Jim Henson Company and daughter of the legendary puppeteer. While she pointed out that the Jim Henson Company is always working on new productions — including the upcoming film Alexander and the Terrible, Horrible, No Good, Very Bad Day — she was happy to walk Vulture through the status of its legacy properties. Read on to find out the company's plans for reviving The Dark Crystal, Fraggle Rock, and more.
The Dark Crystal
Development history: For this dark fantasy film, released in 1982, Jim Henson created an immersive world with its own language, myths, and symbols — which most viewers didn't realize, because the internet wasn't around to give them the obsessive details. (You can now read them on the official Dark Crystal website.) The Henson company first announced plans for a sequel, The Power of the Dark Crystal, in 2005. The film remained in pre-production until 2012, when Omnilab Media (which was working with the Henson Company on the combined puppet-and-CG visual effects) announced that the project was on hiatus. However, interest kicked up again in 2013, when the Henson company hosted a Dark Crystal Comic-Con panel, launched the aforementioned website, and announced an "Author Quest" contest for fans to write a Dark Crystal YA prequel (with a $10,000 book contract as the prize). One competition on Creature Shop Challenge was to create a new design for the film's creepy birdlike villains, the Skeksis.
Current status: The planned sequel, The Power of the Dark Crystal, is still in development, though Henson emphasizes that it is not yet in pre-production. "At one point, it was written about as if it was moving straight into production, particularly when we had Genndy Tartakovsky (Dexter's Laboratory) attached as the director. And then, it didn't," she admits. "So these things happen in the movie business, and we're not dissuaded because we love the property and love the world, and it has many ardent fans." The script by David Odell (who wrote the original Dark Crystal screenplay) and his wife, Annette Duffy, which takes place years after the first film, is still in play; the latest draft was written by frequent Baz Luhrmann collaborator Craig Pearce. At the moment, however, the focus of the Dark Crystal property is what Henson describes as "interactive world-building": encouraging fans to engage with the website, promoting fan fiction through the Author Quest competition, and collaborating with Archaia on a series of graphic novels about Gelfling mythology. A television series is also a possibility. Says Henson: "There are many of us here who are big fans of Avatar: The Last Airbender — the idea of doing a serialized adventure starring the Gelflings is something that we're intrigued by. Don't write it like we're moving straight into production on that! But we think it has some potential."
Dinosaurs
Development history: This early-'90s sitcom, in which all the characters were played by puppeteers in animatronic dinosaur suits, is best remembered as an oddity (with a pitch-black series finale). But it was also a hit, running for four seasons on ABC. The show has come up multiple times on Creature Shop Challenge: One puppeteer was praised for using a similar eye mechanism to the Dinosaurs puppets, while another was criticized for making a creature that looked too much like Grandma Ethyl. The entire series is currently streaming on Netflix.
Current status: There are no plans to revisit Dinosaurs. However, the Henson Company is hoping to bring puppets back to primetime with a half-hour comedy called The New Nabors. Written by John Riggi (30 Rock) and John Hoffman (Looking), the pilot — about a family of badly behaved puppets who move into a human neighborhood — was purchased by NBC in 2011. "When it was put into development, NBC didn't move forward, but we are hopeful that it has a life," says Lisa Henson.
Labyrinth
Development history: Unpopular with both critics and audiences upon its 1986 release, this fantasy musical (starring David Bowie and a young Jennifer Connelly) now evokes as much nostalgia as anything Henson ever made. A four-part Manga sequel, Return to Labyrinth, was published by Tokyopop between 2006 and 2010, and a re-release of the film's original novelization was published by Archaia last month. The film has been released in multiple editions on DVD and Blu-Ray, and several Labyrinth toys (including a line of plush figures) have been released over the past eight years.
Current status: "We don't actually have anything planned, and we particularly don't have anything announced about Labyrinth," Lisa Henson says, choosing her words carefully. "It's a property that we know is very popular. It holds a special place in people's hearts, including ours, because it was Jim Henson's own personal big epic movie, and it wasn't necessarily appreciated in its day. But it's become very beloved over time, and perhaps that causes us to treat it with even more respect. We do have some ideas about it, but we're being very careful and cautious."
The Muppet Show
Development history: Possibly the greatest TV variety show of all time, the original Muppet Show ran from 1976 to 1981. Jim Henson Productions had attempted to reinvent the series twice, as The Jim Henson Hour in 1989 and Muppets Tonight in 1996. Both were cancelled midway through their first seasons. In 2008, The Telegraph printed a rumor that a new Muppet Show was in development, and would move forward if Jason Segel's 2011 film was a success. (It was, but no such show materialized.) A well-reviewed comic book based on the original Muppet Show went into publication in 2009; the last issue was published in 2012.
Current status: The Jim Henson Company no longer helms the Muppet properties, since the character rights were sold to Disney in 2004. Disney is tight-lipped about future TV projects, and declined to comment on whether the remaining seasons of The Muppet Show will ever be released on DVD or streaming video.
Jim Henson's The Storyteller
Development history: This beautifully crafted anthology show, a series of nine folktales enacted by puppets and actors, aired from 1987 to 1989 in the United States. All episodes were framed by narration from John Hurt, a.k.a. "The Storyteller," and his talking dog (puppeteered by Brian Henson). A four-episode spinoff series, Greek Myths, was hosted by Michael Gambon and aired in the U.K. in 1990. The original series is now streaming on Hulu Plus.
Current status: Lisa Henson describes The Storyteller as "very close to my heart"; she wrote the original treatment while working as a junior executive at Warner Brothers, and collaborated with her father on the series before handing it off to "the very Rolls Royce team" of writer Anthony Minghella (The English Patient) and producer Duncan Kenworthy (Love Actually). "For years I have considered doing another Storyteller series," says Henson. "It's a matter of putting together the right creative elements and finding the right place for it. If I did it again, I would pull together an amazing group of filmmakers; the anthology would be the all-stars of fantasy filmmaking."
Muppet Babies
Development history: One of Jim Henson's most popular ventures was this animated series, which produced over 100 episodes and won four consecutive Emmys for Outstanding Animated Series. Airing from 1984 to 1990, it remained in limited syndication until 2000 and was never released on DVD. Fans (and voice actor Dave Coulier) have speculated that the show disappeared because of rights issues; its use of famous movie clips in combination with the animated characters was innovative, but a potential copyright nightmare. When Disney acquired Lucasfilm in 2012, Vulture became giddy with the possibility that those rights issues would be resolved, and the Muppet Babies would sing again.
Current status: Disney once again declined to comment on a possible Muppet Babies comeback.
Farscape
Development history: This cult-favorite science-fiction series, about a diverse group of space travelers escaping a military empire, aired from 1999 to 2003 on the Sci-Fi Channel (now Syfy) and Australia's Nine Network. Jim Henson's Creature Shop created the show's makeup and prosthetics, along with alien characters Rygel and Pilot, who were animatronic puppets. After an abrupt cancellation in 2002, the show concluded with a three-hour miniseries (directed by Brian Henson) in 2004. The series is available to stream on Netflix, Amazon, and Hulu Plus (and airs regularly on Pivot). In 2007, Brian Henson announced that the series would be revived online in a series of ten "webisodes"; these were never released. In 2008, BOOM! Studios began a three-year run of Farscape comics. Farscape is a constant presence on Creature Shop Challenge, which is hosted by series actress Gigi Edgley. The series' penultimate episode was a Farscape-inspired challenge: to create an alien puppet that emerges from a larger alien body.
Current status: Three weeks ago at WonderCon, showrunner Rockne S. O'Bannon announced that a Farscape feature film is in development, though "far from production." The screenplay is being penned by series writer Justin Mondo.
Fraggle Rock
Development history: The Muppet Show characters belong to Disney, and the Sesame Street characters belong to Sesame Workshop, but the world of the Fraggles is still ruled by the Henson company. The original Fraggle Rock, a half-hour puppet musical set in an intricately imagined world, aired for four seasons beginning in 1983. A short-lived animated series followed in 1987. All episodes of both series are available on DVD and streaming on Amazon and Hulu. In 2005, the Henson Company announced that it was developing a live-action feature film based on Fraggle Rock. Ahmet Zappa reportedly did the first treatment, after which Cory Edwards (Hoodwinked!) came onboard as screenwriter and director. In 2008, the Weinstein Company was announced as the distributor, with the Scissor Sisters reportedly writing the songs. The Weinsteins' deal expired in 2011, at which point the rights were acquired by New Regency.
Current status: This one seems to be moving along nicely. "It's in development at New Regency," Lisa Henson confirms. "We're producing it, along with Ivan Reitman's production company, Montecito. We also have a director attached, but it's never been announced, so I can't say. And we're working on the script. We're all very excited about it." Fraggle Rock: The Movie will definitely be a musical, although — contrary to rumors — there is no musician attached. "We have received many inquiries from musicians and rock stars and music supervisors and all kinds of celebrities in the music world who would like to be involved with Fraggle Rock, which is exciting," says Henson. "As a musical, it will be a little bit different in style from the way that the Muppets are musicals." Meanwhile, Fraggle fans can indoctrinate their children with the animated preschool series Doozers, which premiered recently on Hulu.