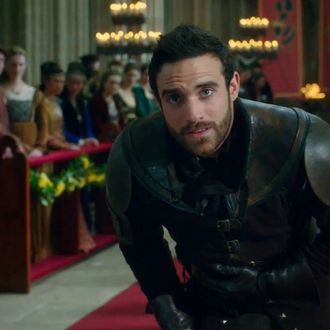 ABC unveiled trailers for its mid-season shows today, several of which have a strong murder vibe. Plus there's Galavant, a bananas musical comedy. Feast your eyes, ABC viewers! The previews for the fall shows are here.
Galavant is a fairytale-world musical comedy series. Alan Menken is writing the songs, Glenn Slater is writing the lyrics, Dan Fogelman is producing the show, and the rest of us are just amazed that a network is taking this big a risk.
Fresh Off the Boat is a single-camera comedy based off chef Eddie Huang's autobiography about moving from DC's Chinatown to the suburbs of Orlando.
American Crime is the prestige drama with Timothy Hutton and Felicity Huffman as parents whose adult son has been murdered.
Secrets and Lies stars Juliette Lewis as a detective investigating Ryan Phillippe.
The Whispers is about aliens who invade earth by manipulating adorable children.
Agent Carter, a Captain America tie-in, is also coming mid-season, but ABC has not posted that trailer yet.