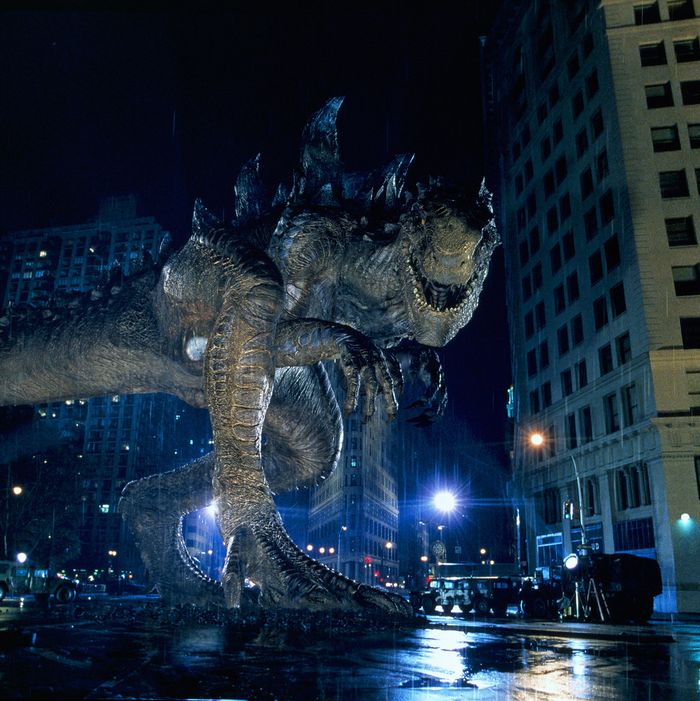 One of the biggest challenges faced by Gareth Edwards's Godzilla is convincing audiences that it will be nothing like Roland Emmerich and Dean Devlin's 1998 movie Godzilla. To be fair, the idea of an American Godzilla isn't inherently awful. And Emmerich and Devlin, collaborators on Independence Day, Stargate and Universal Soldier, weren't the first Americans to try exporting Japan's giant fire-breathing lizard. But they did screw up so badly that TriStar Pictures cancelled their years-long plans for two sequels and many more merchandising opportunities. In retrospect, the story of the making and selling of the last American Godzilla movie is infinitely more interesting and depressing than the movie itself. Vulture took a trip down memory lane, and eulogized the life and times of Emmerich and Devlin's Godzilla (a.k.a.: 'Zilla, or G.I.N.O., Godzilla In Name Only), from its birth in the '80s to its unceremonious death in the mid-aughts.
1983: Horror filmmaker Steve Miner proposes an American 3-D project, tentatively titled Godzilla: King of the Monsters 3D. This is a year after Miner's financial success with Friday the 13th Part III, a sequel whose only novelty was its use of 3-D technology. Fred Dekker (Night of the Creeps, RoboCop 3) was supposed to script the film. Storyboards were drawn up, and makeup artist Rick Baker (Star Wars, The Thing) was asked to contribute an animatronic bust of Godzilla's head. The film's estimated production budget was $30 million. It was never made, as that price was considered too high at the time for a children's film.
1992: TriStar Pictures buys the rights to make a trilogy of Godzilla movies from Toho, the Japanese film company who originated the beast.

1994: Terry Rossio and Ted Elliott, two of Aladdin's four credited screenwriters, submit a polished draft of their Godzilla screenplay. Speed director Jan de Bont is tentatively assigned to helm the film. Makeup/visual-effects wizard Stan Winston (Terminator 2: Judgment Day, Jurassic Park) makes a model for the project, using the original monster's design as his basis. But the film is never made because TriStar refuses to sign off on de Bont's proposed budget of $120 million. Shades of '83.

June 1996: Roland Emmerich and Dean Devlin are offered the chance to make a new Godzilla film. TriStar gives them the Rossio/Elliott screenplay, but eventually allows them to write their own script. Emmerich asks special-effects designer Patrick Tatopoulos to make a very fast-moving monster. Tatopoulos presents Emmerich with character sketches for their film's Godzilla while the two are promoting Independence Day in Europe. These tentative character designs, plus the promise of creative control, lead Emmerich and Devlin to sign on to the project.

August: 1996: In a Cinefantastique article titled "Godzilla Greenlighted," Dean Devlin says they want "to do it straight, not to do it in a tongue-in-cheek version, not to camp it up or make fun of it, but to say 'What if it were to really happen?'" At this point, Devlin says Toho has not approved any creature redesigns or plans. An estimated budget of $100 million or less is cited.

January 1997: Pre-production on Peter Jackson's proposed King Kong remake stalls at Universal Pictures. This is because Universal fears that there are too many monster-movie remakes, citing both Godzilla and the forthcoming Mighty Joe Young. Jackson pursues Fellowship of the Ring instead.

May 1997: Production officially begins in New York City. The film reportedly cost $130 million to make.

July 1997: A teaser for Godzilla appears before Men in Black. The ad doesn't show the monster, but instead tries to distinguish the film from Jurassic Park by showing a CGI dinosaur crushing a museum display of dinosaur bones.
November 1997: In order to ferret out leaks, Centropolis, Devlin and Emmerich's company, releases fake sketches and images of the new Godzilla. Some are released through sites like Ain't It Cool News around Thanksgiving. Based on which images were leaked, Centropolis learns that the source of the leaked images is Fruit of the Loom. A license to make Godzilla-related products is summarily terminated, just as Tiger Electronics was terminated after it allowed a magazine to print an image of a Godzilla toy.

March 1998: In a Cinefantastique article, Devlin says that the new Godzilla looks and moves very differently from previous incarnations of Godzilla because, since de Bont previously had great difficulty getting Toho to sign off on any changes to Godzilla's appearance, "We brought it to Toho and said, 'Look, this is the way we'd do it.' They took a long time in deciding, and finally said, 'You know what? We don't even want to comment on it; we'll just say yes or no.' And they said 'We love this look; we love this idea; we back you 100%; go do it.' It was so different — it was like a whole rebirth of Godzilla — and I think they appreciated that."
May 1998: Godzilla's inescapable ad campaigns announce "Size Does Matter," and continue to promote the film without actually showing the monster. The most notable example is a Taco Bell ad in which Gidget, the company's famous chihuahua mascot, is shown baiting Godzilla with a cardboard box ("I think I need a bigger box").
May 20, 1998: Godzilla is released. It initially underperforms at the box office, grossing only $55 million domestically during Memorial Day weekend (it is expected to gross $90 million). TriStar consequently cancels its tentative plans for two more sequels. Critics noted that the film is tonally inconsistent, derivative of Jurassic Park, and generally underwhelming. Elvis Mitchell writes, "Most of what's supposed to pass for humor in Godzilla is scarier than Godzilla itself." The New Yorker's David Denby halfheartedly praises Godzilla for not being as bad as Starship Troopers or Batman & Robin, but lamented that Godzilla is "soggy, murky, and depressing — a joyless and redundant experience that leaves one in a ghastly mood."
Some reviewers were less harsh. In Entertainment Weekly, Owen Gleiberman complains that the film "lumbers more than it thrills," but praises individual scenes for their "madcap audacity" and "giddy" energy. Variety's Joe Leydon gripes about the film's "banal dialogue" and derivative creature design. But he also writes that "the slam-bang excitement and state-of-the-art special effects are more than impressive enough to ensure every 12-year-old boy in the known universe will want to see it early and often. And millions of nostalgic baby-boomers will be drawn by the novelty of a new and improved version of the lizard who repeatedly razed Tokyo in B-movies of yesteryear." The Los Angeles Times' Kevin Thomas stands apart in really liking Godzilla, calling it "an expertly designed theme park ride of a movie that packs nonstop thrills."
At the film's Tokyo premiere, Kenpachiro Satsuma, one of the ten actors that have played Godzilla, walks out. "It's not Godzilla, it doesn't have the spirit," he fumes. In G-Fan Magazine, the film's title star is dismissed as "G.I.N.O.," or "Godzilla in Name Only." That nickname is quickly adopted by diehard Godzilla fans. On May 26, Godzilla screens at Cannes as the festival's closing film. Roger Ebert writes from the festival: "Going to see 'Godzilla' at the Palais of the Cannes Film Festival is like attending a satanic ritual in St. Peter's Basilica. It's a rebuke to the faith that the building represents." Ebert adds that, given that the film features a villainous character named Mayor Ebert and an assistant called Gene, he expected to be swallowed up.
July 1998: The film's soundtrack, featuring the Wallflowers' cover of David Bowie's "Heroes," "Come With Me," P. Diddy's "re-creation" of Led Zeppelin's "Kashmir," and  songs by Silverchair and Ben Folds Five, is certified platinum.
November 1998: Godzilla comes out on DVD. Neither Emmerich nor Dean Devlin nor any of the film's stars participate in a commentary, replaced instead by two of the film's visual-effects supervisors.
March 1999: Godzilla is nominated in seven categories for the Golden Raspberry Award, and wins twice, for Worst Supporting Actress (Maria Pitillo) and Worst Re-Make or Sequel.
November 2004: G.I.N.O. reappears briefly in Godzilla: Final Wars, Toho's proposed final Godzilla film. In the film, G.I.N.O., renamed "Zilla" by Final Wars' creators, is quickly dispatched by a more traditional-looking, rubber-suit-wearing Godzilla monster, and sent flying into the Sydney Opera House.