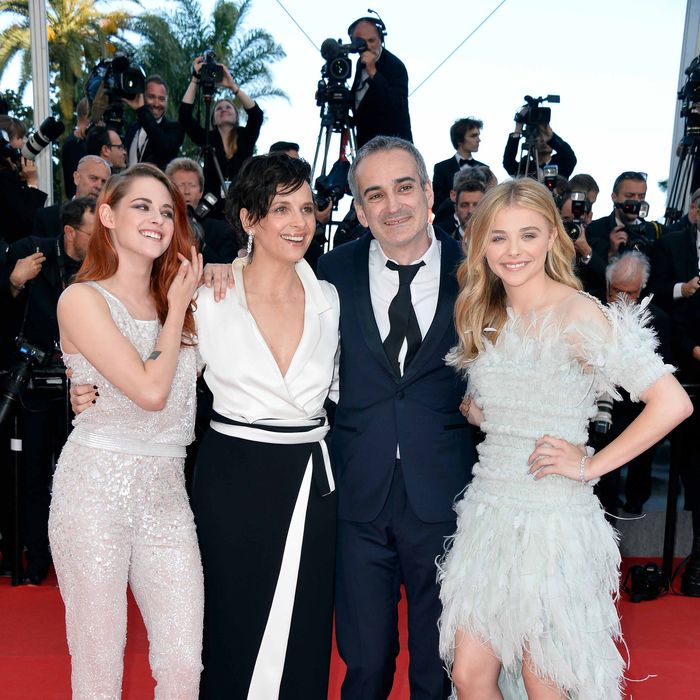 (L-R) Actresses Kristen Stewart, Juliette Binoche, director Olivier Assayas and Chloe Grace Moretz attend the "Clouds Of Sils Maria" premiere during the 67th Annual Cannes Film Festival on May 23, 2014 in Cannes, France.
Photo: Pascal Le Segretain/WireImage
The Cannes Film Festival is famous for its lengthy standing ovations, but they can be daunting if you don't know what you're getting into, as Steve Carell discovered this week when the ovation wouldn't end after the premiere of his new film Foxcatcher. "Jessica Chastain was two rows up," Carell recalled to me earlier this week, "and I've never met Jessica Chastain, but I kept looking at her, like, 'What do I do?'" Indeed, many stars aren't sure how to handle those sustained bouts of applause, which can wax and wane for over ten minutes at some premieres here. How exactly do those mega ovations work? For an inside look, Vulture liveblogged the standing ovation at tonight's premiere of the drama Clouds of Sils Maria, starring Kristen Stewart and Juliette Binoche.
:00 The film ends, the first title card comes up, and the applause begins in the darkened theater. Juliette Binoche, Kristen Stewart, and Chloë Grace Moretz are all vigorously hailed as their names appear onscreen.

1:03 By this time, the closing credits are touting the sound department, and the applause begins to lull.

1:19 Enough of those boring, un-famous people! Now that the separate title cards are dealt with and the complete closing-credits crawl has begun, the cast members' names appear onscreen again and the audience has permission to clap once more.

1:36 As soon as the famous names are out of sight and the crawl has moved on to the electricians and the line producer, the applause dries up yet again.

3:00 The credits are over and the lights come on. The audience leaps to its feet to applaud. In the middle of the theater, Stewart, Binoche, Moretz, and director Olivier Assayas stand up as the audience around them cheers.

3:02 Kristen Stewart bites her lower lip for the first time (but not the last).

3:10 The applause continues. Stewart and Moretz give small nods, taking in all the applause graciously. Stewart rocks back and forth on her feet and casts her eyes at the ground, like, "Here we go."

3:26 Endless hugs are the lifeblood of any Cannes standing ovation, and while Binoche is a veteran of the fest who should be well-versed in the protocol, Stewart, too, is no slouch: She was here just recently for On the Road. Perhaps that's why she suddenly lurches to life and envelopes her director, Assayas, in a big hug. It has begun!

3:44 Now that the ice is broken, Stewart turns to Moretz and gives her a hug, too.

3:56 Brady Corbet, who has a small role in the film, leans in to give Stewart a hug. She seems emotional as they start talking, and tells Corbet, "Thank you."

4:11 Binoche hugs Assayas. Many of the initial hugging combinations have been exhausted and the actors will have to think up new ones. The applause continues at an even level of volume and enthusiasm.

4:24 As Stewart and Moretz are deep in conversation, Corbet heads for Assayas and gives him a kiss on each cheek: Très European.

4:40 Stewart searches the audience for familiar faces and waves to a girl seated several rows away. Two rows in front of Stewart, Rush actor Daniel Bruhl is looking straight at her and applauding vigorously, trying to catch her attention.

4:45 A video camera is pushed in Stewart's face, broadcasting her reaction on the big screen in front of us. She waves uncomfortably to it, clearly willing it away from her.

4:56 Now the applauding audience has begun to whistle. Sometimes that can be a bad thing at Cannes — like all the derisive whistles at The Search earlier in the week — but here, it's just another way to prolong a standing ovation. Stewart and Moretz hear the whistlers in the balcony and wave to them.

5:14 Binoche rushes over to Stewart as the two women finally realize that they haven't hugged each other yet. Their characters' codependent relationship is the meat of the movie, so perhaps they were intentionally saving this hug for last.

5:30 Someone in front of Stewart catches her attention. "Oh my God!' she says to this mystery viewer, before biting her lip.

6:08 Listen, Juliette Binoche is not going to let Kristen Stewart own this ovation all by her lonesome. The 50-year-old French superstar turns to the balcony and starts handing out grand-dame pageant waves to the audience. That does the trick: The applause suddenly surges to its highest levels yet, and people scream, "Bravo!"

6:49 Perhaps exhausted by that peak of cheering, the standing ovation begins to ebb, and then stops completely. The stars begin to make their way to the aisle, Stewart and Moretz walking out together.

6:59 Spoke too soon! The applause starts up once more as the stars begin to take their leave. It's one final flurry to let these poor, undervalued famous people know they are loved. Stewart puts a hand to her heart.

7:19 And now, as Moretz and Stewart leave the theater, the ovation is done. It lasted seven minutes and twenty seconds, if you're counting from the very beginning of the closing credits (and if you don't mind those brief bits where the audience didn't dare to cheer below-the-line crew members). Translation: The audience definitely liked the film, but it's not gonna win the Palme d'Or.

7:36 As everyone in the theater begins to shuffle out, I attempt to kick the tires with a new round of applause. No one is biting. The transsexual performer who was seated next to me and is dressed like Mrs. Doubtfire (for Cannes, this is quite normal) can't even be bothered to indulge me. So be it: That's a wrap!