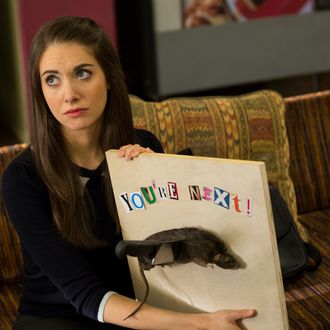 The dream of #SixSeasonsAndAMovie may not be completely dead for Community fans. While NBC hasn't changed its mind about another season of the show, Sony Pictures Television, the primary studio behind Dan Harmon's show, is in active conversations with Hulu Plus about the possibility of producing one more 13-episode season of the show. Now, before anyone goes out and gets a Hulu subscription, note that there is a huge difference between "conversations" and "negotiations." The latter implies a deal could be imminent, while the former means that both sides are open to the idea and are trying to see if it makes financial sense. Plenty of dead TV shows have been the subject of "conversations" about being revived at another network or streaming service. And these talks could very well end up going nowhere. (Sony and Hulu aren't commenting). All of those many caveats aside, a deal to produce an extra season of Community would seem to make a lot of sense for Hulu.
As it is, Hulu already is the streaming home of Community in-season reruns — and it does very well for the service. In fact, according to data from analytics firm SimilarWeb, Community was Hulu's No. 1 show in January when counting by visits to its show page on the site (and a top ten show as recently as April). What's more, Hulu has made it clear it wants to expand its roster of original programming beyond shows such as The Awesomes and Deadbeat. While some of Hulu's existing originals are pretty good, none have attracted the buzz and hype of those from rival Netflix, or even the most recent batch of Amazon Prime pilots. Acquiring Community would instantly give Hulu a signature show, if even for just one year. It would get the massive TV Blogger Industrial Complex humming for months about Hulu saving Community, much the way Netflix reaped very real PR benefits from reviving Arrested Development last year. And since Hulu is ad-supported, it could use the sixth season of Community as a way to promote one or more of the several comedies no doubt being developed right now under the supervision of Hulu's recently installed new content chief, Craig Erwich.
Erwich is a broadcast network (Fox) and studio (Warner Bros.) veteran whose hiring this spring indicated Hulu was serious about stepping up its content game, and buying another season of Community would only underline that fact. On the other hand, Erwich's arrival could also be a monkey wrench in such a plan: Because he's new, Erwich might want to focus his time, energy and, most importantly, financial resources on new projects, rather than picking up something discarded by NBC (one of Hulu's co-owners). Even though Sony would no doubt make Community as financially attractive as possible to Hulu, the show would likely be the most expensive ever bought by Hulu. And money spent on Community might be considered money Hulu can't spend finding its own Orange Is the New Black. That's the drawback, and perhaps the biggest reason these conversations might not turn into a deal. But it's also worth remembering that Hulu is already behind Netflix and Amazon in terms of getting buzz for its first-run shows. Erwich won't really be able to put his stamp on Hulu's content for about a year or maybe even a little longer. A sixth season of Community could be on the air within six months, allowing Hulu (and Erwich) a little breathing room as it finds wholly original hit content.
Of course, for any of this to happen, the current conversations will have to progress to actual negotiations, and then will have to result in a deal. There are lots and lots of "ifs" in this equation. It all still feels like a long shot to actually happen, and fans of Community would probably be best advised to curb their enthusiasm about a revival. There's still at least a small Chang of a reprieve, however, so … stay tuned.