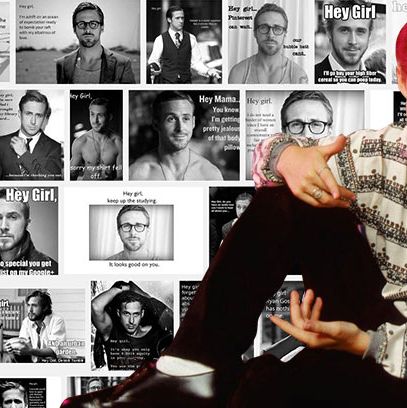 Last week, Ryan Gosling's directorial debut Lost River was met by mixed and often scathing reviews from critics, who found the film overly ambitious at best, an incomprehensible folly at worst. Yet the divisive reception is not altogether surprising. Ever since his breakout performance as a Jewish neo-Nazi in 2001's The Believer, Ryan Gosling has built a career out of bold, unconventional choices. While the casual Gosling observer may know him as the Notebook heartthrob whose dreamy face launched a million "Hey, Girl" memes, the 33-year-old actor and director has always favored complex roles, avoiding typical blockbuster fare in favor of weighty, emotionally dense indies and collaborations with art-house directors like Derek Cianfrance and Nicolas Winding Refn. Now that Gosling has himself ascended to the director's chair, let's take a look back at his life so far:
November 12, 1980: Ryan Gosling is born in Ontario, Canada.
Ryan Gosling was born to devout Mormons, something that Gosling has said greatly influenced him while he was growing up: "We were brought up pretty religious. My mother admits it: She says, you were raised by a religious zealot. She's different now, but at the time, it was a part of everything — what they ate, how they thought."
As a child, Gosling was bullied, had few friends, and was prone to acting out. The family moved a lot, and Gosling was home-schooled for a period. "I was a lonely child, I didn't do well at school and TV was my only friend," he once told the New York Daily News. "Then, one day, I saw Raquel Welch on 'The Muppet Show.' She was dancing with this big furry spider and I immediately fell in love. She was the first crush I ever had, and I thought, 'How do I get to meet this woman?' And then I thought, 'Well, she's on TV, so to meet her I have to get on TV myself."
Gosling was interested in performing from a young age: singing at weddings with his sister, getting involved in his uncle's Elvis Presley tribute act, and taking ballet classes. Here he is singing at a Mormon talent show back in 1991. Of such small beginnings …
1993: He joins The Mickey Mouse Club.
After attending an open audition in Montreal, the 12-year-old Gosling was picked to join Disney's Mickey Mouse Club alongside other stars-to-be like Britney Spears (with whom he played Spin the Bottle) and Justin Timberlake (with whom he stole a golf cart). He was given a two-year contract and moved to Orlando to do the show. "I think they needed a Canadian," he told the New York Daily News back in 2004. "Every man in my family works in a paper mill, and I'd probably be doing that, too, if I hadn't learned when I was 11 that there's more out there."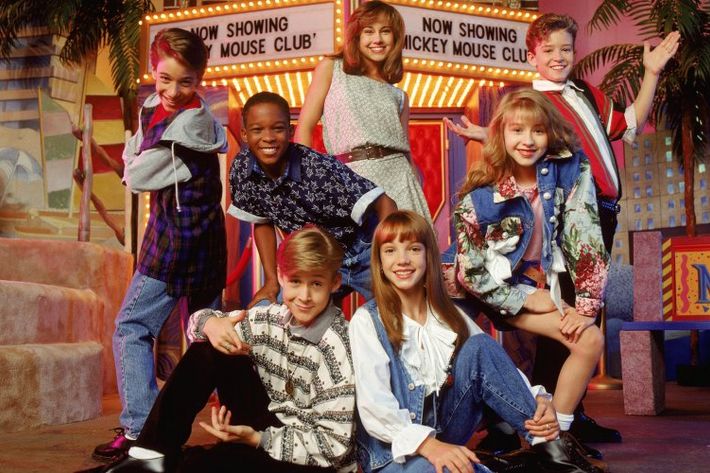 Gosling recalls feeling like he wasn't as talented as his fellow club members. "It was kind of depressing because when I got [to Florida], they realized that I wasn't really up to snuff in comparison with what some of the other kids were able to do," he says. "I remember one time they put four of us in a dance routine, but I was so off. I was on the end, so they just pushed the shot in closer on the other three guys to frame me out."
1995-1999: Gosling stars in a series of family-oriented TV shows.
After the Mickey Mouse Club was canceled in 1995, Gosling returned to Canada and took roles in a number of family and teen series including Are You Afraid of the Dark?, Goosebumps, and Breaker High.
He also starred as the title character in the Fox Kids series Young Hercules through 1998 and 1999. Although, in an interview with a teen magazine in 1999, he downplayed any comparisons between the son of Zeus and himself: "Hercules is part god and I'm not. He's a hero and I'm not. Yet we both have the same insecurities: We're not that great with girls! When I first heard about the audition, I told my friends and they said, 'No offense, but look at you!' When you look at me you don't think 'god.'" To each his own.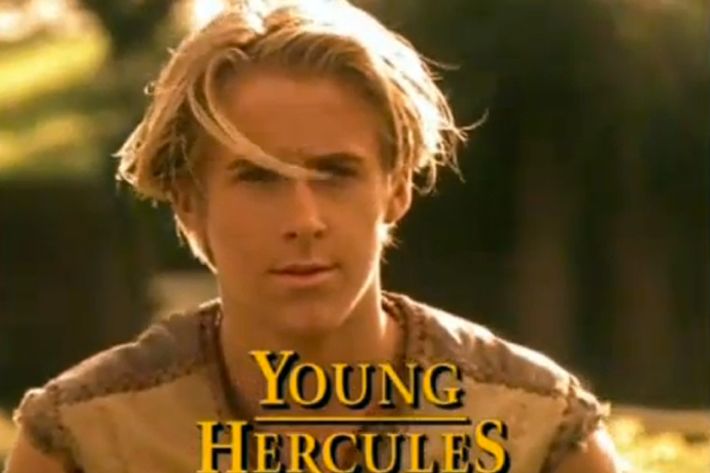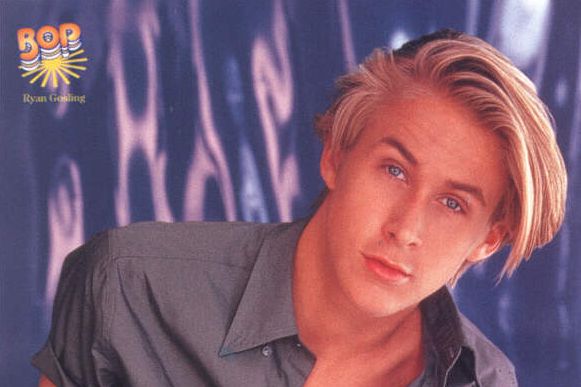 2000: Gosling snags his first lead role, in Henry Bean's The Believer.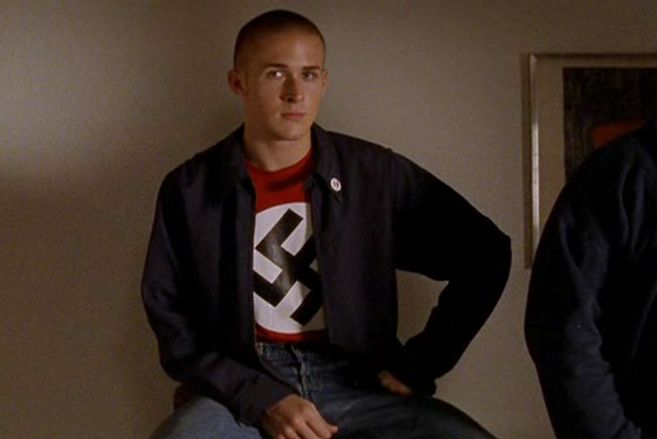 At the age of 19, Gosling decided he wanted to move away from television. After a supporting role in the 2000 football drama Remember the Titans, Gosling earned his first starring film role: as a Jewish neo-Nazi in Henry Bean's 2001 The Believer. The film went on to win the Grand Jury Price at Sundance. Bean told Nerve that he cast Gosling because he "understood something abut religion. Mormonism is very demanding, and it isolates you the way Judaism isolates you. And he got all that."
"That part gift wrapped me my career," Gosling told W magazine. "I got that movie when I had done Young Hercules and The Mickey Mouse Club. Nobody wanted to see me. Months earlier I was in New Zealand with a fake tan and leather pants, fighting imaginary sphinxes. After The Believer I was at Sundance, and people were talking to me about my craft."
The Believer would go on to influence Gosling's future role choices, which tended to veer towards those that were gritty, intimate, and emotionally complex. "In everything I'd ever seen or read up until that point, it was like the writer was trying to make sense of life," he told GQ. "And Henry [Bean] wasn't doing that at all. It's rare to find a filmmaker who's ready to embrace the idea that it doesn't make sense and it never will, and [who] portrays his characters as trying to make sense of these things even though they can't. But because I had that experience on The Believer, I knew those movies were out there. I was searching for that feeling again after making that film."
2002-2003: Gosling starts to establish his indie cred.
After The Believer, Gosling began to receive attention. The Vancouver Sun called him a "star to watch" and the Calgary Herald labeled him the "next big thing," while beneath the 49th parallel, there were rumblings as well. In fall 2002, Esquire named him one of their top 40 up-and-comers, calling him "one of the next great actors in Hollywood."
He went on to star in a series of indies throughout the early 2000s, including The United States of Leland, The Slaughter Rule, and Murder by Numbers, and gained a reputation for playing brooding misfits.
He also briefly dated his Murder by Numbers costar Sandra Bullock. He was 21 and she was 37 at the time.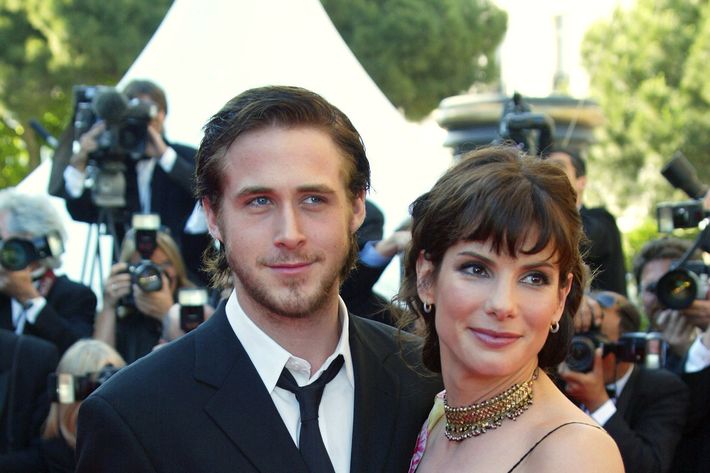 2004: Gosling stars in The Notebook.
Gosling's role in The Notebook alongside Rachel McAdams earned him mainstream heartthrob status. The Notebook remains one of the most commercially successful films of Gosling's career. It also earned him four Teen Choice Awards, an MTV Movie Award, and space on teenage girls' bedroom walls and locker doors for eternity. Entertainment Weekly awarded the film the all-time-best movie kiss, while the L.A. Times included a scene from the film on a list of 50 classic movie kisses.
In 2005, McAdams and Gosling became an item in real life, although Gosling told The Guardian that they didn't get along during The Notebook shoot: "We inspired the worst in each other. It was a strange experience, making a love story and not getting along with your co-star in any way." But something changed. "I don't know what happened. Two years later I saw her in New York and we started getting the idea that maybe we were wrong about each other."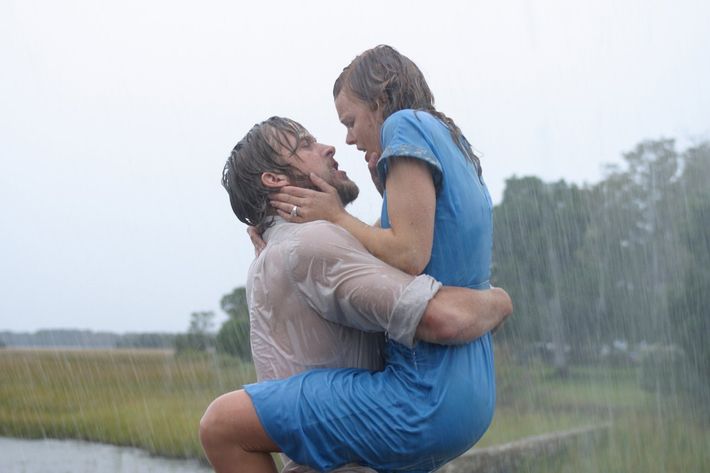 They ended up dating through 2007, and it was all very romantic. "I mean, God bless 'The Notebook,'" he said during an interview with GQ. "It introduced me to one of the great loves of my life. But people do Rachel and me a disservice, by assuming we were anything like the people in that movie. Rachel and my love story is a hell of a lot more romantic than that."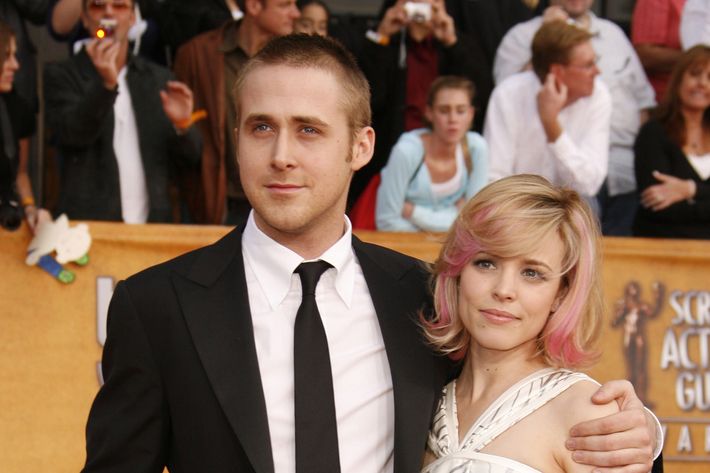 2005–2007: Gosling begins to earn serious critical acclaim for his acting work.
In the wake of The Notebook, Gosling began serving up some serious awards bait. His performance as a drug-addicted teacher in Half Nelson earned him an Academy Award nomination, and in 2007, he was nominated for a Golden Globe for his performance as a man in love with a sex doll in Lars and the Real Girl.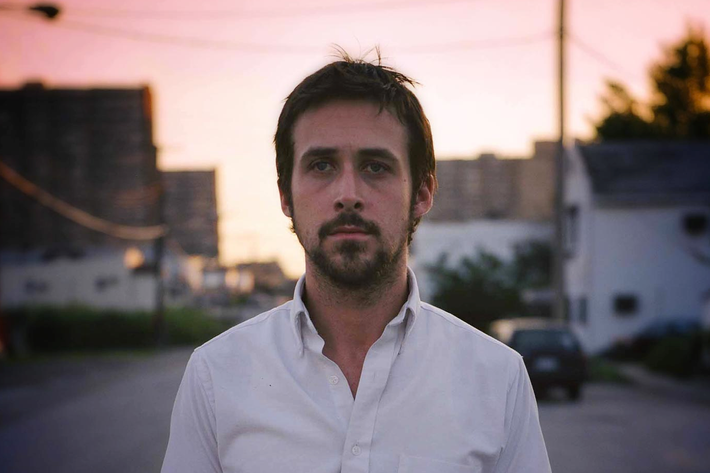 But it wasn't all smooth sailing. In 2007, Peter Jackson fired Gosling from his role in The Lovely Bones because he had gained 60 pounds. "I was 150 pounds when [Jackson] hired me, and I showed up on set 210 pounds," Gosling told The Hollywood Reporter. "We had a different idea of how the character should look. I really believed he should be 210 pounds. I was melting Haagen Dazs and drinking it when I was thirsty … Then I was fat and unemployed."
After Lars and the Real Girl, Gosling took a three-year break from the big screen. In 2007, he formed the band Dead Man's Bones with his friend Zach Shields. They released some albums and performed a bunch. Check them out: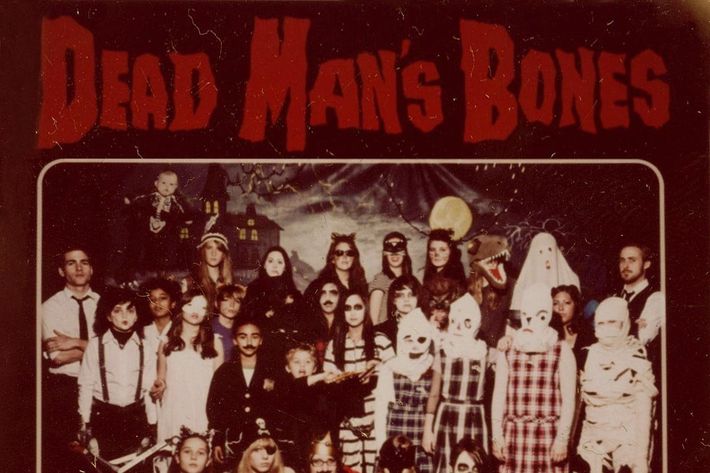 2008: Gosling becomes a meme.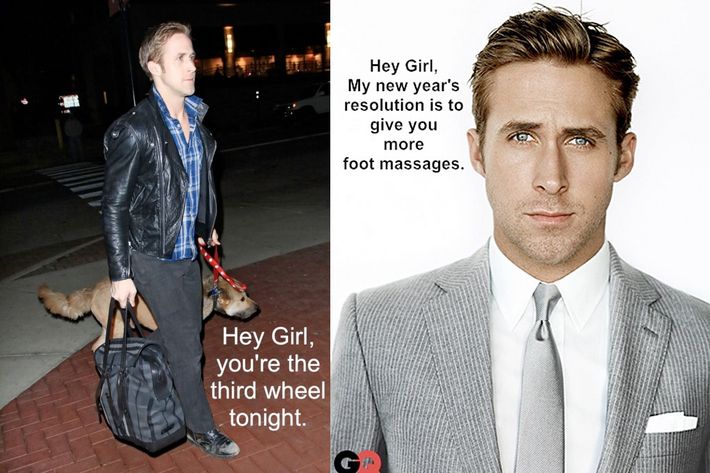 In December 2008, the Fuck Yeah! Ryan Gosling Tumblr launched, featuring the now-iconic "Hey Girl" image macros. Yet Gosling didn't attain full-fledged clickbait status until 2010, when he was asked to read some of the image macros aloud during an MTV interview. "Here's one of me looking at some ducks, and I'm in some kind of Star Trek jacket," he observed. "I don't know why I have that. And it says, 'Hey Girl, I'm just sitting on the dock of the bay, wishing i could waste the rest of the day with you instead of these ducks.'" The interview was reblogged everywhere.
2010-2011: The world reaches Peak Gosling.
Gosling returned from his three-year hiatus with the low-budget, largely improvised romantic drama Blue Valentine, his first movie with director Derek Cianfrance. The emotionally wrenching pas de deux with Michelle Williams earned him a Golden Globe nomination.
In 2010 and 2011, Gosling starred in five different movies spanning a range of genres. He did his first comedy, Crazy Stupid Love, and starred in the George Clooney–directed political thriller The Ides of March. Meanwhile, his first action role, Drive, did for Gosling's appeal with guys what The Notebook did with girls, cementing his status as — to quote Gizmodo — "a new breed of American badass."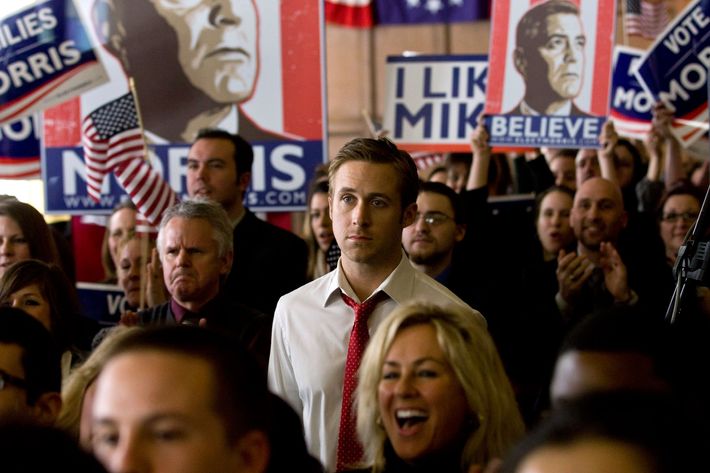 "He's like a mixture of James Stewart, Charles Bronson, Alain Delon, Lee Marvin, and little bit of Marcello Mastroianni," said Drive director Nicolas Winding Refn. "If you look at him on screen, your eye automatically goes to him. Very few people are born with that. And very few actors who have that also have the guts to pursue the movies they want to do, rather than take the dream machine offered to them. It takes a lot of integrity to do the things he has done. He's like the Velvet Underground or the Ramones."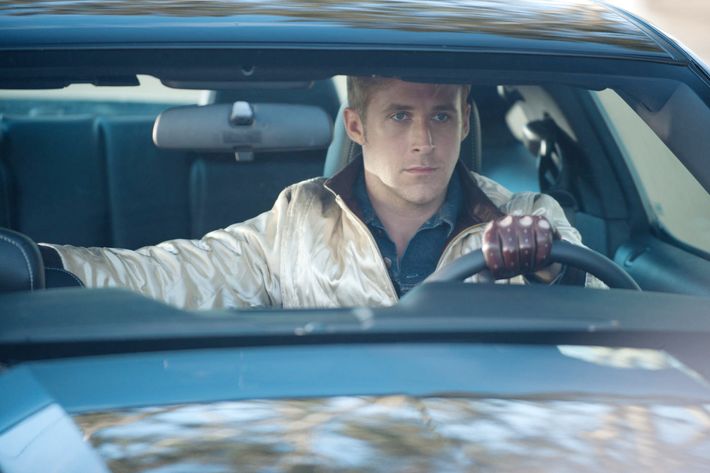 "I've never had more energy," Gosling told the New York Times in September 2011. "I'm more excited to make films than I used to be. I used to kind of dread it. It was so emotional and taxing. But I've found a way to have fun while doing it. And I think that translates into the films."
2011 was also the year that the Ryan Gosling meme began to proliferate in earnest, with the rise of a feminist response to "Fuck Yeah! Ryan Gosling," called Feminist Ryan Gosling (invented by Vulture recapper extraordinaire, Danielle Henderson) and a number of other prominent offshoots, including Film Studies Ryan Gosling, Shakespearean Ryan Gosling and Is Ryan Gosling Cuter Than a Puppy? (Answer: sometimes). "I don't think it's really about me," Gosling said of the '"Hey Girl" meme. "I think it really is sort of like, I'm a pigeon and the internet is Fabio and it just happened."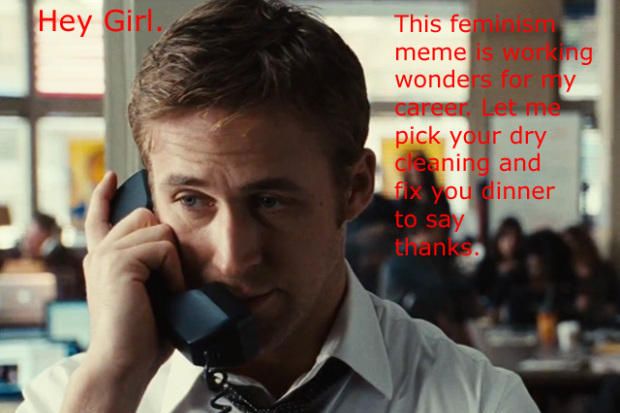 He won the internet in a lot of other ways, too. He made fun of himself on Drunk History:
He also saved a woman from being hit by a cab and broke up a street fight. His life in 2011 was very meme-worthy:
After Bradley Cooper won People's Sexiest Man of the Year, Gosling fans (or, BuzzFeed employees) took to the street to protest the injustice: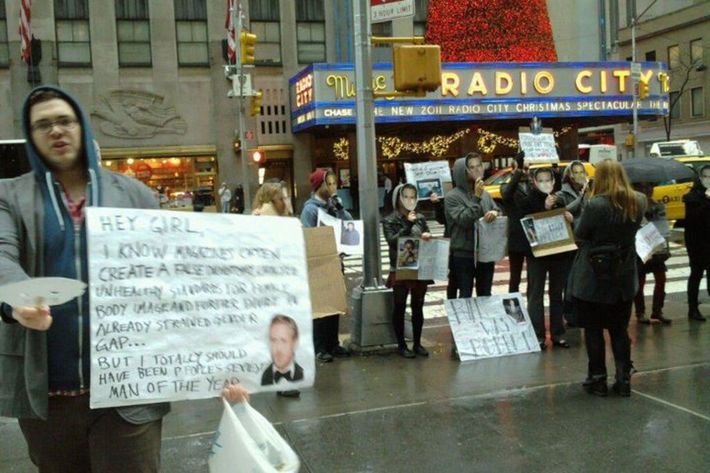 On The Graham Norton Show, Bradley Cooper concurred with the protesters' assessment. He described looking at pictures of himself and Gosling side by side, saying: "It's [paparazzi shots of Gosling] walking around, and he literally looks like he's in a photo shoot, like he just came off the runway. The peacoat is like this, with the scarf! And then there's ones of me, and I literally look like the neighbor who never comes out of his house."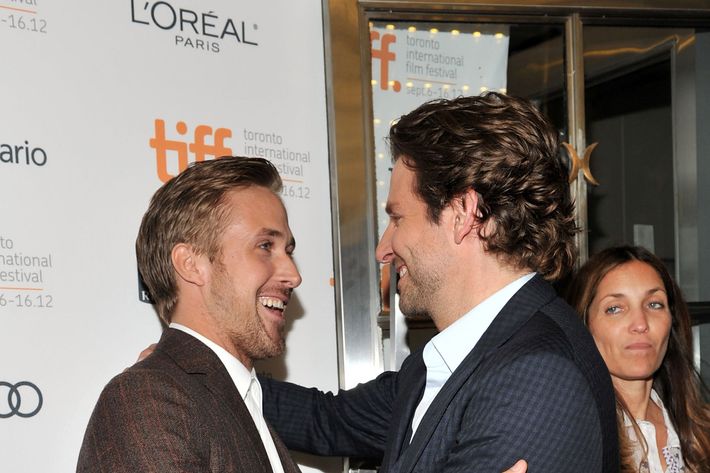 Also in 2011: Gosling is rumored to be dating Eva Mendes, although the two remain tight-lipped about it.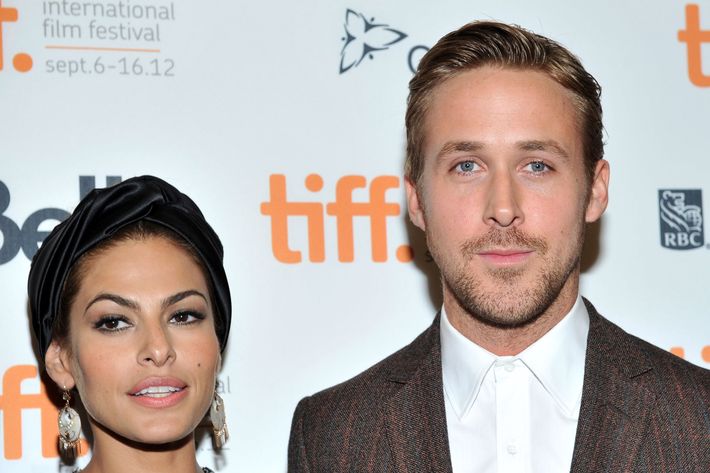 2012: Gosling announces his directorial debut, originally titled How to Catch a Monster.
In an interview with Vulture, Gosling's Blue Valentine and Place Beyond the Pines collaborator Cianfrance gave his directorial abilities a vote of confidence. "Ryan as a director, I think it would be second nature to him. That's what he's good at — he's good at making people great. He's good at seeing what's special about you. He's made me a better filmmaker, as an actor in my movies."
Gosling didn't star in any features in 2012, but he did release a documentary about youth culture called ReGENERATION. 
2013: Gosling announces a break from acting.
"I've been doing it too much," he told the AP. "I've lost perspective on what I'm doing. I think it's good for me to take a break and reassess why I'm doing it and how I'm doing it. And I think this is probably a good way to learn about that. I need a break from myself as much as I imagine the audience does."
Meanwhile, a hotline, or Gosline, is established to comfort distraught fans.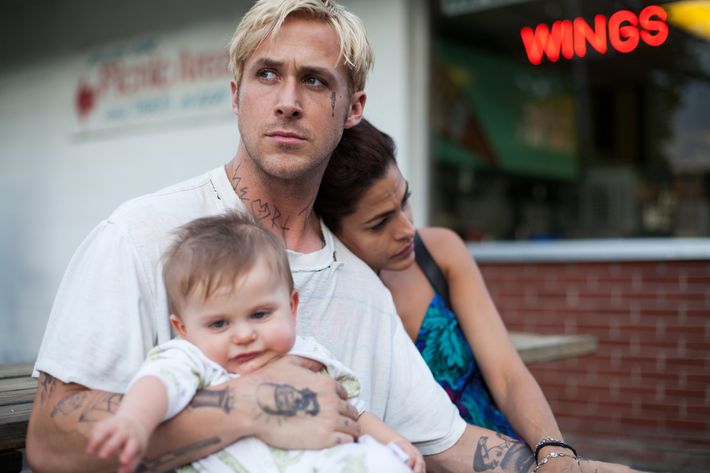 "I should have been more clear; I'm just taking a break to direct," he clarified later at the Place Beyond the Pines premiere in March. "I'm sorry about that." Still, Gosling keeps a noticeably low profile for much of 2013.
The Place Beyond the Pines ended up receiving lackluster reviews, while his other 2013 releases, Gangster Squad and Only God Forgives, received terrible ones. Only God Forgives, his follow-up to Drive with director Nicolas Winding Refn, is booed at Cannes. On the plus side, there was this:
2014: Gosling's directorial debut, now titled Lost River, premieres at Cannes.
And the critics aren't sure quite what to make of the first-time director's baroque, Lynchian-contemporary fairy tale. It's pretty much savaged. Whatever it is, it's certainly a long way from The Mickey Mouse Club.