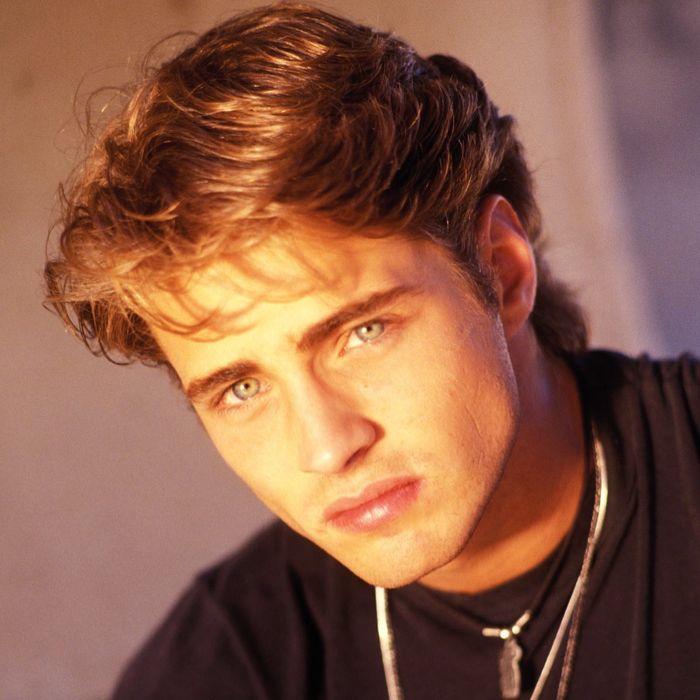 Jason Priestley's new memoir, Jason Priestley: A Memoir, hit bookstores last week and is as charmingly oblivious as the title suggests. First off, we have to hand it to the guy, because he works really hard. This was a time when soapy primetime Aaron Spelling shows had 32 episodes per season, and by the end of his run on the show, Priestley was not only the lead of Beverly Hills, 90210, but also a director and producer. However, being a good workhorse doesn't necessarily mean being a good memoirist: For an autobiography, Priestley's has a weird lack of introspection. This isn't a disastrous tell-all along the lines of Dustin Diamond's Behind the Bell, but there are still some juicy tidbits, and yes, a lot of them have to do with the awfulness of Shannen Doherty. Here are nine points that Vulture found amusing.
1. On the set of his first movie, the lead actress broke both her legs.
When he arrived on set for Stacy, the lead actress had just jumped off a balcony and broken both of her legs. Six-year-old Priestley thinks to himself, "I could not have been happier with the way my day was going."
2. He got one of the producers fired before they started shooting Beverly Hills, 90210.
Said producer lied to him when Priestley confronted him about the show being non-union (Fox wasn't considered a "network" then). So he walked out of the office, called Aaron Spelling, and said, "Mr. Spelling, I don't know who this guy is who you have as our producer here on the stages, but you need to get rid of him." The guy was fired within a day.
3. Shannen Doherty was always rude.
Priestley flew to New York with Doherty to do promotional press for the first season of the show when on the plane ride over, she tells the PR handler, "Really? A town car? You send a town car to take me to the airport, not a limo?" When he tried to josh around with her, she snapped at him, "Stop talking. Just sit here for the rest of the flight and be quiet."
4. When Shannen Doherty got hitched to Ashley Hamilton after a few weeks of dating, the crew had a pool going for how long the marriage would last.
The over/under was ten weeks. (They lasted five months.)
5. In order to get away from his nice-guy character Brandon Walsh, Priestley would smoke and get drunk during every press interview.
No word on why he was drinking the other times.
6. Yes, everyone on the cast of 90210 was sleeping together, but no, he won't actually say who slept with whom.
Priestley simply writes, "Of course various combinations of people slept with each other over the years. If you were in that situation, trust me, you would have done it, too." Maybe they should have had a behind the scenes show called Real World: The Lost Years.
7. He was always kind of a bro.
While shooting Tombstone starring Kurt Russell and Val Kilmer, he would stick with other TV stars Thomas Haden Church (Wings) and John Corbett (Northern Exposure) and just "[tear] up the greater Tucson area." In the morning, the three of them would "wildly applaud" the women doing the walk of shame when they left the rooms of the cast and crew.
8. One of his biggest regrets was not renewing his contract to stay on 90210.
He told Aaron Spelling the news while the TV mogul was bedridden following double-hernia surgery. Spelling convinced him to stay for the first four episodes of the ninth season. Now he wishes that he had stayed on until the very end. His advice to young actors: "No discussion: If you're lucky enough to be on a hit TV show, don't leave until they kill you off. You never know when, or if, the next one's coming."
9. His last day of work on the 90210 set was "oddly anticlimactic."
"No one gave me a cake or a going-away party on my last day of Beverly Hills 90210."