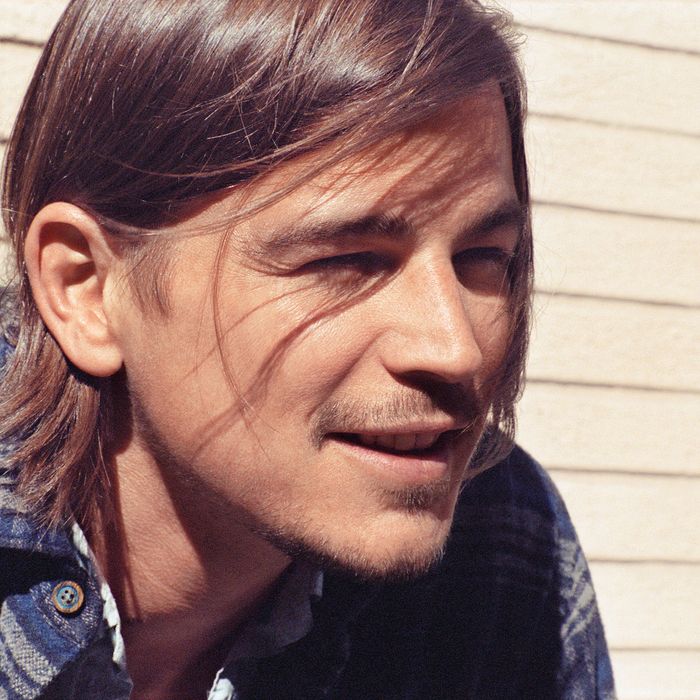 Photo by Cass Bird. Grooming by Amy Komorowski for AXE hair at Celestine Agency.
Photo: Cass Bird and Grooming by Amy Komorwski for Axe Hair at Celestine Agency
"I like to disappear," Josh Hartnett jokes after a waiter brings me over to his table from where I was sitting, having overlooked him my first time through Pete's Tavern. "You walked right past me," he says, teasing. "When I was younger I learned how to get through this city without anybody noticing. Which is important to me."
Pete's, on Irving Place, is "the tavern O. Henry made famous," a gas-lamps-and-bourbon version of a celebrity-obsessed joint, possibly since it opened in 1851. The dark-wood dining room is covered in (usually quite unflattering) framed snapshots of famous Tavern guests, and Ashlee Simpson's is tacked up next to Hartnett's table, where he'd arrived early to enjoy a bottle of Pellegrino and a plate of steak fries. Hartnett's picture is up here, too, somewhere, from a previous visit in a previous decade, when he seemed poised to be some kind of platonic boy pinup.
At 35, he's nicely evolved from pretty to manly, with a single strand of gray gleaming in the sun amid his broish head of longish black hair. Once a totem of male-starlet fuckability, over the past few years, he vanished (at least by the standards of Hollywood), causing many to wonder—wait, just what happened to Josh Hartnett? But all along he'd claimed to be a bit reluctant about his place on the matinee-idol altar. "I don't know how I ended up in that position, how I ended up being the guy that everybody says is just being thrust on the American public," he says. But if you remember his puka necklace setting off that fetching neck freckle in The Virgin Suicides, or his self-serious decent military men in Pearl Harbor and Black Hawk Down, or even his scene after scene of only-wearing-a-towel in Lucky Number Slevin, he was nonetheless imprinted, like any good post-teen crush, on a generation that knew him as the next big thing but never got to see him mature in his roles.
He actually almost turned down Pearl Harbor, he says, and later turned down Superman. He spent long stretches of the past decade "flying under the radar," as he promised he would try to do in his great-expectations-unveiling 2001 Vanity Fair cover story (complete with Annie Leibovitz photos), which anointed him—potentially—some world-slaying combination of Gary Cooper, Leonardo DiCaprio, and Tom Cruise. But he didn't live in L.A. for long, spending time back in Minnesota, where he's from; taking photographs and painting; writing short stories; hanging out at Max Fish while in New York and even for a while living in Williamsburg; and, perhaps, having a bit too much of a good time. (In 2007, he told one interviewer that his guiltiest pleasure was "staying out all night, not sleeping, and going to work the next day.") He took an 18-month break from acting in the aughts, and another sabbatical recently, during which he's been trying to write, direct, and star in his own project. "So much of being an actor, of having a movie-star persona, is having people not getting to know you," he says at Pete's. "You can be blank enough that people can put whatever they want on you. And that passes for characters, often enough. But it's nothing for me to hang my hat on as an actor."
Unlike, say, his post-cutie contemporary James Franco, who has proved endlessly limber in the meta-shamelessness of his supposed critique of celebrity, Hartnett has never quite had the ironic self-assurance to assemble a knowing version of himself. Or for that matter the straight-up willingness to give it up to fulfill his supposed destiny of being Gary, Leo, and/or Tom.
Still, he's an actor by trade, and these days, prestige TV seems like a pretty good setup for someone with Hollywood-machine misgivings. We met at Pete's because it's one of the few places in New York that feel like a holdover from 1890s London, which is the setting of his new supernatural super-friends (vampires, Frankenstein, etc.) of a Showtime series—Penny Dreadful. It was created by John Logan (who wrote Hugo and The Aviator), is executive-produced by Sam Mendes, and also stars Timothy Dalton and Eva Green. Hartnett plays Ethan Chandler, an American gunslinger who happened to be in London as part of a Wild Bill Hickok–style traveling cowboy show. The series was shot for six months in Dublin, and Hartnett even got to bring his dog along with him.
That dog, a pit–border collie mix, is now back in St. Paul, being boarded near his family. As a kid there, he says, he dreamed vaguely of becoming an artist—he's described his parents as "hippies." His brother Jake is an ­organic farmer in southern Minnesota—"He's now off the grid in a lot of ways"—and his other brother, Joe, is a saxophone player who studied at the New School and used to play in a band called Horny. "He basically played his music around New York and wanted to progress—the way that jazz is these days, it's pretty far out there, and he wanted to keep going, but then he realized that he couldn't afford to even eat."
After an injury caused Hartnett to quit high-school sports, he decided to do plays (apparently he was already nicknamed Josh Hotnett). A local talent booker noticed him as Sky Masterson in Guys and Dolls, and in 1996, he went to the acting program at SUNY-Purchase, from which he was kicked out after complaining about its "Darwinism." "A couple of years later, they offered me an honorary degree, before my contemporaries had even graduated," he says. "It was really strange."
At first, Darwin was on his side: He went to Los Angeles for pilot season in 1997, got on a short-lived ABC show called Cracker, appeared in a couple of horror films, then in The Virgin Suicides, Pearl Harbor, and Black Hawk Down. So why'd he do those big movies if he preferred to fly under the radar? Because if you refuse, "no one will ever work with you again," he says. "It would be viewed as: You don't want to make money. You're one of those. And if you're one of those, we don't want to work with you. And in a way, doing a big movie like that is the only thing going. There's really only one route to a successful career: You do something a lot of people see. I can name like five actors who have built a career over time with small roles here and there. There are a few directors who can do it, who can continually get money for their next small project even though they're not enormously successful. People still see them. But that's a different game—I kind of like that game; to be able to control your own destiny in that way is a little bit more challenging. But you succeed or fail on buzz or on the basis of your own merits." That is, succeed or fail not just on the basis of a five-star starlet-dating history (Gisele Bündchen, Scarlett Johansson, Amanda Seyfried, and, these days, reportedly, Tamsin Egerton). Or being among People's 50 most eligible bachelors.
This was a recurring—perhaps the recurring—theme when I spoke with Hartnett: control, and its dance partner, defiance. It's part of why he gave up eating meat when he was 12. "When you're that age, you don't have a lot of control over anything. But it was partly also a fuck-you to my parents. I also quit going to church around that time. I wasn't really raised religious, but I went to a Catholic school, and my grandmother was religious, so my dad sent me to Catholic school for her. And when I was 12, I denounced the church. That's when my first existential crisis happened. I started feeling different. Noticing that things were growing and decaying at the same time." (He's since started eating meat, after he was asked to do something about his gray pallor during the filming of The Black Dahlia.)
And what about the last existential crisis when he quit acting a few years ago? "For a long time, I didn't do anything at all," he says. "I mean, I was directing some music videos and writing a lot, but I just wasn't interested in the stuff I was being offered in film, and I had a very specific idea of what I wanted to do and accomplish. I wanted to write something—I'm my own worst critic, but I wanted to. I couldn't even bring myself to get funding for any of the things I was writing, but that was the idea—to control a project. Not having control over the entire thing—you're free within the context, then you give it away and someone else tears it apart. For better or worse, it's not yours." As we get up to go, the obsequious manager of Pete's comes up, explaining how the owner would love a new photo of him to hang on the wall. And Hartnett wryly obliges.
*This article appears in the May 5, 2014 issue of New York Magazine.