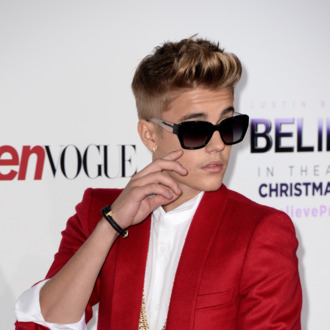 Photo: Frazer Harrison/Getty Images
Here we go again. Inveterate troublemaker Justin Bieber has been accused of attempted robbery, according to the LAPD. Officer Rosario Herrera told the Huffington Post that the alleged crime occurred on Monday night around 10:30 p.m., but did not offer any other details. The Canadian pop star has not been charged with a crime, and Herrera said "it's too preliminary" for the police to question the singer at this point in the investigation. Still, if they do question him they might be in for a long night, seeing as how he cannot be broken.
Update: Naturally, TMZ has a full account. A "San Fernando Valley woman" tells the site that she filed a complaint against the Bieb over an incident that occurred Monday night at the Sherman Oaks Castle Park, a complex that includes miniature golf and a batting cage.
The woman says Bieber and his entourage started fighting with some guys in the batting cage, and the singer noticed her going for phone to take pictures. She alleges that Bieber demanded to see her phone so he could erase any pictures, then grabbed it from her purse when she refused. After wrestling the phone away from her, he was unable to get past the passcode, so he handed it back and demanded that she unlock it. She showed him that she hadn't taken any pictures.
The woman claims she told Bieber that she and her 13-year-old daughter just wanted to say hi, and he screamed back, "You're humiliating yourself in front of your daughter.  Why don't you just get out of here."