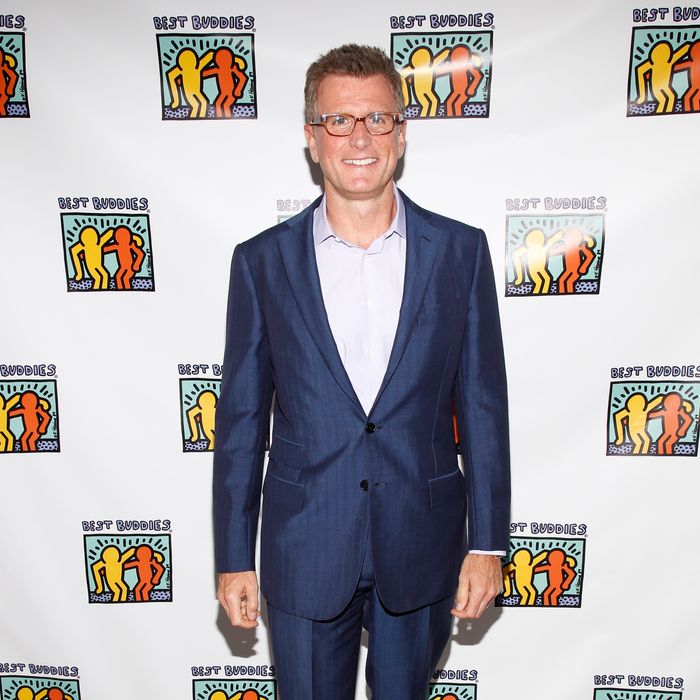 Kevin Riley attends the Best Buddies Jobs Vanguard Reception at UTA on June 11, 2013 in Beverly Hills, California. (Photo by Joe Kohen/Getty Images)
Photo: Joe Kohen/Getty Images
In this week's TV-themed issue of New York Magazine, Fox chief Kevin Reilly explained his plan to make his network more competitive with cable and Netflix by killing off the traditional "pilot season" process of making shows. For the story, Vulture writer Josef Adalian spent two hours at lunch with Reilly, discussing a wide range of topics beyond his pilot plan. We dug into the transcript of the interview, as well as our notes, and found a slew of bonus content. Here, then, are 17 more things we gleaned from our conversation from Reilly, including news about the next season of The Mindy Project, his thoughts on Almost Human and Enlisted, why Dads might not be dead, and whether Fox has any plans to get into late night.
1. While The Mindy Project will be back for a third season, fans might not get as many episodes as they're used to. "I've done less this [season]," Reilly says. "We've ordered 15 so far." Reilly thinks some shows can work better in smaller doses: "I think for a contemporary audience, less is more. I think it ends up becoming a really digestible amount where the end is always in sight." (Not that Reilly is opposed to 22-episode seasons for some comedies. New Girl will still be 22, he says.)
2. As recently as a month ago, Reilly seemed to be leaning toward a renewal for Almost Human. At one point during our lunch, I noted that Human should be included among Fox's successes for this season: "Almost Human is an asset," I say. Reilly's response? "Yeah, I agree." But things can change quickly in Hollywood: Last week, Reilly opted against renewing the show. Fox isn't commenting on why, but industry insiders are saying the network wanted producer Warner Bros. Television to charge less for the show, since Fox was losing money on it (and had no chance of recouping those losses, since Warner Bros. will get any syndication or Netflix money). When the studio declined, Fox apparently walked away.
3. Fox hasn't officially announced it, but yes, American Idol will return next season: "It's coming back next year," Reilly says. I ask him if thinks the notion of having Simon Cowell, Paula Abdul, and Randy Jackson return as judges might be a good one. "Yes, possibly — for the last season," Reilly says. "But I'm not yet in that place where [next season] would be the last season."
4. Industry insiders were shocked that Fox didn't extend the first season order for Sleepy Hollow when it came out of the box strong. And given Fox's Monday woes later in the season, the network absolutely could've used more episodes of the over-the-top fantasy series this season. Reilly says he has no regrets. "This spring, when … I desperately could use Sleepy Hollow on the air, I've thought, 'Oh, it would have been nice to have it around'," he admits. "But it was the right thing to do for that show. They were doing $4 million little mini-movies every week on a crazy schedule. We missed airdates, so we had more preemptions. [And] the audience wants to watch 13 episodes in a row. They don't want to watch two on, and then one off, and then three on, and then two off." Reilly believes Sleepy will benefit from having more time to prepare for its sophomore year: "We're in series production now. We've got our writers' staff up and running. We'll start shooting in May. I'm going to make somewhere between about 15 or more, maybe a maximum of 18 next year. Those will air all in a row. There will be no preemptions [except maybe] one over the World Series or a holiday."
5. Fox has high hopes for its new unscripted series Utopia, in which contestants could live for months or years in an artificial environment. "We've made a very big bet on it," Reilly says, adding that the show could "start out [airing] two times a week" when it debuts (probably in late summer, though nothing's been announced). "In success, the show can be on year-round." Noting how few new breakout unscripted hits have come along in recent years, Reilly says he's given new unscripted chief Simon Andreae wide latitude to experiment. "I've got six or seven original things that Simon has coming up, original ideas that he's either seeded with producers or things that were internally developing," he says. The goal: "To get back to where reality started — roll up your sleeves and do some crazy things."
6. Reilly believes a growing segment of the viewing audience no longer simply kicks back on the couch and grazes TV content by flipping through channels, and are instead "increasingly becoming much more active in their watching. They're no longer doing that passive, 'Oh I'm going to watch Tuesday night, and I guess I'll watch this show that I've never heard of after this one I like.' You still get a little bit of that. But we've got more than 50 percent of the audience [with DVRs] right now. You've got these on-demand platforms that are growing exponentially. Hulu is up over 40 percent on our air this year. VOD service is up 45 percent this year in terms of Fox viewership. It's a great television viewing experience — binging, catching up, deep-diving into the show you want to see."
7. Military comedy Enlisted has gotten some of the best reviews of any new comedy this season, but Fox pretty much burned the show off on Fridays. There's been some buzz in recent days that the show may yet secure a second-season pickup, but it's still considered a long shot. Reilly's decision to bury Enlisted on Fridays would seem to suggest he didn't like the series: "Not at all," he says. "I actually kind of like it. To me it was just neither fish nor fowl. I did not personally think it was broad enough or outrageous enough to be in that camp, and I didn't think it was grounded enough and real enough to be sort of — I did like it. The truth is, if I had more shelf space, if I had more cover, there'd be a way to figure out how to do that." Does all the critical support and fan love on Twitter matter with shows like Enlisted? "You take it in, and it helps inform my opinions at times," he says. "Sometimes it's had a big influence, where I've given a second thought about something, or I start to get excited that I'm not the only one that believes in something. And other times I just have to say, 'You know what? I'm going a different way.' Because you can't please everybody all the time in television."
8. Don't expect Fox to jump into the late-night wars any time soon. "I think it's unlikely," Reilly says. "It's never off of our agenda, but I think it's unlikely just because of the challenge of launching these [shows] in this fractured universe."
9. One of Reilly's biggest issues with the traditional pilot process is how little time it leaves to market new shows. "When we pick up a series in May and it's got to be on in a matter of months, that's a very short ramp up to get people aware of it," he says. This wasn't an issue back when networks dominated the TV universe, since broadcasters could "just simply turn on our own promo machine. Now it takes so much more than that. You need so much more time to get out into the culture and let things percolate." By approving projects long before they premiere, Reilly thinks he'll be better able to increase awareness of new Fox shows.
10. Reilly doesn't deny Fox has had a rough season, conceding the network is "skidding our way into the finish line." But he laughs off the notion that his pilot-season pronouncements have been a way to divert attention from those woes. "That's just silly Hollywood finger-pointing," he says. "I mean, we have not had the strongest year — but that's neither here nor there."
11. One possible pitfall of making few pilots could be that Fox misses out on an expected hit from a new voice. Making a pilot episode of a show from an unknown writer is relatively low risk; it's much less likely Fox would give a "nobody" a straight-to-series order. Reilly concedes this is a danger of his plan: "The risk could become that if you're making these big bets, the Larry Davids of the world, the Anthony Zuikers — that guy who was a nobody when they started writing television — they will somehow be disadvantaged," he says. "That's something we really, really have to guard against. [But] that's something that's always a part of [the business] anyway. If you look on every network slate every year, the vast majority are people who have done it before."
12. Reilly has won the affection of critics by keeping low-rated fare, such as The Mindy Project and Brooklyn Nine-Nine, on the air. Some industry observers have wondered, however, if Reilly's willingness to embrace niche shows means Fox is too quickly turning into a cable network — a not unreasonable question to ask given the network's recent microscopic ratings on Tuesdays. Reilly pushes back against the notion that he wants to turn Fox into some sort of boutique channel. "Our comedies, which are not at the top of the ratings heap — of the 80 comedies that were on television last year, seven of [ours] were still in the top 20," he argues, adding that he wants Fox to create big hits. "Network television has really been the driver of worldwide value that really floats a lot of the economics of the entertainment industry," he says. "You can do a very, very cool niche show — but that's not nearly going to have the worldwide impact anywhere near what The Simpsons or 24 has. In a perfect world, every [show] delivers a broad audience."
But while he hunts for bigger hits, Reilly says he thinks it's smart to stick with at least some smaller shows. "Everything in television is a balancing act," he explains. "I can have a handful of shows where I just say, 'We're giving that the benefit of a doubt.' Friday Night Lights was never a break-out hit; I'll never regret doing that show. That said, you do have a finite amount of those as well, because I do need to keep the circulation up. We have only so many places — unless we're really going to turn [Fox] into a completely niche service. I can only fall on my sword for so many."
13. In fact, while Reilly seems to be turning Fox into the new home of NBC-style comedies — i.e., quirky and critically loved — he insists his real intent is to make the exact opposite kind of half-hour work. "The one thing that I'm really obsessed with is multi-camera comedy," Reilly says. "It is a form that is unique to network television. And then, for whatever reason, it fell out of vogue at networks. And talent is afraid to get back in. I see so much comedic talent that seems like they would rather do a [single-camera] show that by definition less people are going to see." Noting that multi-cams such as All in the Family and Seinfeld were "the coolest shows of all time," Reilly says it's surprising more showrunners aren't looking to jump into the form. "I don't know why you won't aspire to do that," he says. Not that some aren't trying: "This year we have John Mulaney doing a sitcom for us, and Tina Fey and Matt Hubbard and Robert Carlock doing a multi-camera sitcom. Even the much-maligned Dads, where it became the poster child [for] everything that was wrong on television."
14. The above mention of Dads wasn't an accident. At least when I talked to him last month, Reilly seemed to be laying the groundwork for a renewal of the Seth MacFarlane–produced show. "It actually held its own relative to [Fox's] other comedies," he says. "Seth's next movie, which I've already seen, is going to be another big success. That's just top talent willing to do multi-camera, and I want to keep playing in that water. And that's something we've got to do. Because I still think that on broadcast, that's one form that can provide a bigger tent."
15. One of the biggest frustrations for Reilly and other broadcast execs has been how few shows these days grow in their second and third years. In some cases, series are starting to suffer serious erosion by their third seasons. "We would always count on a sophomore bounce," Reilly says. Now? With most shows, "It's a sophomore slump. And that's been really, really debilitating. I thought The Following would bounce, and it didn't. I think there was only one show that bounced in its sophomore year, which was Chicago Fire, which is up a couple of tenths. Scandal is one of the only shows that the network has seen a growth over the last three years. Unfortunately, the vast majority of shows have trended down." Reilly thinks networks need to find a way to make returning shows events every year. "Every year cable relaunches their top franchises like Game of Thrones as a big event," he says. "We tend to put the subsequent seasons on autopilot, and there's a point where the audience then just views them as autopilot."
16. Fox has made so-called "series commitments" to projects, leaving many to believe the network will absolutely turn these projects into shows. Reilly, however, cautions that this might not always happen. "At some point, if I read six scripts and a bible, and they're a disaster, we're going to stop," he says.
17. Reilly wouldn't mind having the FCC's content restrictions disappear, but he doesn't seem all too concerned about the current double standard by which cable can air shows with nudity or adult language. For one thing, "We have plenty of creative latitude without it, and most advertisers will not buy it," he says. But with cable collectively drawing far more viewers of all ages than broadcast, and viewers not drawing a distinction between the two forms of TV, "It is very, very silly, some of the constraints that we're under. People are simply watching television," whether it's "broadcast" or "cable."