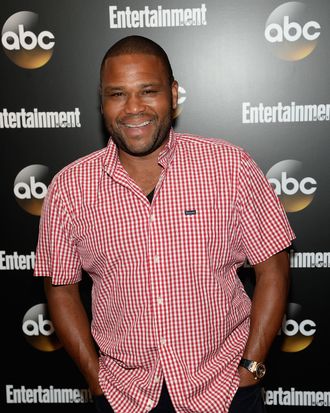 Black-ish's Anthony Anderson at the ABC upfront.
Photo: Jamie McCarthy/Getty Images
Now that he'll soon fill Stephen Colbert's swivel chair on Comedy Central as host of The Minority Report, Larry Wilmore won't have time to executive-produce the new fall series Black-ish on ABC. "I can't be upset," said Black-ish star Anthony Anderson last night at Entertainment Weekly and ABC's upfront party at Toro. "We would love to have Larry around but Larry has a personal obligation to fulfill, a personal dream. To change the landscape of late-night television is exciting for him, and we're excited for him." Kenya Barris, Anderson's "more than capable" co-creator and fellow executive producer, will take the reins instead.
Wilmore met with Anderson in person to deliver the news. "Look, it was sad that we had just created something great together and it's sad that he has to leave in an abrupt fashion. You know that's what his trepidation was. But it was like, 'Man, you've gotta do what you've gotta do,'" Anderson said. "So if I were in his shoes I probably would have done the same thing." While an exact timetable has yet to be determined, Anderson said there's talk of Wilmore scaling back his Black-ish duties come October (The Minority Report premieres in January). "He's going to be around for as long as he can before he has to go off and start doing his show," Anderson said, although he's more concerned with getting Black-ish through its freshman season. "There's no love lost. We support him as much as he supports us — we're partners, 'til the end."