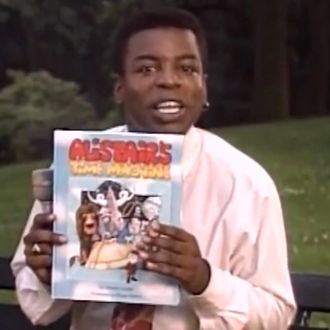 LeVar Burton's Reading Rainbow: First it was on your TV, then your iPad, and now (hopefully, with the help of Kickstarter funds) it'll be on the web. For free! Burton hopes that with $1 million, he can continue the legacy of the bookish show: "Reading Rainbow's digital collection already contains hundreds of books and video field trips … but with your help, we'll be able to make the Reading Rainbow library available on more of the devices modern kids use to consume content." He promises to provide the library to "over 1,500 schools," and if you give him $350, he'll follow you on Twitter (and you'll be doing a mitzvah and all of that, too).
Update: Not only did Burton and his Reading Rainbow team meet their $1 million goal, they've already surpassed it. With 34 days still left to go, the Reading Rainbow Kickstarter is at $1.6 mllion and counting. Someone better start doing their reward package Twitter shout-outs now.
(You can still!) help support Reading Rainbow on Kickstarter.