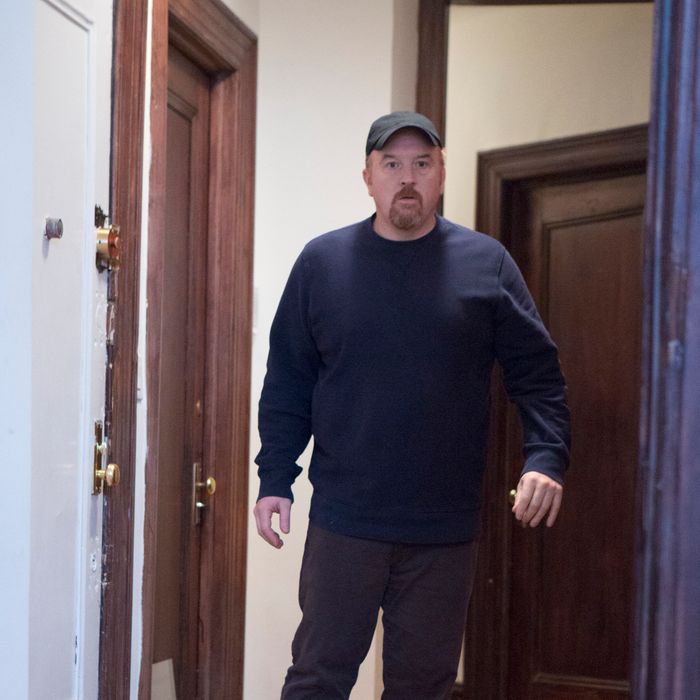 The two things I love the most about Louis C.K. is that every woman I know wants to climb him like a tree; and the premiere was so good, it felt like it had been a decade since the last season ended.

Hi, I'm Danielle. I recap a bunch of shows for Vulture (Orphan Black, Orange Is the New Black, Scandal, and more). I've been a full-time black woman for 36 years. I'm originally from New York but now live in Seattle, after a brief stop in Alaska for a few years to drink heavily and stab a man, I used to sneak into comedy clubs as a teenager to watch people like Louis C.K. perform after skipping entire days of school, I had two pieces of carrot cake for dinner, and I dropped out of my Ph.D. program to pursue writing, so my family is very proud. If you Google me, I'm the tall one with the Afro and slight dowager hump, not the Olympic athlete.
The beautiful chaos of this show often makes it difficult to find a connecting thread, but the easily identifiable theme of this premiere is Louie's well-covered focus on being old and tired, which he introduces brilliantly with the bane of every sleep-deprived city dweller's existence — sanitation workers. Nothing makes me go from zero to I-will-slice-your-children-open-with-a-butterfly-knife like the cacophony of sound ricocheting off of the buildings when the garbage pick-up arrives. I wrap my hair in a silk scarf at night like royalty, so I look extra crazy when I poke my head out to make sure the Cloverfield monster isn't trying to punch its way to the center of the earth and it is, in fact, just two guys trying to put my banana peels and tampon wrappers into the back of a truck. Louie took it to the extreme, of course, by having them crash into his room for a Stomp reenactment, but he's always been masterful when it comes to "show, don't tell."

It's not often that you see him agitated with fatherhood — he mostly jokes around with his kids while working in some life lessons ("I would never take your burden away from you") — so the clanging dishes and yelling at his kids to leave him alone introduced a little danger to the episode in a way that gave it some nuance. Parenting is a new kind of exhausting, I think — I'm locked down tighter than Travolta's lace-front — but his agitation gives way to hilarity when he tries to understand why his kid has to write a letter to AIDS for homework, or when he does a five-second impression of every member of the Beatles during lights out. It's exhausting, but he's good at teasing out the tiny moments that make it seem like a good idea.
The return of the poker game (with Rick Crom, Sarah Silverman, Jim Norton, Nick DiPaolo, and William Stephenson in this round) gave Jim Norton a chance to expose his perversions as usual, leading Louie to a sex shop to find a vibrator to jerk off with. After a moment of bashfulness, he's up to speed and in rare form, telling the clerk that the silver is too silvery and he doesn't want a dick-colored one, right before he throws his back out pointing to the one he wants. After an elderly woman helps him into a taxi, he shuffles into a doctor's office in his building since he "has a doctor but he's dead." I'm always thrilled to see who's going to make a cameo, and Charles Grodin as Dr. Bigelow telling Louie the reason his back hurts is because he's a biped who needs to walk on his hands and feet or shut up made me giddy. Here again a connection to the theme of old and tired, reminding me of part of his stand-up routine when he talks about the struggle of putting on socks and how he just lives with pain now that he's in his 40s, coupled with the deadpan glory of fully gray Grodin. It's like God himself telling you to just take a load off, he can't fix you, either.
There's a nice callback to dildos when the secretary whips out a Hitachi wand to show him how she deals with her back pain, and a full-circle callback to death in his final stand-up routine. I let this episode wash over me like warm water, happy to be back in a world that picks up on all the ticks and groans of being an adult.
Sparks of Brilliance
The Pinocchio joke with Tony the super was a great way to showcase Louie as a comedian who doesn't play to the lowest common denominator, but is also a little too stubborn to let a bad joke go with the wrong punch line. 
The fact that everyone in the coffee shop was face-down into their phones, and the one wandering zombie edged up on Louie. Was that coffee shop the same one in "Dogpound" from season one, where he felt like he was speaking slowly?
When Norton said he kept his big, black dildo in his desk drawer because knowing it was there makes him feel bad and helps him cum, Sarah Silverman said, "Oh, it's black!" and Nick DiPaolo said, "Wait, you have a desk?"
The chain mail hanging in the sex store. This is the hell Game of Thrones has wrought — hopped-up nerds trying to jangle cold metal against your haunches.