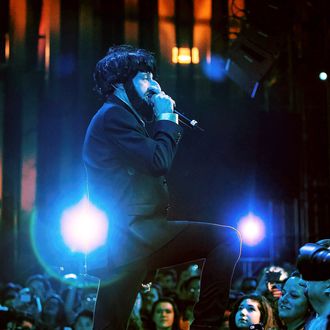 Photo: Suzi Pratt/FilmMagic
Or at least, he explained how the hell this happened:
Earlier in the day I thought it would be fun to dress up in a disguise and go incognito to the event, so that I could walk around unnoticed and surprise the crowd with a short performance," he wrote on his website. "I picked up a bunch of fake mustaches and beards and grabbed a left over wig from our recent trip to Japan. As it turns out the fake noses they sell at the costume store are usually big (my nose didn't fit most of them).  So I ended up with a big witch nose.  I went with a black beard, because that's the furthest color from my natural hair.  Disguise was the intention.  I personally thought I looked very ambiguous in terms of any "type" of person.  Some people there thought I looked like Ringo, some Abe Lincoln. If anything I thought I looked like Humpty Hump with a bowl cut.
He then apologizes to anyone that he "may have offended," which is really only half an apology, but maybe the rest will come via text.