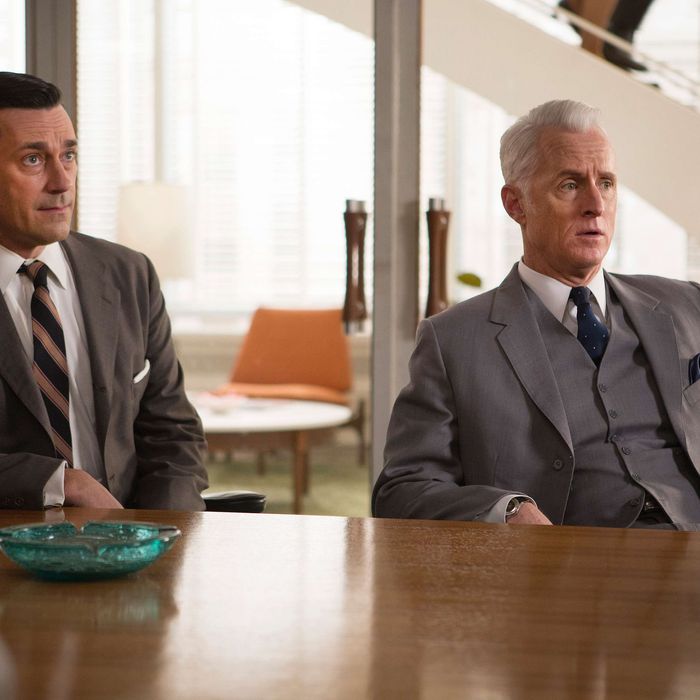 John Slattery as Roger Sterling - Mad Men _ Season 7, Episode 7 - Photo Credit; Michael Yarish/AMC
Photo: Justina Mintz/AMC
Vulture recapper extraordinaire Matt Zoller Seitz will have his comprehensive Mad Men season finale recap up as soon as he can. Until then, however, let's take this time to go over some of tonight's major plot points. There was that thing with Don, and the one with Roger, and that one with Peggy … we're being intentionally vague, of course. Spoilers ahead.
* Did anyone else briefly think that Ted was going to off himself this episode, given his nonchalant talk about death that kicked off the episode and that line of dialogue where Pete referred to him as the new Lane Pryce?
* Total fake-out though — "Every time an old man starts talking about Napoleon, you know he's going to die." Godspeed Bert Cooper, you shoe-hating Zen master. And what a way to go, with a song and dance number that allowed actor Robert Morse to breakout the skills that won him a Tony back in 1962 for his role in How to Succeed in Business Without Really Trying.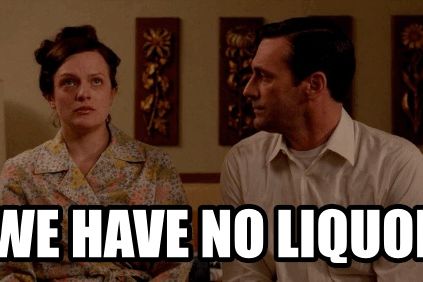 * It was a nice little song and dance echo of Roger's last words to him — "Let's have another cup of coffee, let's have another piece of pie" — which is a line from the Irving Berlin song "Let's Have Another Cup of Coffee."
* Poor (?) Harry Crane — getting shut out of important decisions twice. "Is this a partner's meeting?" "You're not a partner yet." "Goodbye, Harry."
* Coming off last week's touching late-night meeting and dance between Don and Peggy, his handing the Burger Chef pitch off to her was a big moment — Don finally showing Peggy that she's her own person, Peggy crushing it in a meeting in front of her former mentor.
* Peggy: "You've never even seen me present." Don: "I've overheard things."
*It was touch-and-go for a bit there, though, because: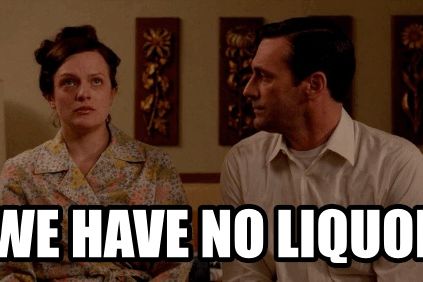 * After all the bicoastalness and the threesomes and the I Am Curious (Yellow), Don and Megan appear to be done. If so, it was the gentlest breakup I've seen in ages, as if neither of them cared enough to put up a fight. Megan got her fondue set from the New York apartment, so she was checked out weeks ago. You think she and Jill still went to see The Wild Bunch after that phone call?
* Second favorite moment of the night after Peggy's no-liquor-induced distress was her moment with Julio. It informed her Burger Chef pitch later but it also doubled down on that exchange from last week where Peggy talked to Don about being 30 and having no family. Julio is all she's got at home. I don't know who to feel more sorry for! (Though Peggy's got the handyman's number.)
* Everyone watched the moon landing, so the fact that this season (half-season, whatever) took place in 1969 was significant! Everyone who guessed that on their 1969 Mad Men bingo card, drink!
No really, drink, it's a holiday Sunday. You don't have to wake up early tomorrow. Unless …