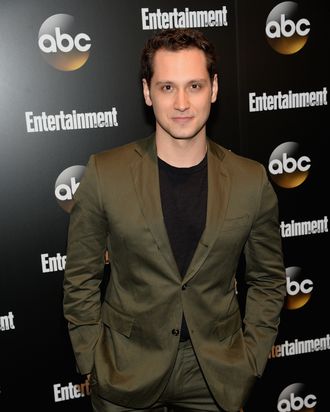 Photo: Jamie McCarthy/Getty Images
Matt McGorry is flying high right now: Orange Is the New Black, where he plays soon-to-be-father Bennett, returns for its second season June 6, and How to Get Away With Murder, where he plays an law student, has been officially added to the ABC fall schedule. We caught up with McGorry at Entertainment Weekly and ABC's Celebrate the New York Upfronts party to see how he's going to juggle two shows — plus an improv team.
We're excited about your new show, but I have to ask — does this mean you're going to have to scale back on Orange Is the New Black?
I don't think. We're kind of figuring things out, but no, I should be able to have a good, solid involvement in both. [Ed note: Season two of OITNB is done filming; season three has not started shooting just yet.]
So as a fan — if you can separate yourself for a second — what do you want to see happen with Daya and Bennet and the baby?
Wow. That's an interesting question. As a fan, you know, it's tough because, I mean, the things you want as a fan are not always the things that really kind of draw you in and give you that suspense. I want to see a happy ending for them. You know, I'd really like to see that. Maybe I'd even like to see them break out and have a life that's separate. I also know that probably wouldn't bode well for my future on the show. I don't think they're going to film like part of it in Cancun and then part of it in prison.
Like literally break out. Jump the fence or something?
Yeah. I mean, I would love that! That'd be great. But I don't know, like I said, I'm not so sure it's best for the show and best for the viewers as well.
Did I hear you say you do improv? 
I do improv, yeah.
Are you on a team?
I am. I'm on an indie improv team, and I train at UCB.
What's it called?
We're called Out of the Woods. Zach Woods was our improv teacher … before The Office. And we call ourselves Out of the Woods, very clever, as a result of that. And yeah, things are obviously going pretty well for him too.