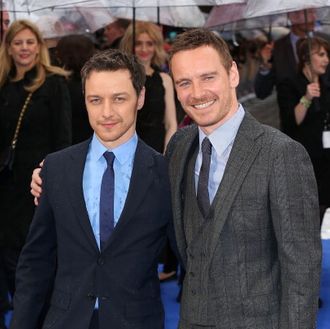 As you might have guessed from their latest appearance on the Graham Norton Show, X-Men stars Michael Fassbender and James McAvoy are quite chummy in real life too. Over a few rounds of beer with Details, the duo recalled some of their on-set shenanigans: Specifically, the mates are particularly proud of the off-camera hobby they picked up alongside their X-Men: Days of Future Past cast. After deciding that they would "still sweat" but not "cry" for this latest film — "We stressed a lot over First Class," McAvoy admits — the two went out and bought 12 BB guns, promptly launching an ongoing war for about two months on set.
McAvoy explains:
"Every time you stepped out of your trailer, you were pretty much guaranteed that if you weren't careful, you were going to get hit in the face. And probably get your skin broken as well. But there was a time where Michael was in his trailer and me and Jen[nifer Lawrence] were trying to kick the door in, trying to get in through the skylight. So … yeah … this second movie was a lot more chilled-out than the first one. Big-time. Massively."
He also also calls their good friend Lawrence "a demon, period." "She can throw a punch, she's got a good shot, she can drink. She's proper. I like that girl," McAvoy said, like everyone else.