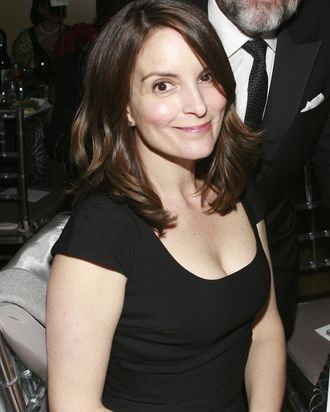 Photo: Sylvain Gaboury/?Patrick McMullan
Last time we ran into Tina Fey's composer husband Jeff Richmond, he gave us an update on the Mean Girls stage musical that he and Fey are drafting (they're working on a "Fetch" song!) and promised us, "At the next boozy function, I'll have more to share." That boozy function came last night, when Vulture met up with the couple at the Jazz at Lincoln Center's annual gala — and just in time for the movie's tenth anniversary, too. The musical is "going along swimmingly," said Richmond. "We're very happy with how things are coming along so far. And maybe this thing will be out by the Mean Girls 15th anniversary."
Here are a couple of other tidbits Fey and Richmond gave us last night:
They haven't even begun to think about casting, but don't expect to see big stars. "I think we really want to find interesting people that no one has seen before. I don't think I can say Audra McDonald will play Cady," cracked Fey. "Hopefully we'll find a young person who, at this moment, is still in college but will be making her way to New York as we write. Still a fetus somewhere." Richmond concurred: "I bet that we could try to get somebody deliciously unknown to jump into that role. Do you have anybody in mind? It feels like you would want to go out and find the new Andrea McArdle, like they did with Annie."
Things are going so well that Fey and Richmond expect to get an early version of the musical on its feet this year. "I think we are looking to do some workshops and readings during the course of this year," said Richmond. "Maybe during the summer and into the fall."
Last time we talked to Richmond, he said the big question was "When does Regina sing?" While he'd thought about saving the head mean girl's big number for the second act, "We decided we are going to let it happen early in the show, as opposed to later in the show," he told us last night. "I can't give you the specific moment, but within the first 15 minutes, Regina is going to be belting out a number somehow."
And since we indulged in a little where-would-they-be-now speculation tied to the Mean Girls anniversary, we asked Fey to tell us what Regina George would be doing ten years later. "She would be a really successful realtor," Fey said.