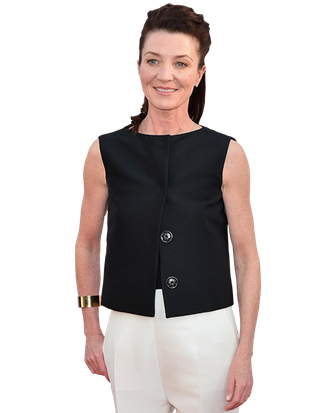 Michelle Fairley.
Photo: Alberto E. Rodriguez/Getty Images
While it has been fun to see our old pals Jack Bauer and Chloe O'Brian doing their thing on 24: Live Another Day, the appearance last week of Michelle Fairley, otherwise known as the late Catelyn Stark on Game of Thrones, also delivered a nice jolt of familiarity. As Margot, a widow of an accused terrorist who seems to have made her late husband's goals the family business, Fairley brings a depth of humanity to this would-be villain, while also satisfying our geek fantasies of what it would be like for the Starks to get their revenge. Fairley, who was a fan of 24 back in the day, loves the update of the show ("The only thing that gives it away is the size of the mobile phones!") and chatted with Vulture about her mysterious character, when she'll catch up on Thrones, and her favorite "Oh my God!" moment from The Wire.
The last time we spoke, something unfortunate had just happened to you on Game of Thrones. How's your throat?
[Laughs] Oh, yes, I remember! I think I was recovering from a cold or something. Psychosomatic, I think.
And your neck is on the line in this one, too.
More than her neck! I think it's her whole life, basically. And not only her life, but she has involved her children as well. She's incredibly layered, and she's a mother, but she has a different sort of love. She loves her children, but she has certain expectations of them as well. The assumption is that they have the same belief system, so they should be prepared to achieve what the mother wants. The mother's goal is their goal, and they should be as driven and as committed as she is, without question. And nobody is safe from this woman. I mean, absolutely nobody. Not even her children.
Especially if she's giving them medical attention, like in tonight's episode …
[Laughs] Have you seen that one? That was the intention. There is a side to her where she doesn't trust anybody. She's not going to turn around and be obvious. She's testing, constantly.
She's painted as a villain at first, but it's more complicated than that.
It's a very challenging part. I spoke at length with the writers, and we talked about different aspects of her character, and what drives a person like this. She's a passionate woman, and she's driven not only by her belief, but also by revenge. And I did a lot of research about people who are not born into a certain belief, but take it on. The love, passion, commitment, and just sheer bloody-mindedness, when it comes to achieving your goals. This woman has had a tragedy within her own life, and she sees various governments' involvement in the downfall of her husband, who, according to her, is an innocent man. And she thinks this is not right, that you can't be in a position of power and abuse that power and not be accountable for it. So it's not as simple as being a villain. This woman sees herself as going out there to enlighten the world: "This is what these governments are doing, and it is wrong." So she takes it upon herself, with another organization behind her, to achieve revenge. There is a scene that we were shooting a couple of days ago about how she doesn't see herself as a terrorist, or as she says, "a so-called terrorist." She's very much aware of how the world sees her, but in her mind, she is actually an honorable person, honoring her cause.
It depends on which point of view you're referencing. One person's terrorist is another person's freedom fighter. Or, if you wanted to use Game of Thrones as a frame of reference, even the Starks were rebels and traitors who started a civil war, according to the Lannister point of view.
Absolutely. Very much so. War is a tricky issue — look at what's going on in the world today! You have one country claiming another country, and they think that's their right, while the rest of the world goes, "You can't do that! You can't just redraw the map of the world." So that's where conflict comes from, the power struggle within that. Because who is right? Everybody believes they are right. But nobody is what they seem. They're constantly living on their wits and changing their tactics, changing their course.
Now that you're on the show, I'm waiting for the inevitable fan mash-up where we get to see all the houses on Game of Thrones, 24-style — in real time, split screens, as the clock counts down.
[Laughs] Do you think so? Oh my God! Well, maybe … possibly! I suppose that's the power of the internet! Everybody can be their own director, their own creator, and they can put it out there. It's fantastic that people care — that they're passionate, and they care. And I would imagine, if it's done with love, it's flattering. It's incredibly flattering.
Have you had a chance to keep up with the latest Game of Thrones season?
I haven't yet, because I've been busy and I've been away, but I definitely will be, because I'll probably get the box set. I'll see it that way, and binge on that.
Okay, because where we are right now, all of Littlefinger's lies and manipulations, even from season one, are starting to unravel and come to light.
Oh, exciting! So now there's going to be another box of worms opened up, huh? [Laughs] It's the genius of Game of Thrones, and with 24, too, because they give you this information early on, and you retain that information. You have to, because it's so layered! It's so multi-layered, and it's not what it seems at all. Nobody is what they seem. And the writers on 24, they'll suddenly twist a character. A character that seems worthy, with good intentions, and working in the right direction, suddenly they'll get a phone call and you'll see they're not what they seem at all. And that's exactly what drama is about — keeping ahead of the audience, and keeping them on their toes, and creating a sense of excitement, when you can hear the collective, "Oh my God!"s. And that's what makes it so thrilling.
I mean, I remember watching The Wire, because I absolutely adored The Wire, and there were so many secret layers within that drama, and it was just fantastic. Like the police captain, who was so vicious and seemed to be one thing, and then there was that one amazing scene where Omar walks into a bar, and it's a gay bar, and right in back of the gay bar, there's the police captain. And it's never mentioned again! But it just adds another layer to the character, and I remember going, "Oh my God!" [Laughs] Because you had no idea about that at all. You never questioned his sexuality. Why should you? And then suddenly, there he is. And that was all that was needed, and then suddenly you could go clink clink clink clink. Mentally, you're making all these new assumptions.
Since part of what your character is doing involves drone warfare, she doesn't necessarily have to be physical to make her attacks from afar. But do you get any action scenes?
She'll have some face-offs! [Laughs] At the moment, we're at the beginning, with her daughter, and the daughter is like the field soldier — off you go again! And the son, who is at the base with the computer. And it takes time for the mother-son relationship to develop.  We were shooting something the other day, and the director was telling the actor, "You won! You won!" because his goal is obtaining his mother's love, whether it's right or wrong, twisted or perverse. And the thing about Margot, she's not asking her children to do anything she has not done herself. She has been a foot soldier herself. She's not like a colonel sitting on her horse — she's been out there and done it herself. And she knows what tricks the mind will play, so she knows what their doubts will be — she's a step ahead of them. But when it comes to the face-offs, they're fantastic fun. [Laughs] Who doesn't enjoy those? It's an incredible rush of adrenaline.