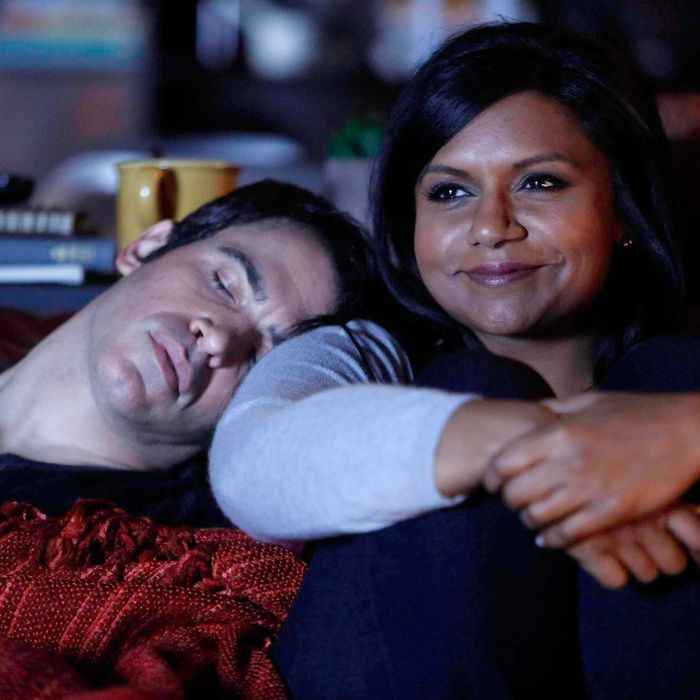 The season-two finale of The Mindy Project just finished and we have questions! Luckily, we also have Mindy Kaling's email address, and she graciously agreed to answer them. Obviously this article will contain spoilers about tonight's second-season finale, so read no further if you haven't watched it yet.
A delightful mash-up of the Nora Ephron classics Sleepless in Seattle and You've Got Mail, The Mindy Project second-season finale ended with Mindy and Danny getting horizontal (but not for sex!) on the observation deck at the Empire State Building. He said, "I love you," they argued about baby names, and balance was restored to the universe. Here's what the busy series boss and star Mindy Kaling — who has been very busy of late, hitting the White House Correspondents' Dinner on Saturday and Late Night With Seth Meyers on Monday — had to say about the season finale, a personal letter she wrote to Bruce Springsteen, and the politics of Mindy Lahiri.
That was quick! Not only did Danny and Mindy get back together, he used the L word. When and why did the show go all in on committing to that relationship?
Danny says he loves Mindy because, well, after looking back at the season, and all of his gestures and longing, it just felt like that's all it could be. I remember seeing the first cut of "Christmas Party Sex Trap," the vulnerable way that Chris does that Aaliyah dance, it was so clear to me. I mean, who does that unless he's in love? People responded so well to them dating, and hated when they broke up, which was also very encouraging.
A few weeks ago, you said that Danny and Mindy are "a terrible fit," but that they care deeply about each other. How do things look when we come back next season now that it's public that they're together?
We are just starting to break stories for next season, but last season, we found that the funniest things to pitch on were stories of Danny and Mindy dating. Two people together, against their better judgment, is a really fertile comedy area.
The show has referenced both You've Got Mail and Sleepless in Seattle before, but this was a full-on, super romantic, shot-in–New York, grab-a-hankie mash-up of the two. Talk about wanting to do that now versus a few years from now for the series finale.
These two characters are so dramatic, so drama will always find them. I'm not worried about finding other big memorable set pieces for future season finales.
Danny ran through the streets of New York to Bruce Springsteen's "Dancing in the Dark" — perfect. How difficult and/or expensive was it to clear that very popular song?
I wrote Bruce Springsteen a letter to get him to clear the song! And not an email, a good, old-fashioned, signed letter. It's one of the most enjoyable things I've ever had to write. I talked about how much Danny loves Bruce Springsteen, and how much I love Bruce Springsteen. And it's true. Bruce Springsteen is to Danny as Tom Hanks is to Mindy. I'm going to publish the letter in my book.
You tweeted that you interviewed one of your heroes, "a romantic comedy icon," in anticipation of the finale. Who was it, and what did that person tell you that contributed to the last episode?
I interviewed Billy Crystal, whom I've had a long and enduring love for. When Harry Met Sally is referenced in the pilot, there are two episodes inspired by it, and it appears again in the season finale. He looms large in the series, and I got to talk to him about making that movie with Rob and Nora, and also The Princess Bride.
If Mindy and Danny are together together, does it mean less opportunities to bring in cool guest stars like Timothy Olyphant and Seth Rogen as romantic distractions?
Not at all! Exes are one of the best distractions in the world. We can also see other people that Danny and Mindy have dated that we have never even heard of before. In Indian BBW, Danny had a lot of girls' numbers in his phone.
We didn't see a ton of Betsy (Zoe Jarman), Beverly (Beth Grant) and Tamra (Xosha Roquemore) overall this season. Jarman isn't coming back, so Betsy's out, but where do you see Beverly and Tamra fitting in next season? And what's the balance you're looking for in how you use the ensemble?
I love Zoe and I hope she does come back. She's so funny and should be seen more than the one or two lines per episode our stories gave her. We had fun this year touching upon the personal lives of Tamra and Beverly, so next year we will see much more of it. Especially Jeremy. I love writing for Ed and want to act with him more. That's something I'm especially excited about next year.
On the other hand, we got a lot of Peter (new addition Adam Pally). He feels like a third lead now. What do you feel like he adds to the show that was missing before, and what's next for him? Will we see more of Peter together with Lauren (Mindy Project writer Tracey Wigfield)?
I went to Dartmouth and have wanted to write this character for the longest time. Peter is so enjoyable! It's always fun to see characters redeem themselves, and one of the best parts of the season was Peter and Mindy becoming confidantes. I always thought Adam was a leading man. I can't wait to see what it looks like next year with Peter trying to date someone seriously.
No disrespect to Danny, but Brendan Deslaurier (Mark Duplass) once bought Mindy a constellation (swoon), but never really pursued her beyond that. Are his feelings for her gone, or has Mark Duplass just over-committed himself elsewhere?
The constellation scene is one of my favorite scenes the show has ever done! I love that we left Brendan knowing he and Mindy have a deeper connection than what others in their world might know about. Those are valuable seeds we planted and I definitely want to see where it goes. Yes, Mark is the busiest friend I have, but when he and Jay come to set it's so fun for us. I can't imagine a season three without them.
In the finale, Mindy says she doesn't believe in global warming and calls Rudy Giuliani hot. She also recently said she doesn't recycle ("Recycling makes America look poor"). Should we infer anything about Mindy Lahiri's politics? Or is this the show's way of making fun of a story that alleged that Mindy Kaling was a Republican?
Mindy is all over the place politically, it's one the funniest parts of the character. She's done no research and is driven by her passion that her "hunches just feel correct." The fact that people can't separate me from Mindy Lahiri is so funny to our staff, and I think we like to lean into it because it's provocative.