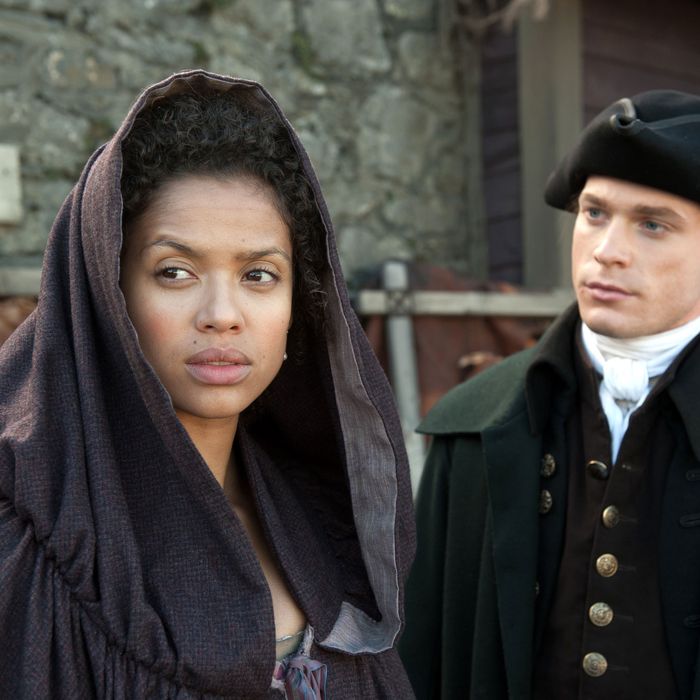 In the opening scene of Belle, set in 1769, a white man enters a drab room, sees a black woman and a young black girl, and does something shocking: He takes his hat off. Then, looking at the girl, he remarks, "How lovely she is. Similar to her mother." This is, we sense, no ordinary movie about 18th century racism.
To be fair, Dido Elizabeth Belle was no ordinary figure. Born to a British naval officer and a slave, she was brought up by her great uncle, the Earl of Mansfield (Tom Wilkinson) and the Lord Justice of England, alongside her white cousin, Elizabeth (Sarah Gadon). As Amma Asante's film presents it, Dido (played as an adult by Gugu Mbatha-Raw) and Elizabeth are the best of friends and consider each other sisters. Their great uncle and aunt (Emily Watson), initially skeptical about the correctness of raising their nephew's mixed-race love child in their aristocratic world, grow to love her — even if, for the sake of what they deem propriety, they ask her not to dine with them when they have guests. ("How may I be too high in rank to dine with the servants and too low in rank to dine with my family?" Dido asks.) This practice starts to seem even stranger after Dido inherits a considerable income from her father, making her a wealthy woman in her own right.
This is a heavily circumscribed environment of status and propriety, and Belle is as much a film about being a woman as it is about being black. Dido and Elizabeth, both staggeringly beautiful, soon find themselves in somewhat opposing predicaments. Dido is a wealthy heiress, but has almost no social profile. Elizabeth, on the other hand, has status but not a penny to her name, and thus needs to find a man — someone not below her station — who can support her. It's a rather Austen-ite situation, and Belle's placid surfaces and elegant style, eschewing stylistic frills and overt melodrama, place the film firmly within the tradition of such moodily romantic forebears as Ang Lee's Sense and Sensibility and Roger Michell's Persuasion. Elizabeth is wooed by James Ashford (Tom Felton), the wealthy son of a colleague of her great uncle's. But James also happens to be a total racist, which makes things complicated, especially since his own penniless brother simultaneously seems to have his eyes set on Dido. Our heroine, though, is smitten with another man: John Davinier (Sam Reid), the hunky son of a modest clergyman and an aspiring man of the law. They both look great, but it's their belief in social justice that brings them together. Swoon.
Here is where Belle tries to connect its two great themes, that of the state of women and of the state of blacks. John, a social activist, has taken on the cause of the Zong appeal, over which Dido's great uncle the Justice will soon pass judgment. An important case in British history, the Zong decision concerned a slave transport ship that had jettisoned its cargo (or, more accurately, brutally drowned its slaves) and asked for insurance money in return. John (and, eventually, Dido) argue that these are human lives, not objects, and therefore the slavers have no case. But the Justice, a man of the law, believes in "the order of things," despite his beloved black niece. (Indeed, it was because of his belief in the law and the rules of inheritance that he agreed to raise her in the first place.) For him, the issue hinges less on whether human lives could be treated as cargo – since, under British law at the time, they were – and more about whether this particular slave ship had a legitimate reason for its actions.
The Zong case has some similarities to the Amistad case in the U.S. The latter was, of course, filmed by Steven Spielberg in 1997. Amistad didn't find much love at the time but contains some of Spielberg's most stirring sequences — most notably in a ghastly flashback to what actually happened on the titular ship, when the crew, much like the Zong, began to brutally toss dozens of human beings to their agonizing, watery deaths. Belle doesn't show any such thing — and, as a love story that's several steps removed from the incident, it can't, really — but the way it treats the subject demonstrates the power of subtlety. At one point, Belle finds a map on which she sees the journey of the slave ship traced in ink, and there's something evocatively terrifying about her moment of recognition.
It's all sickening to think about, of course, but it speaks to Belle's restraint that it creates a compelling world where characters who are legitimately torn on a decision over the value of human life can still be depicted as loving, complex, even kind. This may not be easy for everyone to stomach. To some, Belle will seem unfortunately mild, maybe even a whitewash of the horrors of slavery. But it would be unfortunate if this small, well-made, touchingly old-fashioned romance became a cinematic hot potato. Belle does have a clear moral compass, but it refuses easy answers and withholds easy judgments. As such, it feels profoundly human.