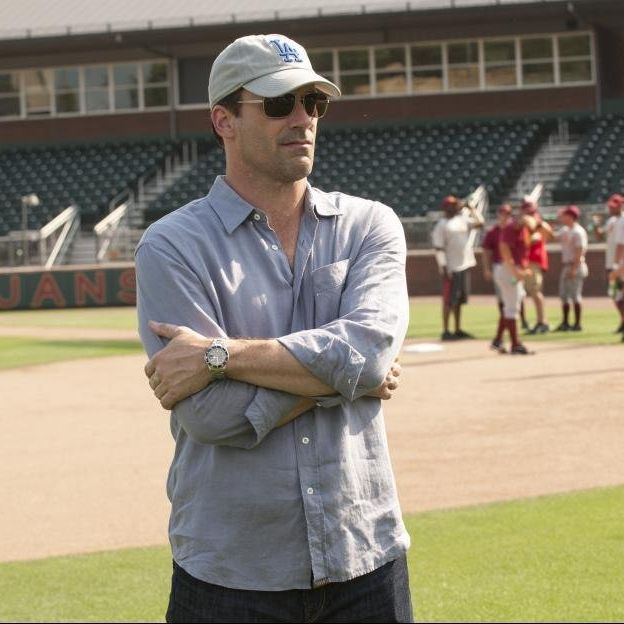 Million Dollar Arm is cute, cloying, simplistic, borderline offensive … and thoroughly effective. The fact-based story of a desperate sports agent who recruits two cricket-playing kids from India and tries to mold them into Major League Baseball prospects, it has all the subtlety and grace of a Norman Rockwell finger painting. But it may still have you dabbing tears by the end. You'll probably hate yourself for liking it. I know I did.
As J.B. Bernstein, a former hotshot athlete manager now struggling to make ends meet, Jon Hamm doesn't veer far from his comfort zone. J.B. may not have the character shading or style of Mad Men's Don Draper, but he does have a facility with the dark art of the sell. In the film's opening scene, we see him practicing his pitch to a prospective client, a football star named Popo. "It is a simple fact that not everyone is destined to claim their page in the history books," J.B. says, brandishing a bobblehead doll. "But a lot of people are willing to pay for a piece of it." Under his confident veneer, though, J.B. has hit rough times; His small management company, which he founded several years ago after a successful career with a big firm, is on the rocks, and he can't pay his bills.
Desperate for a miracle, J.B. has a revelation late one night, as he switches back and forth between a cricket game on TV and Susan Boyle singing "I Dreamed a Dream" on Britain's Got Talent. J.B. hates cricket ("It looks like an insane asylum just opened up and the inmates were allowed to create their own game," he complains), but he sees the potential: Bring an Indian cricketer to America, groom him to be a baseball pitcher, and you've just opened up America's favorite pastime to a new market of 1 billion people. "That's a billion new fans. What do a billion new fans need? A billion hats. A billion T-shirts." Okay, it ain't exactly Matthew Weiner, but it'll do.
Several A.R. Rahman–scored montages later, J.B. returns from India with two wide-eyed prospects: Dinesh (Madhur Mittal) and Rinku (Life of Pi's Suraj Sharma), along with goofball translator/videographer Amit (Pitobash). While the film hasn't exactly wowed us with originality up until this point, the obligatory fish-out-of-water stuff is a low point, as the Indians gawk at elevators (really?), women, and just about anything else around them; that the film does little to give Rinku or Dinesh any individuality feels like an extra bit of condescension. When the three Indians are kicked out of their hotel and forced to live with J.B., what seemed like a cross between Jerry Maguire and The Air Up There suddenly starts to feel more like Big Daddy, as the Indians' presence stretches the emotionally immature and not-at-all-ready-for-surrogate-fatherhood J.B. to the breaking point.
But true to form, even though they may cramp his style, these kids have a lot to teach J.B. about family and dedication. They also bring him closer to his neighbor/tenant, the beautiful and sassy Brenda (Lake Bell, doing way more than expected with a thankless love-interest role). At one point, the five of them watch Gary Cooper in Pride of the Yankees together, Brenda dabbing her eyes, the three kids asleep at her and J.B.'s feet. It's like a little family – and we'd get the point even without lines like, "This whole alternative-family thing, it looks good on you." You keep waiting for the film to underplay something; it's exhausting, and futile.
Director Craig Gillespie (whose filmography ranges from Lars and the Real Girl to, um, Mr. Woodcock) doesn't appear to have a subtle bone in his body, but maybe that's not what a sports movie needs. There isn't a single scene of actual baseball in Million Dollar Arm, but it seems to understand something fundamental about our attraction to sports: that ritual is the key to building anticipation. So, for all that, I did find myself audibly responding — sighing in frustration at their failure, giggling like a dope at their success — when Rinku and Dinesh finally got their shots at the big leagues. Million Dollar Arm might be simple, scatterbrained, and coarse, but it knows a thing or two about the thrill of victory and the agony of defeat, as they say.