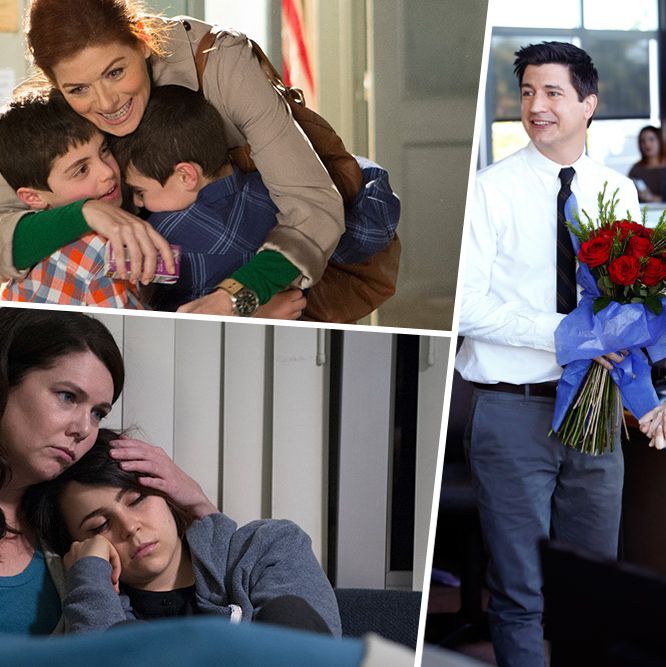 NBC jumped from worst to first in the ratings this season, and the fall lineup it announced yesterday reflects that fact: Instead of the radical changes and desperate moves of past years, the Peacock's new schedule is notable for how, well, boring it is. Because it's no longer in free fall, and actually has a little bit of momentum, NBC was able to avoid the sort of extreme makeover we'll likely see from Fox today and ABC later this week. Just three and a half hours of new programming will launch in September, most of it airing behind established hits. There are changes on most nights, but generally nothing radical. And even its one true ballsy play — shifting The Blacklist to Thursdays — won't happen until February, allowing the network to use the Super Bowl to promote the big shift. Calling NBC's new schedule "boring" might sound like a burn, but it's actually just the opposite: Winning networks tend to be dull networks, and right now, the Peacock is totally winning.
On balance, the new NBC lineup is a very smartly constructed schedule that plays up the network's strengths and seems to minimize its weaknesses. Relocating Blacklist was too logical not to do: Unlike Smash or Revolution, the James Spader drama has proven it's not just a time-period hit. Nearly 5 million viewers watch the show via DVR replays, which is more than many watching NBC or Fox comedies live; there's a big audience for the show that doesn't care at all about what its lead-in is. The decision to keep Blacklist on Mondays until mid-November was also a sly one, since it gives the show a little extra time to reconnect with viewers after the summer hiatus, and also lets NBC avoid marketing its new 10 p.m. Monday drama, the Katherine Heigl thriller State of Affairs, during the fall crush. Whether Heigl's show is any good or connects with audiences is unknown, of course, but on paper, it seems to be the same formula that made Blacklist work: Strong central lead tries to catch bad guys. (One other plus for NBC: By splitting Blacklist into two cycles and delaying the second batch of episodes until February, it means the show will have just two reruns all of next season.) The only possible downside to NBC's Monday-Thursday shuffle is that, per industry insiders, Heigl insisted on doing no more than 16 episodes of her show per season. In success, NBC will have to launch yet another new drama on Mondays come late winter or spring.
As CBS, TV's most-watched network, has done for years, NBC's lineup emphasizes stability wherever possible: At least two of three hours Monday through Friday are established successes of varying degrees. In addition to The Voice on Mondays, Tuesdays are bookended by The Voice and Chicago Fire; Wednesdays boast Dick Wolf duo Law & Order: SVU and Chicago P.D; Thursdays start with The Biggest Loser and end with Parenthood; and Fridays have Dateline and Grimm. Not every one of these returning shows is a big hit, but they're all reasonably certain not to tank, ensuring NBC doesn't completely crater on any night. More important, NBC can use these older shows to at least give its newcomers a fighting chance. The only freshman that will have to be a self-starter is The Mysteries of Laura, in which Debra Messing plays a tough cop/soon-to-be single mom (think of it as Grace, under fire). NBC is counting on Messing's star power to get viewers to tune in at 8 p.m. Wednesdays, and it might work: Fox and CBS will likely have unscripted shows in the hour, while ABC will have its comedy block. There's an opening for a drama alternative, though it seems likely the show will skew old.
The Peacock schedule doesn't give up on comedy completely, but at least in the fall, the network is retreating a bit from half-hours: For the first time since 2006, there won't be a two-hour comedy block on NBC's fall schedule. Given how far its Thursday comedies sank in the ratings this year, and the okay-but-not-amazing numbers for its post-Voice comedies on Tuesdays, cutting back makes sense. Even so, NBC could still have a tough time developing a hit half-hour this fall. While those of us who're Happy Endings fans will be psyched to see that show's creator, David Caspe, reunited with Casey Wilson for Marry Me (a.k.a. Happy Endings 2: Year of Penny), it'll be a pleasant surprise if the show breaks out opposite even a faded New Girl. And with Blacklist headed for 9 p.m. Thursday come February, the two new comedies in that hour this fall — Kate Walsh's Bad Judge and the rom-com A to Z — feel like they're placeholders. But stranger things have happened: There wasn't much expectation that New Girl would be a breakout hit its first year, and that's exactly what it was. In any event, in addition to a final season of between 13 and 16 episodes of Parks and Rec, NBC has a whole mess of comedies waiting on its bench, including the Craig Robinson sitcom Mr. Robinson and the Tina Fey–produced Unbreakable Kimmy Schmidt, starring Ellie Kemper. It might make a bigger push in comedy right after the first of the year, when The Voice will be between seasons.
Another thing to keep an eye on at NBC is how it continues, like other networks, to finally move to true year-round programming. The Peacock has a ton of series, miniseries, and so-called "event" series waiting for it to use throughout 2015. Some of them will go on Sunday: A.D., Mark Burnett's sequel to the smash cable-hit The Bible, will run from Easter all the way into June, and it's expected to be paired with the Traffic-like thriller Odyssey (though that could easily change in the coming months). Sundays after football seem likely to be used for its noisiest and, in some cases, most cablelike, dramas, such as the Oz-inspired Emerald City and the '60s-set Charles Manson thriller Aquarius (with David Duchnovny). Heroes Reborn is being seen as a summer 2015 series, while it seems possible NBC might shift some of its comedy orders to late spring or summer, too. And while NBC hasn't announced anything, it's also hard to imagine the network's alternative division isn't trying to think of some new reality show format to try out in-season, perhaps when The Voice is on a break.
All of this happy talk about NBC is not to suggest Peacock chief Bob Greenblatt, who's guided the network back to first far more quickly than anyone predicted, still doesn't face plenty of headaches. Most notably, he won't be able to count on the Olympics to boost his ratings and cover up the big audience declines NBC faces during the roughly three months between December and March when The Voice is on hiatus. Sundays, a disaster after football ends, could get a big boost if A.D. is anywhere near as successful as its predecessor; the problem is, it doesn't debut until April 5. And as noted earlier, Thursday nights are likely to still be tough until The Blacklist lands in February.
There's also one big unknown to mull when pondering NBC's likely performance next season: Can The Voice avoid gravity's pull? The network is counting on the show being a strong launching-pad for a number of new shows, which is not an unreasonable assumption. But it's also not a given that The Voice won't continue to cool down in the ratings over the next year. Everyone (rightly) focuses on the collapse of American Idol as a juggernaut this year, but The Voice has seen its ratings trend down this season, too. Viewer fatigue over singing competitions may be setting in, and while it's unlikely The Voice will take a dive any time soon, it may not be quite as formidable as it has been. As long as it stays relatively strong, however, NBC stands a good chance of staying in first place next season.