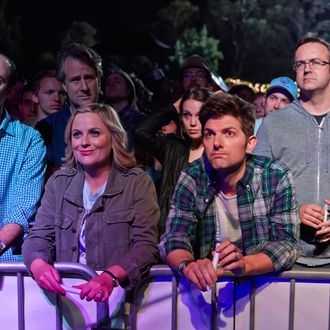 NBC is moving beyond Must-See TV: The network, which unexpectedly moved into first place this season, today announced it will shift hit drama The Blacklist to 9 p.m. Thursday in February (after airing an episode after the Super Bowl), thus putting the final blow in the Peacock's storied two-hour Thursday comedy block. As part of a 2014-15 schedule just released, NBC also had bad news for fans of Parks and Recreation: The show is being held for mid-season and, as expected, season seven will be the show's last. On the bright side: Parenthood will be back after all (also for its last go-round) and Hollywood Game Night has been renewed for another cycle. Overall, NBC has come up with a very aggressive new schedule, changing up at least an hour every weeknight next fall, hoping to hold on to its current (and somewhat unexpected) status as TV's No. 1 network among viewers under 50.
The Thursday night makeover will actually begin this fall, when NBC says it will replace its 8–9 p.m. comedy block with The Biggest Loser, and then launch two new half-hours — Kate Walsh's Bad Judge and the Rashida Jones–produced rom-com A to Z — from 9 to 10 p.m. (And yup, unless ABC moves Grey's Anatomy, Walsh will be going up against her old Seattle doc pals.) Parenthood will run out its final 13 episodes at 10 p.m. in the fall. Then, after a special Super Bowl episode of Blacklist on February 1, the James Spader thriller will replace the new comedies in the 9 p.m. hour, with the new Homeland-esque thriller Allegiance filling the 10 p.m. slot in late winter.
NBC isn't saying what it will do at 8 p.m. Thursday once Loser wraps its season: Parks is a possibility, paired with a new comedy, but NBC might also go with an alternative series such as Celebrity Apprentice or Hollywood Game Night. Either way, there'll be just one hour of comedy on Thursday (and possibly none) for the first time in a decade. (The last time NBC trimmed back Must-See TV was in the early aughts, when Jeff Zucker put The Apprentice at 9 p.m.) Once Blacklist moves to Thursdays, NBC will use The Voice to launch its new Katherine Heigl drama State of Affairs in the 10 p.m. Monday slot.
Elsewhere on NBC's fall sked, Tuesdays will stay the most stable: The Voice and Chicago Fire remain 8 and 10 p.m. anchors, while About a Boy remains on the night. But the latter comedy will shift to 9:30 p.m., with new Casey Wilson rom-com Marry Me getting a chance behind Voice. Wednesdays will kick off with the Debra Messing crime drama The Mysteries of Laura at 8, followed by the returning two-hour Dick Wolf duo of Law & Order: SVU and Chicago PD. Fridays are also stable, with Dateline and Grimm from 8–10 p.m., and the D.C. Comics-based Constantine replacing last fall's Dracula at 10 p.m. (Hannibal returns mid-season.) NBC also said it will air Mark Burnett's sequel to The Bible on Easter Sunday.
We'll have a more detailed dissection of NBC's lineup later, but for now, here's the full NBC fall sked:
MONDAY
8–10 p.m. — The Voice
10–11 p.m. — The Blacklist / STATE OF AFFAIRS (beginning Nov. 17)
 TUESDAY
8–9 p.m. — The Voice
9–9:30 p.m. — MARRY ME
9:30–10 p.m. — About a Boy
10–11 p.m. — Chicago Fire
WEDNESDAY
8–9 p.m. — THE MYSTERIES OF LAURA
9–10 p.m. — Law & Order: SVU
10–11 p.m. — Chicago P.D.
THURSDAY
8–9 p.m. — The Biggest Loser
9–9:30 p.m. — BAD JUDGE (The Blacklist, beginning Feb. 5)
9:30–10 p.m. — A TO Z
10–11 p.m. — Parenthood
FRIDAY
8–9 p.m. — Dateline NBC
9–10 p.m. — Grimm
10–11 p.m. — CONSTANTINE
SATURDAY
8–11 p.m. — Reruns

SUNDAY
7–8:20 p.m. — Football Night in America
8:20–11:30 p.m. — NBC Sunday Night Football