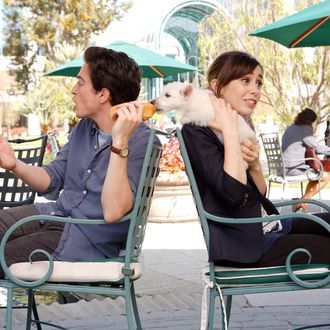 NBC sang for its supper at today's upfront presentation to advertisers and the press, and we were there to witness the show. While there were a few interesting nuggets of news — notably, The Music Man live musical will be coming to your sets in 2015, and Jane Krakowski will have a role in at least the premiere episode of the Tina Fey–produced Ellie Kemper single-cam comedy — mostly the event was as dull as the programming the top-rated network will deploy beginning in the fall.
1. We would so watch Hospital on a Trolley. Fred Armisen informed opening act Seth Meyers that he'd just sold 22 episodes of a medical drama that will run weekly from 9 a.m. to noon. The premise: Eleven doctors, four of whom are played by Armisen, saves lives and deal with the tight quarters inside a fully operational, roving San Francisco trolley that has been converted into a health-care facility. What's not to like?
2. Never hold this at Javits again. Seth Meyers opened the presentation with a series of jokes slamming NBC's choice of venue. Here are some highlights from his set:
"It's great to be here at 11 a.m. Or as Kathie Lee and Hoda refer to it, last call."
"If there's a better place to do an upfront than the Javits Center — sorry, I wasn't supposed to say if. There's a better place to do an upfront than the Javits Center."
"The Javits Center is where you end up if you don't practice."
"What it lacks in charm, it makes up for in size. They say the Javits Center is so big, it can fit every person who watched an episode of Ironside."
"Some of you took taxis here today; some of you took the subway. I rode it on Jimmy Fallon's coattails. Just kidding. The subway doesn't come here. Even the New York City subway is like, the Javits? No, thank you."
3. Ben Feldman's Nipplegate. While the charming Mad Men actor's new NBC romantic comedy A to Z looks cute enough — he's a romantic, Cristin Milioti is a cynic, they fall in love — all we could think about during the clip shown was Ginsberg's severed nipple from last night's episode and how that evil computer made him do it. There is nothing romantic about a nip in a box.
4. Get ready for The Music Man: Live. Because 22 million of you watched Carrie Underwood put the twang in Sound of Music: Live last December, NBC will do a live version of Peter Pan this year, with The Music Man coming along in 2015. Looks like NBC is only interested in destroying musicals from the 1950s, and if so, we are begging the network to take Guys and Dolls next and leave West Side Story, Gypsy, and My Fair Lady alone.
5. Number of overachieving career women whose personal lives are a disaster: 3. Call it the Olivia Pope Effect — everyone seems to want in on that magic Scandal fairy dust. Olivia can defuse any political bomb and carry on an an affair with the president? Well, NBC's got Kate Walsh as a forever hungover and short-skirted criminal-courts judge in Bad Judge, Katherine Heigl as a top CIA analyst who spirals after the death of her husband (and son of the president) in State of Affairs, and Debra Messing as a detective whose ex has just become her boss in The Mysteries of Laura. And yet none of these stars Kerry Washington, so best of luck.
6. Just Messing with ya. Of NBC's two new rom-coms, A to Z seem to play better than Marry Me, the comedy from Happy Endings creator David Caspe that stars Casey Wilson and Ken Marino. Wouldn't it have been better for NBC to just take Marino's very funny Bachelor parody Burning Love from E! instead? Also, there was not one peep from the audience for The Mysteries of Laura trailer. Total, deafening, perplexing silence.
7. NBC has The Voice, The Blacklist, and late night … and that's about it. Meyers wasn't the only NBC late-night host to deliver blistering commentary to advertisers. Jimmy Fallon got in some great zingers too, including this one on the key to the Peacock's ratings recovery: "We've got The Voice. We've got The Blacklist. We've got reruns of The Voice and The Blacklist." Fallon also dished out awards like the ones they give out in high-school yearbooks. The two funniest ones were: "Nick Offerman: Most Likely to Look Like a Combination of Grumpy Cat and Dr. Seuss's the Lorax" and "Craig Robinson: Least Likely to Make It Into Donald Sterling's Instagram Feed."
8. Someone made a positive reference to The Borgias. Actual quote from Mark Burnett about his upcoming miniseries A.D., a follow-up to the History Channel hit The Bible, which follows those whose lives were instantly altered following the death of Jesus: "This is Game of Thrones meets The Borgias meets The Bible."
9. Already the most effective president on TV: Alfre Woodard in State of Affairs. She doesn't suffer fools, and more important, there is no way she could be more of a ninny than Scandal's Fitz or House of Cards' former president Garrett Walker.
10. Maybe reborns will be the next thing? If the Heroes: Reborn reboot miniseries, which will feature familiar faces from the original series, turns out to be a success, here's hoping that it leads to more de facto resurrections of the network's cultish former properties. Because there's a certain Dan Harmon comedy that we'd like to see some more of, even if (especially if?) it's a 13-episode season set entirely at Magnitude's house.
11. Loudest new show: Unbreakable Kimmy Schmidt. You're delightful, Ellie Kemper, but stop screaming at me! But we will shout this in unbolded font and sans exclamation point: Jane Krakowski popped up in the clip.
12. There are only 13 episodes of Parks and Recreation left. Greenblatt made it official. If you need us, we will be bingeing on waffles today in our dark corner of denial.