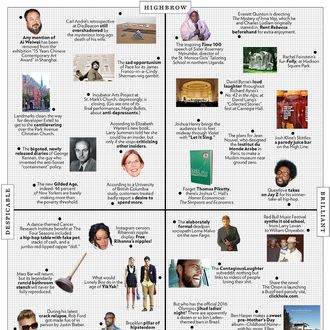 The Approval Matrix's headshot.
With every new issue of New York Magazine, the first thing I do is turn to the back page and read the Approval Matrix to find out what's highbrow, lowbrow, brilliant, and despicable that week. Maybe you do too. And why not? It's a feature that's a decade old and that everyone loves and says nice things about all the time, which normally would be enough for most regular magazine features, but not the Approval Matrix. No, the Approval Matrix wants more — all of a sudden everything is "Do you know how much I'm worth?" and "I think I might move to Los Angeles and maybe work on a treatment."
So in order to keep the Approval Matrix close to home, we are letting it do a show, for SundanceTV. The Approval Matrix, produced by Ish Entertainment's Michael Hirschorn and former Daily Show writer and executive producer Rory Albanese, will premiere in July and run for six episodes. Each week, host Neal Brennan, co-creator of Chappelle's Show, and a panel of other comedians and celebrities, will hash out recent pop-culture high points, low points, brilliant points, and despicable points. Try to stay humble, Approval Matrix. Remember where you came from.