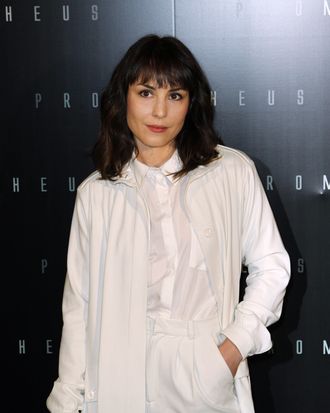 Swedish actress Noomi Rapace poses during a photocall for the Premiere of "Prometheus" on April 11, 2012 in Paris.
Photo: THOMAS SAMSON/AFP/Getty Images
Deadline reports that Swedish actress Noomi Rapace, who starred in Prometheus and as Lisbeth Salander in the original Swedish Girl With the Dragon Tattoo films, is in talks to join Will Smith in the sci-fi thriller Brilliance. The film is an adaption of Marcus Sakey's novel about a world in which one percent of the population is blessed with exceptional abilities. Smith will play one of these "brilliants," a federal agent hunting a terrorist threatening to start a civil war, while Rapace will play "a tattooed and pierced brilliant that is identified as a terrorist by the government." Admittedly both roles sound like well-trod ground for Smith and Rapace, but there's no need to worry about Rapace being typecast. They aren't going to be dragon tattoos – as far as we know.