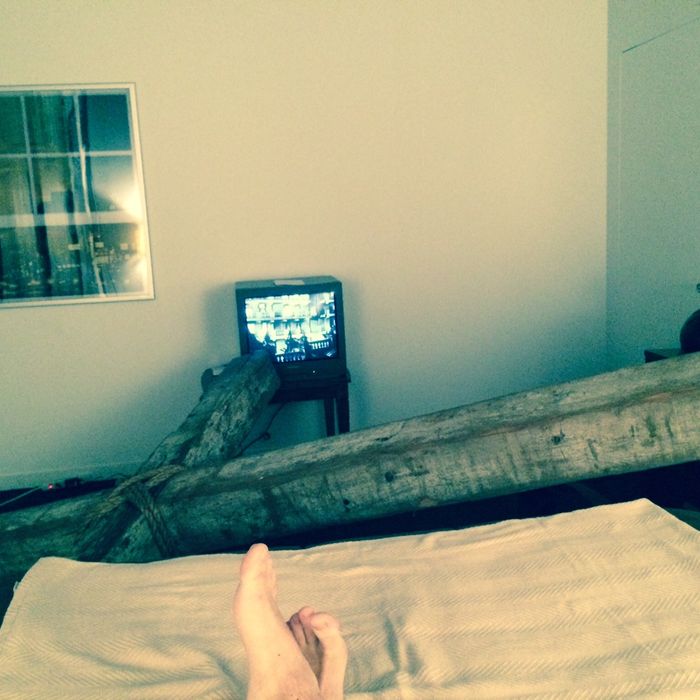 Inside Al's Grand Hotel, at the Frieze Art Fair. (The feet belong to the author.)
I woke up on Saturday morning in my underwear in a room dominated by a functionally scaled wooden crucifix — ready to hang! — to a disembodied posh English voice over a loudspeaker: Frieze New York will be opening in one hour. It was 10 a.m. and, as part of the posh English art fair's limber and intellectually entertaining public-relations apparatus, I'd been invited to stay overnight in the big squiggling tent on Randalls Island as part of a reenactment of something called Al's Grand Hotel. (I wasn't alone: The Times wrote about the hotel also, and had a writer sleep in this room the night before I did.) It was a re-creation of a 1971 participatory artwork by Allen Ruppersberg, patched together with borrowed old furniture and a few suggestive knicknacks from the original. There was a sign over the desk quoting the 1932 film that, with some irony, inspired the project: "Same thing everyday, / They come & go."
Al's was one of the so-called "projects" that the fair uses to conceptually liven up what might otherwise be a dashingly pleasant bespoke souk. Likewise, Marie Lorenz's rowboat tours around the periphery of the island, which looks across to the FDR and Harlem's East River Plaza (Old Navy, Costco, PetSmart). But on this side of the river, they were literally pitching a tent to attract the members of the global art trade and cater to the sophisticated needs of the sophisticatedly needy wealth that floats it. There were also all the people who like to look, who are engaged with this urgent frolic of the new and willing to troop over on Frieze's jaunty school bus or fast ferry for the stimulation of it all. Most everyone here is beautifully tailored and fastidiously aestheticized.

In 1971, Allen Ruppersberg, who'd been running a café with friends, decided to trick out a house on Sunset Boulevard in Los Angeles as a gathering place for artists. That version of Al's Grand Hotel existed for six weeks, and — not unlike the restaurant Food, which existed around the same time in prelapsarian Soho, started by Gordon Matta-Clark and his pals, and was reproduced at Frieze last year — it took on a mythic afterlife, as time went on and the Los Angeles Conceptualists who gathered there (along with people like Dennis Hopper, who supported them) got written into art history. And so something that originally was a bit casual and happenstance became invested with mystery and significance and DIYism, qualities that Frieze, this lavishly produced pop-up, wouldn't mind getting a hit of. (Back then, my room was $30 a night; today it was to be $350.)

The night I was there, the other guests were the 1980s East Village gallerist Gracie Mansion, who now works as a "senior specialist for auctions and private sales" for ArtNet, and her friend, the former Los Angeles and San Francisco gallerist (and, she tells me, onetime big-time movie and TV casting agent) Jeanne Meyers. Mansion had bought them both fuzzy animal slippers — it was funny to see Meyers padding around the self-serious closed fair with plushie duckies on her feet. They reminisced and gossiped and talked about art they didn't buy or didn't expect to get big, about booms and busts and accidental beginnings back when the art world was, it seems, a place where accidents, or off-the-cuff gestures, could turn into careers, even institutions. Mansion tells me that she had intended to be an artist, but once threw a party in her East Village apartment that she advertised, semi-jokingly, as an art opening. (There was some art she put up in her bathroom.) Someone from the Village Voice turned up, asked her what her next show was, and she named a friend off the top of her head, and it turned her into a gallerist.
They saw the art world through the eighties and nineties, and it was quite unlike what's happening today. (One art-world friend I ran into mentioned that a friend of hers was carrying a million euros around the fair: Someone paid him for an artwork in cash.) But what was most striking, as we finished our dinner — the food at the fair, from Marlowe & Sons to Mission Cantina to Blue Bottle Coffee, is always as up-to-the-minute consumerist as the art itself — was the way the fair wound down for the night. Some booths lingered over champagne, others emptied out quickly, almost furtively, possibly indicating how well they'd done that day, or just that their staff had other appointments. The cleaning staff came in to touch up the scuffs with white paint and sweep the floors and take out the sorted recycling. Without the social energy, the mutual self-regard, and the gleaming abstracted internationalism of it all, Frieze shows itself to be relentlessly temporary: the thinness of the walls, the give and sink of the plywood floors underfoot, the echoing squawk of the walkie-talkies of the security staff, the color-coded signs for the galleries revealed to be (of course, what else would they be?) just folded cardboard. Hundreds of millions of dollars' worth of precious objects — and there was some amazing stuff at the fair; Frieze is if nothing else a thorough endeavor — left alone to themselves, the only people left not really caring much one way or another about those framed Ed Ruschas or that booth full of Carroll Dunham drawings or that plump Kusama pumpkin.

We weren't supposed to walk around the fair at all: There was a security guard, staring deep into his phone all night just outside the Grand Hotel booth, which looked out on a mirrored Ivan Navarro sculpture called Open Ended, in which those two words retreated into infinity.

The fair folks loaded the TVs in the rooms with classic films (including, of course, Grand Hotel), and performance-art shorts, like a campy, vampy music video by Dynasty Handbag titled "Remote Penetration." The night passed, creepily, haunted by the constant moaning of the La Guardia flight path overhead. I woke up too late to see Meyers and Mansion at breakfast, though art bigwig Simon de Pury took my picture, disheveled and drinking coffee, and posted it on his Instagram page, hashtagging it: #emptyfrieze.