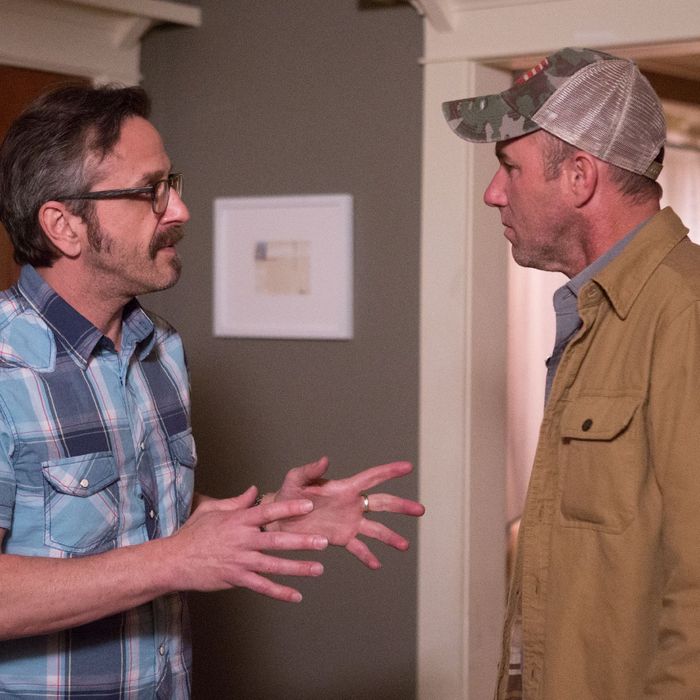 Two things seemed off during a visit to a January location shoot for the second season of IFC's Maron, which premieres tonight. First, this season Los Angeles podcaster-comedian Marc Maron's TV home is not the same one that his character lived in during season one — the driveway is on the other side, the front steps descend at a different angle. "We were literally three doors down the first season, but we couldn't get that space," the titular star shrugged of the current house, located only a few blocks over from his real-life Highland Park home. "We chose not to make a meal out of it. It is just is what it is, you know?"
The laissez-faire attitude reflected the second thing amiss: Sitting in the garage's faux podcast studio, Maron seemed noticeably happy. Considering he's known for emphatically unloading, evaluating, and obsessing over his personal life both onstage and via his "WTF With Marc Maron" podcast, one expects (and kind of hopes) to encounter him mid-funk or -rant about some slight he encountered on Twitter, or exhaling a deep, frustrated sigh about his career/relationship/diet/TV house. But at 50, Maron finally has reason to be easygoing. After almost three decades into a career built in fits and starts, he's found himself in high demand, and neither inconveniences nor inconsistencies (Continuity errors? Don't sweat the small stuff, man!) can mar his good mood.
In 2013, Maron reached the 400th "WTF" episode and appeared in Bob Dylan's interactive "Like a Rolling Stone" video. He released both a new book, Attempting Normal, and a new stand-up special, Thinky Pain. IFC bumped up Maron's season two order from 10 episodes to 13 — one of which, thanks to Judd Apatow's encouragement, marks Maron's directorial debut. With Maron, he proved himself a solid actor, a writer-producer captaining an offbeat, empathetic show, and an artist primed to enjoy a wider swath of cultural acclaim. "I haven't gotten famous or anything, but I'm a little more successful, and grappling with that," Maron explained of his current headspace. "Grappling with a small transition in success. Not to the Big Time, but to a sort of, 'Hey, things are starting to work out' time."
And that was when a PA fetched Maron to get punched in the face. "C'mon!" Maron beckoned giddily. He exited through the side garage door, crossed the backyard, and entered the rear of the rental house for his next scene.
The first room was maybe ten by ten, crammed with two hulking video-monitor rigs, the floor snaked with thick cables begging to be stumbled over. Beyond, two cameras inched further into the living room as frequent Maron director Bobcat Goldthwait finalized the shot.
In the afternoon's Jerry Stahl–penned centerpiece exchange, a woman the fictional Marc slept with had neglected to mention she was married. When her husband shows up at his door, Marc maintains his innocence. The husband, played by Jamie McShane, believes him, yet needs a reflexive, physical vent for his frustration.
"Action!" called Goldthwait. McShane threw a left jab, and Marc tumbled backwards.
"Aghhh … urgh … am I bleeding?" he asked, slowly lifting himself from the floor.
"Just a little," answered McShane. "You should get some ice, so you don't get a fat lip." Marc nodded, exited.
"Cut!" The sequence repeated a half-dozen times, Marc Maron getting clocked until it became hypnotic.
Then came another period of downtime, and Maron checked in with the crew positioned around the monitors. "How'd it look? Was it funny?" The eager tone was the same he employs when concluding podcast interviews with the question, "We good?"
Affirmations all around. Pleased, he headed to the backyard, hunched forward in a wooden chair, and teased season two's happenings: Sally Kellerman and Judd Hirsch return as Marc's parents, along with real-life pals Andy Kindler and Dave Anthony (the latter also joined Maron's writing staff). Performers Caroline Rhea, Bill Burr, and Nate Bargatze appear as fictionalized versions of themselves, as does David Cross (a longtime friend from Maron's early-'90s years in Boston), assuming "a pivotal role" in the Maron-penned "Marc's Family."
Other plots mine life as a club comic, the death of radio, and the disappearance of his cat Boomer. There's also a certain personal change: Twice-divorced, Maron called it quits with a fiancée 20 years his junior last autumn. He remained uncharacteristically tight-lipped about the separation on "WTF," yet the story of their meeting had served as season one's finale arc, wherein Marc embarked upon a tempestuous relationship with a younger woman, Jen (Nora Zehetner).
"I wanted to be an adult about it," Maron said of season two's scripted resolution of the relationship. "It's painful to be in that position where you have to end something because it's not working, not because you don't care about somebody. In the show, it's a little different. A lot of the emotions and the issues are there … But the end is not like the real end. It is respectful, and it's good. There was definitely an emotional logic to it."
Goldthwait had readied the next shot, so Maron headed back through the monitor jungle and stationed himself in the living room opposite McShane.
"Action!" In this scene, the two men, apologetic over the scuffle, turn their attention to Marc's favorite tool for bonding with many of his real-life podcast guests: music and the gadgets that play it. The characters obsess over his $4,000 tube amp, and the Dave Alvin record played to reduce the tension. "You want a smoothie?" Marc offers in consolation. McShane, caught up in the music, begins sobbing over his wife's infidelity. "Uhh," Marc demurs. "I'll make some smoothies."
"Cut!" The cameras reset, and Maron repositioned himself at the turntable. Repeat takes of the same dialogue. Goldthwait needed one final pickup, then it was time to break for lunch. "How'd it look?" Maron asked. "Was it funny?"
Cast and crew trooped halfway down the block to another house, where a buffet spread topped the driveway. Rows of long rectangular tables filled the back yard. The eaters flipped through their callsheets and scripts, combing through the next scene. A problem arose: The script called for Cherry Garcia ice cream. They couldn't get product clearance. They could use generic Rocky Road; would Maron be okay with Rocky Road? And if the corner store doesn't carry Rocky Road, would he be okay with … ?
"Just get whatever!" Maron sighed. He scribbled a few notes on his script, rose, and turned toward the set. Before disappearing, he glanced back. "As long as it's not Häagen-Dazs," he clarified, a tightness in his voice belying his love-hate issues with dessert. "No Häagen-Dazs!"
A few imperceptible shrugs. Seats were pushed back under the table.
From the sidewalk near the humming catering truck, his figure grew smaller as it approached the exterior of his alter ego's imperfect, yet wholly suitable home. Though he wasn't even required back for several minutes, Maron was clearly intent on pushing forward.