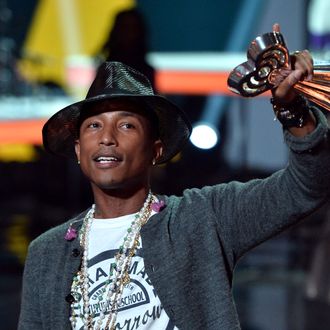 Musician Pharrell Williams accepts the iHeartRadio Innovator Award onstage during the 2014 iHeartRadio Music Awards held at The Shrine Auditorium on May 1, 2014 in Los Angeles, California.
Photo: Kevin Winter/Getty Images
So a clever person strung all the relevant intros together on Soundcloud. There are those among you who will be like, "Duh, I already knew this, it's P's signature," and Vulture would challenge you to fight that deeply annoying urge and instead help I.D. all the songs that are missing. So far, we've got: "Hello New World" (Clipse), "Twisted" (Usher), and "Feds Watching," sort of? Keep thinking.